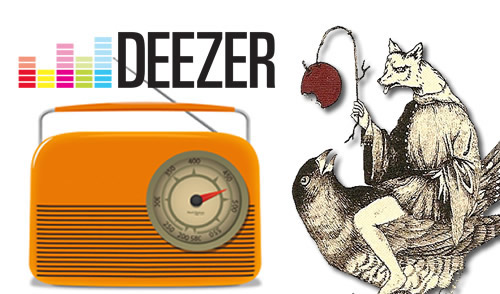 Listening to Folk Radio UK
13 January 2010
Station Choices
We have THREE Radio Channels in Total. Two are hosted on Radionomy and One is hosted on Deezer. The listen links for all are over on the right of the website under 'Choose a Channel to listen to'
Radionomy
We have TWO channels here, one playing a mix of progressive Traditional music, Contemporary and Alternative folk (Folk Radio UK) and the other playing more traditional based folk music (Folk Radio UK – British Folk & Beyond).
TuneIn App: Both of these channels are available via the TuneIn app (free and pro version). The app is available via Google Play and iTunes App Store.
You can also find them on the tunein website, details below:
Contemporary and Alternative folk: TuneIn Page
British Folk: TuneIn Page
Our Deezer Channel
Folk Radio UK runs its own channel on Deezer as a media partner. To listen just press play on the Deezer image in our listen section on the right-hand-side of our website.
You can also listen directly on Deezer by clicking here, just bookmark this link, it is free to use.
To enjoy Deezer to its fullest we recommend you sign-up to enjoy some of the other rich features that we use Deezer for such as album previews for which you will only hear a 30 second clip if you're not logged in. Signing up is free and easy. When playing an album widget you will get a prompt to sign in after 30 seconds. Just click on 'log in' if you have an account or create an account by clicking on register.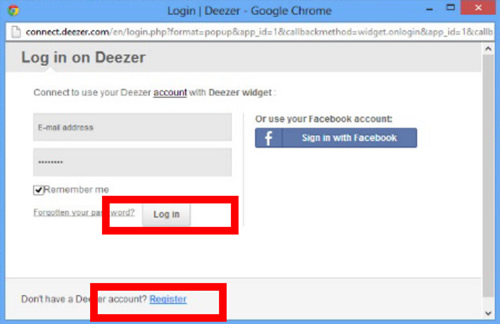 You can also sign-up now by clicking here.
FAQs
Which countries is Deezer currently available in?
Deezer is available in over 200 countries. There is a full list here.
Deezer is not currently available in the US but there are plans to roll it out there. Watch this space.
Do I need to download software to use Deezer?
Deezer requires no software to be run from a PC as it runs in your web browser but if you want it for your mobile, kindle or ipad details of the Apps are below.
I already have Deezer, where can I find Folk Radio UK?
If you are in the UK:
From Deezer's home page select 'Radio Channels' under the DISCOVERY section. Under 'Themed Radio Stations' are a number of categories, we are listed under 'Partner', 'Indie/Alternative' and 'Country / Folk'… or just go here: www.deezer.com/en/radio/radio-10691
Outside the UK:
If Deezer is available in your country just go here: www.deezer.com/en/radio/radio-10691 and bookmark it.
Can I listen to Deezer on my Mobile / iPad / Kindle Fire?
You can use Deezer with Android, Windows, Apple and Blackberry devices. Click the following link for all the details or select an app below: http://www.deezer.com/en/devices/mobile
Deezer for iPhone:

Deezer for iOS 3/4 – basic version

iPad App

ANDROID:
Android Phone:
Deezer Android App on Google Play
For Kindle Fire
Deezer on Amazon Store
What other devices can I listen to Deezer on?
For full details on devices that support Deezer which range from mobiles, HiFi's, Squeezebox and cars check this page: http://www.deezer.com/en/devices/
Can I still listen to on Folk Radio UK on 'TuneIn' App?
You can only listen to Folk Radio UK on devices that support Deezer
New On-Demand Content
From Monday 24th June we will be bringing a significant number of new on-demand features allowing you to listen to mixes and shows in your own time as well as exploring themes, new artists and more. To keep up to date on new on-demand features we recommend you sign up for our newsletter and follow us on Mixcloud where some of the new content will be hosted.
The latest on-demand shows can also be found here.
Mixcloud is available as a mobile App via iTunes Store and Google Play,. Details
More details relating to new content will follow very soon.
Current On-demand links:

Latest Folk Radio UK's Cloudcasts on Mixcloud

---
Questions? Problems?
If you can't get things to work, you contact us here as a last resort. Please be sure to try a variety of different links first, since at least one of them will generally work for you, no matter what type of system or connection you have.