Record Store Day will see the release of a special vinyl edition of Edd Donovan And The Wandering Moles debut for the Paper Label, Something To Take The Edge Off, with the CD released at the end of the month. They are also wandering this way with a London Launch gig at The Green Note in Camden this Wednesday (16th April), which offers the perfect opportunity to catch up with Edd's unique song craft that proves to be witty, thoughtful, thought provoking and blessed with a melodic touch that makes it all a highly enjoyable listen.
If the day job as a social worker and the joys and trials of family life have held sway over the intervening years, it's probably fair to say that it's all just grist to the songwriters' mill, informing the latest clutch of songs. During that time Edd has also found a number of sympathetic souls who has christened The Wandering Moles, a delightful epithet and he tells me, "The Wandering Moles are a lyrical concept that just fell out of my mouth during a late night jam. I later adopted the name as the band began to evolve. I like to think The Moles represent an underground movement; a collective consciousness in search of truth and justice – the collective noun for moles is either a labour or a movement! Wandering seemed an appropriate verb  as I never had a consistent formation of Moles, as they tended to wander in out of the band depending on their whereabouts and availability – To be a Wandering Mole, you need to be in the right place at the right time!"
On a personal level, it might be fair to describe Edd Donovan as a bit of a late developer, after all he didn't start playing the guitar until into his 20s and had passed 30 before he found his voice and took to performing live. Edd fills in a bit of the history explaining, "I migrated to Cheltenham from St Helens in 1990 having signed up for some irrelevant college course. I lost my place before the end of the first year, but made good friendships here and so decided to stay."
[pullquote]I spent many years unemployed; without any direction or any connection with the status quo. I guess you could say it was around this time (and the abundance I had of it) that I started listening to acoustic/folk type music[/pullquote]Edd also confesses, "I spent many years unemployed; without any direction or any connection with the status quo. I guess you could say it was around this time (and the abundance I had of it) that I started listening to acoustic/folk type music and moved away from the techno based dance music that was infecting us all in the North. It was Bob Dylan's Bootleg series that inspired and convinced me that music and lyrics, so beautiful and so profound could be achieved through one man and his guitar. And of course there was The Beatles, The Kinks, Nick Drake, Leonard Cohen who provided more inspirational song writing. I was also into the psychedelic sound of Steve Hillage, Gong, Sid Barrett and Ween." If the latter may not be obvious points of reference in Edd's breezy acoustic guitar led songs, but typically, if you start to really bury yourself in the Wandering Moles mix, there are a few sonic surprises.
Perhaps the album's drive and verve comes from starting out with fairly simple ambitions. As Edd explains, "My initial plan was to get myself, guitarist Chris and harmony vocalist Jane into a room and record the songs live to produce a stripped down album that was made up of straightforward performances of the songs. Consequently that is exactly what we did. We went to Chads' studio one evening and, in three hours, laid down what is essentially this album. The only addition to the songs from the original session is You Can Do which I came in and recorded on my own later."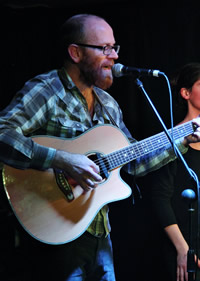 He continues revealing how the final work came together, "I was keen to add to the initial session to enhance those core performances. Over a period of time, fitting in between other commitments, the album had grown beyond all our expectations into the fine piece of work that is now in your possession. The overdub process has been very much a collaboration between myself, Paul and Chads who skillfully engineering the process and also contributing some wonderful vocal arrangements and even a bit of Hammond organ. Paul and I have let our imaginations run free with how to augment the original performances and produce an album that we are extremely proud of. Paul added all manner of drums and percussion, including much latin percussion and even banging two stones together, and I continued to feed ideas into the mix, my favourite being the cuckoo on Woke Up This Morning."
Edd's own assessment of the record is, "The album is a selection of songs taken from the body of work I've amassed over the years. I believe this album is complete and works as a whole as it has many different layers of meaning and carries the listener on a journey through change; self-discovery; with political and social observations that keeps the message interesting on an intelligent and mature level, and all the while the music immerses you in its simple, melodious and contemporary folk charm."
It's a neat summary of the pleasures of Something To take The Edge Off, which opens up with a big and cavernous sounding, almost choral vocal before dropping down into the more intimate invitation of their signature song and signature sound. If the songs get their energy from Edd's acoustic guitar, as he strums out the rhythm, all around him the carefully constructed layers add all kinds of extra intrigue. We Are The Wandering Moles has a steady repetition of the last word of the lines and the spring of a Jew's harp, typifying little details that pique the interest you'll discover in the mix.
Woke Up This Morning has something of a revelatory feel to it, something of Paul Simon in the melody, but another of the Wandering Moles special calling cards, in the gorgeous harmony added by Jane Bartholomew. As Edd explains, "Jane is affectionately known as 'Favourite Mole', her voice is the perfect complement to mine and her ability to blend her voice with me and match my phrasing provides my songs with a truly special element."
He has well justified praise for all of the players adding, "Chris Collins is the man who sits at my right hand and contributes all the wonderful bits of intricate guitar playing that is such an integral part of my sound. Chris is a long standing Mole who is pretty much irreplaceable. Paul Arthurs, who produced the album and who's  the bands' drummer and percussionist, is also the guy who sits at the back and, when required, directs the others. Chads Bradbury, the albums engineer and our resident technical genius, plays beautiful textural keyboards and complements Jane's and my vocals with his rich and strong tenor voice."
Unusually the Moles boast two bassists, although I guess this is part of the fluidity of the line up that Edd described above. He credits, "Matt King is an all round multi-instrumentalist and musicologist who plays fretless electric bass in the Moles and is the guy who can inject the groove when it's required. James Agg, another multi-instrumentalist, plays double bass and being blessed, or cursed as he would have it, with perfect pitch, never fails to produce some magical musical moments."
[pullquote]My experience as a Social Worker has informed a couple of the songs with House on Fire and The Social Worker having special meaning[/pullquote]House On Fire is one of the album's most poignant moments (see video below), it's based on Andrea Ashworth's book, Once In A House On Fire. It's an unflinching look at domestic violence and abuse, but the innocent child at the heart of the story seems blessed with a surprising resilience. I ask Edd the obvious question about his day job and he reveals, "My experience as a Social Worker has informed a couple of the songs with House on Fire and The Social Worker having special meaning. My aim is to bring these songs to the attention of the Social Care professions, charities, networks and forums. This is one of the reasons these songs have been selected for the EP that precedes the album. They are accompanied by an additional song He Was A Friend Of Mine that deals with loss and redemption."
Call Me Old Fashioned has a touch of simmering discontent, but nothing here is heavy handed, however, with room for a sly humour amongst the social commentary and soul searching. There's the "Blah, blah,blah…" of The Show Must Go On and then the quirky, salacious Glasses And A Beard, in which you are never quite sure of how far Edd's tongue is in his cheek. There's also a sunny side and Don't Be Afraid could be written for a son or daughter, it could be written for Edd himself, or it could be written for you as a rallying call to seize the day, but also be true. The closer, You Can Do, sees Edd in a forgiving and optimistic mood adding a slightly different twist to the same theme. Each is a self contained gem and the cumulative effect is more than the sum of the parts, matching Edd's claims of a perfect fit.
The sun quite literally shines down on The Stone too, as the title refers to our planet. Edd is taken by the beauty of nature, but also aware of the countless souls who have gone before and the inevitability of his own mortality. It's also from whence the opening massed voices are taken, with the chorus "Sit upon your rock and paint it what you like, this is the stone of your life," acting as a pre-echoing link.
Perhaps the message here is that given the chance we all have our potential, although of course the cards are rarely dealt evenly. Edd links back to the day job and concludes, "I share the opinion that Social Work has long needed more positive, alternative media attention and image than it currently receives. I believe these songs will strongly resonate and connect with the majority of those people who work in this field and hope to make my presence felt within the conscience of this highly undervalued community. My song writing and performing is certainly an emotional release for me, and this certainly feeds my resilience and sanity as a social worker."
Edd is upbeat too as he reveals, "Now I have those tunes wrapped up and packaged it's time to share Something To Take The Edge Off and let it finds its place in the music ether. The band are currently on the road supporting the release with a few festival dates also booked for the summer. We hope to be on the road again in the Autumn and then I'm looking forward to getting back in the studio with my Wandering Moles to record the new material that I have been writing and developing with exactly them in mind." More of the same when you do please Edd, but let's not get too far ahead of ourselves, as Something To Take The Edge Off does it's job very nicely indeed.
Review by: Simon Holland
House On Fire

Live Dates
APRIL
Wed 16th – The Green Note, London
Sat 19th – Badlands Records, Record Store Day instore performance, Cheltenham
Sat 19th – Rise Records Store, Record Store Day instore performance, Cheltenham
Sun 20th – The Prince Albert, Stroud
Mon 21st – LAMP, Leamington
Thu 24th – The Guitar Bar, Nottingham
Fri 25th – The Horse and Groom, Alresford
Released on the following formats via Paper Label Records.
19th April – Vinyl (Record Store Day Exclusive).
21st April – Download
28th April – CD and Vinyl (nationally)
Photo Credit: Jess Jones
Cover art is by Marie Deans