It's been a little over a year since I last saw Bellowhead at Croydon's Fairfield Halls, which although just circumstances and no big deal, probably amounts to the biggest gap in that last several years. What is a big deal, however, is that this time they are playing the Royal Albert Hall as one of two sold out shows to celebrate 10 years of Bellowheading.
A spectacular is promised and arriving dutifully early, I'm soon at my seat, despite having to walk half the perimeter of the building to find the appropriate entrance. Having found the box office, I'm in swiftly with a plastic beaker of beer purchased on route, but as someone sitting nearby points out, with a capacity of around 5,000, getting everyone in quickly and efficiently is understandable something of a priority.
Afforded some time to take in the pre-gig atmosphere, I note that the stage is set with a bit projection screen showing a montage of band members at various ages and also stages of their musical development, mixed in with more recent band shots. With 10 minutes to go, the sell out is looking like a considerable overstatement, but as if by magic, as soon as the show begins, the first burst off light from the stage to illuminate the auditorium shows it 's about 99% full, all the way up to the gods.
The screen is a central part of the show and things don't get off to a perfect start with home movie style film clips of the band playing in silence. After a minute, however, a quick reset, has the same bit of film now with its appropriate soundtrack. It serves as a distraction as the band take to a darkened stage. As the film finishes, the screen announces "Part One," the displays the sleeve of E.P. Onymous, the lights come up and we're away with Prickle Eye Bush. It's smartly followed by Rochdale Coconut Dance and Bellowhead are absolutely in their element.
Contained in these first few minutes are the reasons why a year without Bellowhead is too long. This is all folk music, but then there's cut of the strings, which is more Nile Rodgers or Lalo Schifrin, the brass from the bass pumping helicon to the soprano sax, the massed voices, the Spike Jones meets Chuck Jones caper of it all and Pete's constantly inventive percussion, deploying everything from chains to frying pans amongst the pinpoint rhythmic clatter. It's just such great fun. It's music of the utmost seriousness, as you have to be serious to be this good, but played for laughs or perhaps just for the sheer enjoyment of it all.
The set follows the band's chronology with the help of the big screen to guide us. Maddy Prior is an early guest, in the first part as being the source of Copshawholme Fair. Part two and Burlesque, gives us a really surreal treatment of Jordan. John Spiers introduces the next number informing us that, "We go from a song which we devised so you couldn't tell if we were drunk or not, always a useful thing to have in the locker, to a tune that you haven't got a hope of playing if you've been drinking." Hopkinson's Favourite is devilishly complex and brings a four piece troupe of female dancers to the stage, led by Laurel Swift. Apparently this is a one off and they have christened themselves Birthday Suit, but despite a daring mid-song costume change their modesty thankfully remains intact.
Part three gives us Fakenham Fair, still one of Bellowhead's prettiest arrangements but they keep things interesting with a medley of Trip To Bucharest and Flight Of The Folk Mutants parts 1 & 2. It's followed by an interval that gives ample time to refresh and again it's notable to see how quickly the hall empties and refills, while the multitude of bars make getting a beverage a simple thing.
As we kick off the second set it's perhaps only natural that part four and Hedonism gets the biggest cheers so far. It also delivers a crowd pleasing Yarmouth Town and Cold Blows The Wind, the latter accompanied by a suitably moody film. Benji then introduces their Cross Eyed And Chinless holding aloft the newly published Bellowhead songbook.
There is even more enthusiasm for part five and Broadside, which features Black Beetle Pies complete with a rather strange lyric editing based animation, Betsy Baker, 10,000 Miles Away, which bring Maddy Prior back to the stage and Roll The Woodpile Down. By now the standing section are bouncing and even some of those seated are up on their feet, although an outbreak of spontaneous dancing in the aisles is quickly curtailed.
[pullquote]What is less expected is that Bellowhead are now signed to Island Records and that Revival will be with us as early as June 23rd[/pullquote]But what's this? Part six! OK, so that was to be expected with the announcement of a new album. What is less expected is that Bellowhead are now signed to Island Records and that Revival will be with us as early as June 23rd , breaking their longstanding autumn release pattern. They play Let Her Run and Gosport Nancy, which have the hallmarks of Bellowhead classic status. There are some more surprises on the LP and CD release, so you may well want to pre-order your copy without delay.
But that brings the second set to its close and this is where the screens once again add to the drama as we get a succession of messages.
"That's it!"

"All finished!"

"Seriously…"

"We don't know any more…"

"You'll have to leave…"

"Oh! Hang on…"

"We forgot the cake!"
The band re-emerge with a supermarket, kiddies Birthday cake to a chorus of Happy Birthday. Jon announces, "We couldn't leave you without playing this," as they launch into London Town. The crowd start bouncing, but a few seconds in the tune breaks down and Jon announces, "I'm really sorry but we've all spontaneously forgotten how to play that one. Oh, hang on a minute…" To much hilarity they all reach down and pick up copies of the new songbook, before launching back into the song, which naturally enough has the whole Albert Hall crowd joining in.
A romp through Sloe Gin Set, New York Girls and finally Frogs Legs & Dragons Teeth, complete with firework finale, bring the set to the conclusion it deserves. The place is absolutely bouncing. A standing ovation finally does seal the end of the show but as the band leave the place is absolutely buzzing, beaming smiles abound.
A spectacular was promised and a spectacular delivered, although I guess given their regular round of festivals, it may be debatable whether this is the biggest Bellowhead event, but it must surely rank as one of the very best. They have taken London's most prestigious venue by storm, played an absolute blinder and anyone from Island Records in attendance must surely have left with a certain satisfaction. Whilst the label's history marks it my favourite and there is a large element of the right fit, the two most important things are that the record is imminent and that Bellowhead will be back in London in November. Given the above I am not going to miss that one.
Review by: Simon Holland
REVIVAL: THE NEW ALBUM CELEBRATING OUR 10th ANNIVERSARY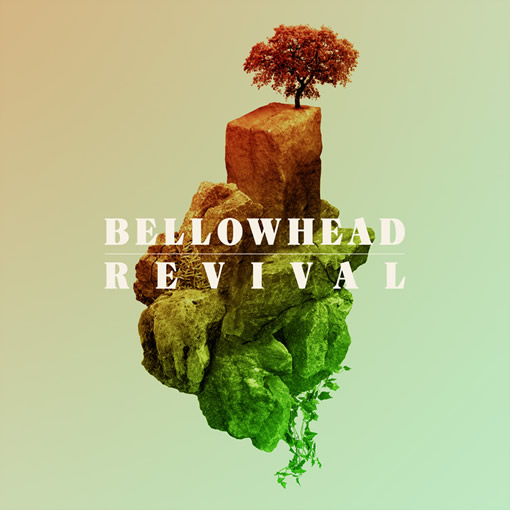 Tracklisting
Let Her Run
Roll Alabama
Fine Sally
Let Union Be
Moon Kittens
Rosemary Lane
Gosport Nancy
I Want To See The Bright Lights Tonight
Seeds of Love
Jack Lintel
Greenwood Side
2CD Deluxe Bonus disc:
Rake
Proper Swell
Roseville Fair

+ Exclusive live tracks taken from the tenth anniversary gigs.