What a treasure this is. Just to hold. When the larger than usual jiffy bag popped through the door I gathered it up with an eagerness that might have made a fly on the wall wonder. Inside, well protected with an extra cardboard envelope was the expected book and CD combo, Teach Me To Be A Summer's Morning, but despite the anticipation, what I hadn't counted on was the frisson of opening it and reading Marry Waterson's brief introduction. It was immediately and profoundly moving.
The book itself is a lovely thing, the muted colours of the cover, which is extra thick , in part to hold the CD which slips elegantly into the inside front. In some ways it feels like the kind of cover that usually protects a brightly lit, picture story from the attentions of small hand and mouths. There's something appropriate about that as although Lal was certainly no ingénue, the contents suggest an open mind and heart that has never quite lost that sense of childlike wonder. There is playfulness in evidence and some of the illustrations have an echo of Arthur Rackham, but then there are also stark cubist abstractions and some dark and haunted images, with even hints of reportage amongst the fantasy.
I suppose that what stirs the emotions so is both the love and care that has been put into this, but also the thought that the contents of these pages where probably never meant to be seen. It a deeply personal archive, but one that gives a powerful insight into the creative mind in full flow, untroubled by demands for exhibition or deadlines for publishing. On the pages it is just Lal Waterson pure and simple.
Her daughter, Marry Waterson's carefully chosen words set the scene and the looking at the extract from the various notebooks, it's easy to imagine Lal, "Living on coffee and Woodbines, her pen lagging behind her brain." The tragedy of course is that this diet would ultimately play a major part in Lal's sudden, premature death, which given her sister Norma's recent late flowering is perhaps even more keenly felt. Given the circumstances of her life, however, it's probably understandable.
With Norma and Mike Waterson, Lal was the youngest of the three, orphaned siblings. They were brought up by their grandmother who was part Gypsy and is celebrated in the Song For Thirza on the CD. In such circumstances it's probably quite natural that the three of them shared a close bond. They first started singing together in the 50s, forming a skiffle group with cousin John Harrison, but as the decade turned they opened a folk club in a pub in Hull and turned to more traditional material, originally billed as the Folksons.
Adopting the family name, they were first recorded as part of a collection called New Voices and this then led to the Waterson's debut for Topic Records. Frost And Fire was released in 1965 and scooped the Melody Maker's Album Of The Year, not something that was normally awarded for a first outing, but a record that has stood the test of time, drawing almost as much acclaim for the recent, re-mastered CD re-issue.
But singing from the tradition was only one of Lal's passions and talents and the recent Bright Phoebus tour has demonstrated her own songcraft. In Marry's words, "She was a most complete artist, a self taught singer, writer, guitarist, pianist, painter, dress maker, weaver – you name it."
The same is probably true of the recordings as for the words and pictures in that they weren't originally intended for public consumption. At least not in the form they appear in here, as they have the feel of songs newly minted, recorded for the first time as demos. Not that that detracts from the obvious quality of the writing, but the setting are mostly quite basic and without any production as such.
The songs, like her drawings are a mix of fantasy and acute observation and Lal's love of words is obvious. There are some slightly surreal images too, which perhaps reflects her love of Rimbaud's poetry. The weather is a recurring theme, used in a number of different ways, to paint the seasons and passing of time, but also conversationally. They do say it's all we Brit's talk about, but it's also a point that Marry makes in her intro noting that, "Everday speech and conversations would find their way into a song, something would take her ear and she'd be off…"
The opener, Never The Same is typically inventive if somewhat oblique. The central image of Rosemary in a constant shower of rain is slightly curious, especially as it seems to be terminally bad for her health. But rhymes like, "The sun doesn't get any higher and Rosemary doesn't get any dryer," which morphs into, "The sun doesn't get any better and Rosemary just gets wetter," have a playful quality. So does The Scarecrow, as Lal imagines the, "Bag of rags in an overall," filled with desire to "Lay me down and love me."
Marvellous Companion combines keeping one eye on the weather with a confusion of religious devotion, that sounds somewhat ambivalent. Red Wine And Promises meanwhile finds Lal collapsed in a drunken heap on a rain soaked street and sounds more solidly defiant as she sings, " I Don't need no bugger's arms around me." More poetically she imagines herself as an upturned beetle thrashing its legs to no avail.
It sounds like Shine features the three siblings, with what I presume to be Mike encouraging an upping of the pace setting of the intro. He also appears in duet on Black Horse, which was one of the highlights of another of our featured albums recently, with Marry and James Yorkston joining forces on Lisa Knapp's version. These two tracks sandwich a lovely song called Piper's Way. The imagery is both dreamlike, but also oddly evocative as Lal sings, "And the piper by my side, took his tunes from winter's mouth and played them back to the racing clouds."
The most moving moments on the CD, however, follow the generations of the family line. Song For Thirza runs through with the regrets of loss and brims with love for the matriarch, honest and self effacing in it's confessional. But the family line continues, as Marry says of Once In A Blue Moon, "A song we sang together, unmixed and forgotten for 15 years," it clearly shows Lal's legacy will not go to waste.
They do say a picture can paint a thousand words, so perhaps that explains why these few pages tell more of a story than any comprehensive biography could hope for. Perhaps it's also true that a song can paint a thousand pictures, because when you add the stories contained in this CD, complex, poetic and inspirational, then this package suddenly stacks up to being something both intimate and profound, confessional and universally empathetic, perhaps even wise. None of us can ever know Lal in the way that those closest to her did, but this portrait is as alluring as a Mona Lisa Smile, with the advantage of being infinitely more affordable. Teach us all to be a winter's blossom Lal.
Review by: Simon Holland
A lovely animation by Marry Waterson for Piper's Way:

Demo recording by Lal Waterson of a song that would later appear on 'Bright Phoebus':
To Make You Stay

A magical and long forgotten demo recording:
Lal and Marry Waterson – Once In A Blue Moon

Tracklisting:
1 Never The Same
2 The Scarecrow
3 Evon Our Darling
4 May Butterfly
5 To Make You Stay
6 Marvellous Companion
7 Red Wine and Promises
8 Shine
9 Piper's Way
10 Black Horse
11 Song For Thirza
12 Shady Lady
13 Once In A Blue Moon
14 Anna Dixie
15 Telephone Raider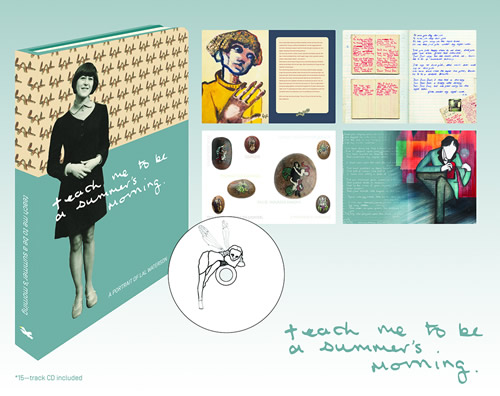 Teach Me To Be A Summer's Morning (CD + Hardback Book) released via Fledg'ling 21 Oct 2013
Order it via The Fledg'ling Shop
https://www.facebook.com/Teachmetobeasummersmorning