John Martyn released his first album, London Conversation, in 1967. His folk / acoustic sound with its breezy, jazz undertones was well received. The 1968 follow-up, The Tumbler, provided a further glimpse of Martyn's adaptability with a deal of influence from jazz flautist, Harold McNair and Al Stewart as producer. With these early studio explorations, John Martyn embarked on a recording career that spanned more than 40 years.
Devotees are not going to be disappointed by the offerings in the box set from Universal – John Martyn – The Island Years. The 18 disc collection contains every studio album John Martyn recorded during his time with the famous Island label, and that even extends to his original recording of The Apprentice – the album Martyn and Island fell out over which was later released on Permanent Records. Other than the included treats mentioned in our earlier article, the real thrill for John Martyn fans is the huge wealth of unreleased material, covering the first 20 years of his career.
The rarities start with out-takes from Stormbringer, his first of two albums with his wife Beverly. There are alternative versions of John The Baptist and Go Out And Get It, a handful of demo tracks and an early BBC recording of Traffic-Light Lady. Road To Ruin includes another track from the same BBC session (Road To Ruin). Both BBC recordings provide a perfect, and early, illustration of Martyn's compulsion to expand and experiment. Traffic-Light Lady is typical of both John & Beverly albums – soft, acoustic guitar and glorious harmonies; in contrast, the session version of Road To Ruin couldn't be more of a departure, with John heading off on a solo Echoplex extravaganza. Very much a taste of things to come.
Martyn always spoke of his third solo album, Bless The Weather, as one of his most spontaneous. Among the 8 alternative takes included from this album (all previously unreleased) those that shine brightest are an even longer version of his magnificent Echoplex showcase, Glistening Glyndebourne, and a much extended Sugar Lump.
Live At The Hanging Lamp was recorded in 1972 at a Richmond folk club. Recorded before an intimate gathering of around 150 people, this is a gem of a performance; providing an authentic taste of John's early 'electric into acoustic and acoustic into electric'. A sing-along Singin' In The Rain delights the audience, and the man himself, and contrasts strongly with a dynamic rendition of I'd Rather Be The Devil. Which brings us to 1973, and Solid Air. Without doubt his best known album (as with so many other fans, it was my introduction to his music), Solid Air is a milestone not only in John Martyn's career, but in the history of British popular music. Although it would be pointless (and some might even say, sacrilegious) to try to improve on the album, the 9 alternative takes included do a fine job of providing a small insight into the recording progress, with an even more light and breezy May You Never also serving as a reminder of Martyn's versatility. In October of the same year, John recorded Inside Out. In contrast to Solid Air, this was a mostly spontaneous recording that took his Echoplex experiments to another level. Of the 6 previously unreleased tracks included, the acoustic BBC recordings of Beverly and Make No Mistake provide the starkest contrasts.
John Martyn's career was full of such divergence, so perhaps it's fitting that the original version of the Live at Leeds album (financed and released by John himself) from 1975 is accompanied by a handful of live recordings from more than a decade later. Outside In opens the disc, with 19 minutes of dreamy enchantment; 11 years on, it closes with a synth-laden rendition of his magnificent, strutting, I Am John Wayne. John Martyn was, without a doubt, a man of many parts.
And so we come to the romantic and emotional charged Sunday's Child. An unfortunate omission from the album, Ellie Rhee, was much loved by audiences at the time and finally finds its rightful place in this release. Still happily, and skilfully, juxtaposing his folk, jazz and rock influences John's Spencer The Rover typifies his love of the acoustic sound, as does the inclusion of a BBC recording of the same song from two years later. It's easy to understand why Live In Sydney 1977 is included in its own right. A rapturous audience are treated to the usual mix of electric / acoustic. John's irreverent live approach is typical, but the performance is entrancing, closing perfectly with May You Never and Over The Hill.
One World followed on from John Martyn's first visit to Jamaica, and his introduction to Lee 'Scratch' Perry. Big Muff was co-written with Perry. This was a hugely productive period for Martyn, and the range of alternative recordings from these overnight sessions, recorded in Berkshire using Island's mobile studio, means the selection has been extended over two discs.
By the time John Martyn released Grace and Danger in 1980, his studio output was influenced more and more by electronic sounds and production techniques. Although Phil Collin's stamp is writ large on the album, the deeply personal songs are still regarded as classics, and titles such as Hurt In Your Heart dealt directly with the final break-up of his marriage to Beverly. Disc 14 – The Grace And Danger Era, shows how these new influences changed his live performances, to an extent. Although not represented in additional material from the period, Martyn's acoustic output was a still a vital aspect of his live performance.
The change in direction heralded by Grace And Danger was also the start of a seven year absence from Island records. He returned in 1984 to record Sapphire, followed by Piece by Piece in 1986, and although a more synthesised sound had taken over, his song-writing remained strong and among the vocals there are still flashes of the John Martyn held in such reverence by lovers of his earlier music.
And for fans of that predominantly acoustic era, this box set still has plenty to offer. The included DVD opens with classic cuts from The Old Grey Whistle Test. Make No Mistake and Outside In (fantastic to see this session), both from 1973 make their first appearance on DVD. And so the exclusives continue… Sight and Sound – In Concert from 1977, OGWT from 1981 and memorable performances from A Little Night Music in the same year. Foundations – Live at the Town & Country was originally released on VHS in 1986 and is now on DVD for the first time. Finally, as if to affirm the importance John Martyn's earliest output and influences, rare (recorded post-broadcast) BBC concert footage of Bless The Weather, Outside In and Spencer The Rover from 1978 are available for fans to enjoy for the first time.
John Martyn – The Island Years is a significant collection of his music and illustrates perfectly the many journeys his muse took him on. For visitors to Folk Radio UK this is especially significant, because although many will disregard the synth/pop output that brought him, arguably, the greatest commercial success he enjoyed, later recordings such as those made for the first series of Transatlantic Sessions are proof of his never-ending devotion to his acoustic roots. This box-set goes a long way to re-affirming that devotion and provides collectors with the opportunity to access insights to his work that have never been available until now. The price tag is a hefty £130, but for those who can justify the extravagance, it's an unmatched collection of John Martyn's finest years.
Review by: Neil McFadyen
Order via Amazon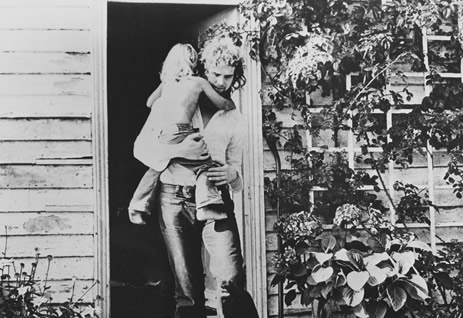 I came across this full live show earlier this year and now seems as good as any to show it. It has nothing to do with the Boxset release. You can find the full Boxset details here.
John Martyn 1987 Live in Dublin Full