In March 1957 a young American folk singer was about to appear on a radio show in Los Angeles. The dilemma she faced was finding an appropriate song that would fit their tight two minute time slot. She spoke on the phone to her singer-songwriter partner, thousands of miles away in England, and asked if he could help. The musical answer she received down the phone line was his one and only rendition of a song he had just written about her.
He was Ewan MacColl, she was Peggy Seeger, and the song was The First Time Ever I Saw Your Face.
"He'd just written it," explains Peggy, who was then 21. "We'd been parted for four or five months (the pair met in England in 1956) and the song was written both for me and about me. Ewan sang it down the phone and I took it down right there. He never sang it again. He just gave it to me to sing to him."
The song has been recorded many times by many people, but it's Roberta Flack's hit single in 1972 that most people remember: "Her song has a somewhat different tune to my song and she draws it out. My version lasts one minute and 50 seconds and her song lasts five minutes."
Ever since then Peggy has sung The First Time Ever I Saw Your Face in a traditional folk style, with just her guitar as accompaniment to her voice. Then, last year, her son Calum MacColl suggested she sang the Roberta Flack tune at the Roberta Flack pace for a dance version to be mixed by Broadcaster: "It was the first time I'd ever sung that tune. My son said 'sing it lower' until I was right at the bottom; I couldn't sing it any lower. It was just me, recording it in the studio and everything was added later by Broadcaster."
The version is on Broadcaster's album, Folksploitation, a selection of Peggy's traditional songs which she recorded in 2012 for him to put his own stamp on: "It was done as an experiment and I think it worked," said Peggy. It was a dramatic change for the folk traditionalist: until Folksploitation, she had only recorded traditional songs and her own compositions.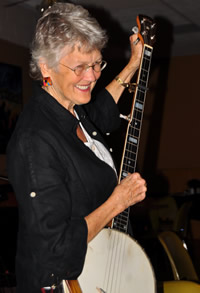 Peggy, now 78, comes from a famous American folk dynasty, which includes her mother, Ruth Crawford Seeger, her father, Charles Seeger, her brother Mike Seeger and her half-brother Pete Seeger. Pete is regarded as the inspiration behind the American folk music revival and was described by Bob Dylan as 'a saint'.
Peggy is in Devon this month, where, as patron of Devon-based Wren Music, she is appearing at the charity's Baring-Gould Folk Weekend which takes place at venues in Okehampton on 25-27 October. She will be performing at Fairplace Church on the Saturday of the event: "The concert will have a range of songs, from unaccompanied Anglo American traditional right through to a song I might have made up the day before yesterday."
Peggy will be singing some brand new songs from her latest album, Everything Changes. The title track, which follows a poem Peggy wrote eight years ago, is about her mother who died from cancer in 1953 aged just 52.
Peggy's connection with Wren has its origins in the 1970s, when Peggy and Ewan sang at Dartington. It was here that they met Paul Wilson, now musical director at Wren and then in a local trio called Staverton Bridge: "Ewan and I actually taught at Dartington as visitors," recalls Peggy. "We met Paul, who was working with Sam Richards and Tish Stubbs in Staverton Bridge, and we were very impressed with what they did. I'm still impressed with what Paul does, together with Marilyn Tucker (artistic director at Wren).
"They've done what people should do with a tradition, which is to try to keep it alive and keep it moving throughout all of the ages that they deal with – older people, younger people, children. They've been such innovators and it's nice to be part of what they're doing."
Peggy confesses she isn't all that familiar with the songs that Baring-Gould collected from communities across Devon and Cornwall but preserving traditional songs is close to her heart: "I sing mostly North American folk songs. But Wren and I want to keep the songs out there and Wren's specialty is its value to the whole community."
For Peggy, the Baring-Gould Folk Weekend is a rare opportunity to stay in the same place for more than a day and she hopes to take in some of the other concerts: "I will love it! I will see the same people tomorrow as I saw today, and the day after tomorrow I'll see the same people I see tomorrow – that is a real treat for me. And it will be in the company of facilitators who know exactly what I'm talking about and I know exactly where they are and where they're going. That's why I'm a patron of the Wren Trust because I approve 150% of what they do."
So what does Peggy think of the new darlings of 'folk' music, Mumford and Sons? "Some of the accompaniments that I've heard Mumford and Sons play, they sound kind of folksy – like solo guitar and they have a banjo in there – but I haven't heard a folk song by them. But Bob Dylan brought a lot of people to folk and his songs aren't folk songs. My new songs aren't folk songs. There are differences in opinion regarding the definition of folk music that have caused an awful lot of dissension among folk singers and songwriters."
The Baring-Gould weekend takes place just a few days after the 24th anniversary of Ewan MacColl's passing in October 1989. The couple were together for over 20 years before marrying in 1977. These days Peggy, who was born in New York, lives in Oxfordshire, and she spends much of her time travelling to concerts in the UK and abroad. Next year, she will have her second US 'Farewell Tour', with her grandson Alex as 'roadie'!
"I will find it very hard to give up, if and when I have to. You get attached to a way of life and also, it's what I do. I have no idea what I will do when I can't do that."
The song everyone expects and hopes to hear at her shows is, of course, The First Time. So the big question is: will she be singing it at the Baring-Gould Folk Weekend: "If I'm asked, I will. Sometimes people forget and come up to me at the end and say 'you didn't sing such-and-such'. So then I say 'you didn't ask'." Don't say you haven't been warned!
Interview by: Laura Joint
This is the 15th Baring-Gould Folk Weekend and it coincides with the 30th anniversary of Wren Music. To mark the anniversary, Wren have introduced a special festival ticket price of £30. For the full programme and ticket information, visit the website:
www.baring-gould.co.uk
www.wrenmusic.co.uk
www.peggyseeger.com
Roberta Flack "The First Time Ever I Saw Your Face" (1969)
http://youtu.be/hOFrGbuUqnQ
BROADCASTER feat PEGGY SEEGER – First Time Ever