I'm grateful to Sean for sending me a copy of his new CD Chase The Night. In the package were a couple of postcards advertising the release, with a few well chosen quotes in praise of the singer songwriter and a brief introduction to the record. Well spread over a side of A4, as press releases go, it may not be a mine of information, but it's definitely a case here of less is more, as a couple of lines get straight to the heart of the matter. The most telling of which is, "Chase The Night is the album I've always wanted to make. It is about who I am and where I'm from." While that seems a simple enough statement of intent, which may prompt other artists to say, "Hey, me too", on listening to the album it seems to hit the nail on the head. Review done then? Well…
The "where" part is immediately apparent. Track four is simply titled London and the songs are littered with references to some of its districts, especially Kilburn, which Sean calls home. The grandstanding closer, River, is a brilliant homage to the city using the Thames as both the main thread and principal metaphor. But there's more than that as many of the songs bristle with an energy, vibrancy and imagery redolent of London's famous buzz. If any music actually deserves the tag 'urban', then this is it. Paradoxically the album was recorded in Austin, Texas, with Mark Hallman in his Congress House studio.
The "who" is perhaps less obvious. His official site has no biography as such and there isn't much more on the wider web. I know his family have Irish Roots, but he tells me, "I am born and bred in Kilburn and still live there today. It's an exciting place to be from. It's culturally diverse, dynamic, and full of life. Edgy. The stories tell themselves. I love cities, the speed of the movement, the sounds of the sirens, and danger of the night. The feel of the city – its pulse runs through the album like a river."
Like all writers there are clues in his songs, although it is always dangerous to presume everything is confessional. Sean confirms this stating, "Sometimes the songs are directly about me, but often it's about people I have met or stories that reflect emotions and things going on in the world. The key thing is always the song. Just as the instruments have to serve, so does the language." When I attempt a diplomatic enquiry about the pills, powders and potions peppering his writing, suggesting some hard and fast living, he counters, "It's not all auto-biographical, if it was I would have been dead about three albums ago." Touché! But perhaps it's the sense of appetite that comes across, a hunger to live life, feeding of the energy and buzz, creative sparks arcing in the electricity, the city's heartbeat echoed in his own.
Sean is certainly a potent lyricist and there are suggestions that his influences come more from literature than from those other singers who he is frequently compared to. He confirms, "Yeah I love reading, especially poetry. At first I got into a lot of the Beat Poets like Allen Ginsberg, Jack Kerouac and Lawrence Ferlinghetti. I love the fearless energy of these writers. Then in the last few years I have got into more challenging writers like the great Spanish poet Federico Garcia Lorca and the great modernist writer Wallace Stevens, both very different, but both in love with the beauty of language. Yeats is a big influence and I've even dared to make a song of a Shakespearean Sonnet. It all goes into the mix."
The promise has been obvious over the last three albums, from Walk With Me through Love Against Death, to the new release, but then I simply haven't had the chance to check out those that preceded this fine trilogy. Sean has actually been quite prolific and this is his sixth release. Given that his debut came out in 2006 that's pretty sharp work. In part it can be explained by constant writing, especially when on tour. Sean explains, "I don't drive a car so I travel by train and I have lots of time to read and write lyrics. It's great you can meet people along the way and ideas are constantly out there, you just have to make sure you write them all down."  He adds, "It's a continuous process of writing songs and creating. My previous album Love Against Death was also recorded with Mark in Austin and even as that album was being completed, Chase the Night was already beginning."
Sean started writing a good couple of years before he really started gigging, he reveals, "I have always loved songs. When I started out in my teens Oasis were the dominant band and I loved their first two albums, great songs and melodies, but even when I was learning simple chord progressions and scales I'd improvise. I worked backwards – getting into the Stones and deeper, into blues and from there into folk and roots music. It's always been the songs that have drawn me one way or another."
It's not just the lyrical skills that he's honed, "As you become a better musician you begin to explore more complex sounds. I love the percussive guitar of Richie Havens, for example, the clean finger picking of Martin Simpson, the cool of JJ Cale, the electricity of Stevie Ray Vaughan. Then there are vocalists: Marvin Gaye, Van Morrison. The influences come thick and fast. The latest things I've been listening to have included Bon Iver and Gregory Alan Isakov."
Whatever the building blocks, there is no denying the thrill of Chase The Night as the title track opens in an electric bluesy vein. The Austin vibe clearly suits Sean and he confirms this, "I love the way me and Mark work in Austin. We have all the instruments and vocal mics set up in different rooms so we can move very quickly between them and get ideas down fast. I love working this way, you can record songs very quickly and then change parts when you come back to them. The work develops its own momentum. It swings."
Swing there is and also a funky element to several of the tracks, notably Love Bleeds (the lithe strut of Miss You era Stones), So Fine (a magical confluence of John Martyn and Gris Gris era Dr John) and Under The Volcano (recalling Heart Attack & Vine Tom Waits, although with less of the freak show barker and Beefheartian growl).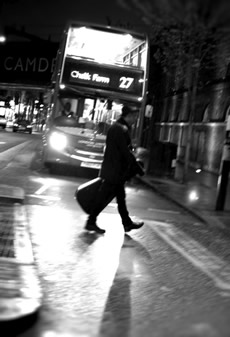 Elsewhere there are tinges of melancholy. Losing You is intimate, almost a whisper, The Road has a subtle emotional swell of brass and Biddy Mulligans casts a wistful eye back at a Kilburn landmark, once a  cornerstone of the Irish community that settled there, as Sean sings, "Each generation will find a place to hide." He explains, "Biddy Mulligans was a famous pub in Kilburn that in the last few years has been turned into a betting shop. Austerity hurts. Kilburn was a predominantly Irish area in the 1970's and 80's, and the pubs reflected this. Biddy's had a late license and so it would attract a more hardened drinker. It reflected a wildness that has always been part of home. It was opposite the National which was a Mecca for Irish folk singers and bands."
The song London features Danny Thompson and for all the world, to these ears at least, sounds like JJ Cale singing John Martyn. It's an immediate favourite and references "Terry and Julie", which prompts the inevitable Ray Davies question, "Yeah he is a great songwriter, " confirms Sean, "But the song is very much a celebration of London and Waterloo Sunset is a great anthem for London.
The line in my song, "Waterloo sunset melts as Terry and Julie walk on", is also a reference to a day years ago when I was busking in Green Park station and Terence Stamp came up to me. We had a lovely chat, such a cool guy; he told me he has just come from "Tap dancing lessons" … I couldn't get that bit into the song."
If anything can eclipse it, then River has the stuff. The epic closer is bold, intense and one of the best things I have heard of any stripe in many a year. It's a stream of consciousness worthy of its subject. The song really does speak for itself, but Sean quietly admits, "River took years to write, there was loads of editing, lots of different versions. But it was a really ambitious thing to try and do, I have never recorded a spoken word piece before." That's as maybe, but both in isolation and as the conclusion to a great record – even read as a piece of poetry – it's a serious statement. He even uses the word, "Polis", just as others are starting to question London's rise to self-centric city-state.
When I point out the obvious irony of being so far from the spiritual heart of the album when it was recorded, Sean responds, "Being away from home, recording in America, touring, all these things make me think a lot more about where I'm from. I feel proud to be from London with all the different cultures and influences, it's a great place to be an artist."
Touring is something he's done a lot of and is also one of the things he seems keenest to shout about, telling me, "I started writing songs when I was fifteen and I played my first gig a couple of years later when I was 17. Since then I have toured all over UK, Europe, and Australia. I have opened for John Fogerty, Tony Joe White, Eric Bibb, The Neville Borthers and Band Of Horses. I have played Glastonbury, Cambridge Folk, and Celtic Connections Festivals, as well as hundreds of other shows."
He counts some roll call of notable bill openers there, but with more gigs imminent there are two special shows to take particular note of. Towards the end of October, he's playing with fellow London acolyte Danny Thompson.  Sean Tells me, "Danny is a special musician, a one off. It was a dream come true having him on the album. I have grown up with his playing with John Martyn, Nick Drake, Eric Bibb – the list goes on. I was listening to an album by the Blind Boys Of Alabama and suddenly realised that the bass could be no one but Danny. The man gets about! I'm really looking forward to playing with him. We're doing a show together at the Half Moon in Putney on the 23rd October and then at the Farnham Maltings on the 25th October."
Having fallen under London's gravitational pull some 20 years hence, it seems strange to think that Kilburn is almost as remote to me as Leeds or Manchester. It's a place I've been, but not often. Whatever your relationship with the capital city, however, you will find many things here that will resonate with your life. Alterntively you can simply take pleasure in the fact that Sean has been true to his word, it's his time, its his place, it's his life and more. This is the album he has always wanted to make, in doing so he's created his bold and brilliant masterpiece. Review done then? Done!
Review by: Simon Holland
River

London

Chase the Night is released via Sean Taylor Songs 23 Sep 2013
Pre-order it here
CHASE THE NIGHT – UK TOUR 
07/09/13 PORTPATRICK Folk festival Buy tickets
14/09/13 RADIO Raven N Blues
17/09/13 EMSWORTH WemsFest – The Deck, Emsworth Yatch Harbour, PO10 8PB Buy Tickets
21/09/13 CHESHAM Drawingroom Buy tickets
22/09/13 ISLE OF MAN Jabberwocky Buy Tickets 
27/09/13 YORK Pocklington Arts Centre Buy Tickets
04/10/13 ULVERSTON South Lakes Music Promotions Buy Tickets
11/10/13 SANDWICH Crispin Inn Buy Tickets
12/10/13 LEAMINGTON SPA Royal Spa Centre & Town Hall Buy Tickets
19/10/13 LIVERPOOL Irish Festival Buy Tickets
23/10/13 LONDON Half Moon (with Danny Thompson) Buy tickets 
25/10/13 FARNHAM Maltings (with Danny Thompson) Buy Tickets
02/11/13 NEWCASTLE Cluny 2 Buy Tickets


http://www.seantaylorsongs.com