Jospeh Arthur has been described as everything from a channel for some higher spiritual dimension, to visionary, to mad genius. A musician and painter, there is no questioning he's got a touch of one or all of those qualities. Unsurprisingly, he's picked up a notable celebrity fan base including the likes of Michael Stipe, Cameron Crowe and David Letterman, all of whom have a level of artistic involvement that makes them worth a praiseworthy quote or two. The most significant endorsement, however, has come from Peter Gabriel who has signed him to his Real World label, giving him encouragement, budget and the time to develop musically and artistically.
As befits someone who comes advanced notices of unhinged genius, The Ballad Of Boogie Christ Act 1 & II is a somewhat sprawling double CDs worth. Loosely autobiographical, or at least rooted in Joseph's own experience, it's narratives throw up ideas and lines that the listener is free to interpret and piece together in their own way. Joseph himself has said, "I don't know that there's a beginning, middle and end to the story, but there are definitely experiences, situations and perspectives that point in those directions."  He also refers to a conversation with Chuck Prophet about the great American novel and his fellow song writer's subsequent encouragement to think on a grand scale.
Perhaps more fundamentally the 24 tracks over two CDs point to an artist who is both gifted and prolific. There are stories of him working on two or three records simultaneously, finishing one, starting another, while writing for a future project. Those who know have also suggested that for every song recorded there are another couple or so in the bank. But through all of this creative outpouring the songs of The Ballad Of Boogie Christ have gelled into something more cohesive. Perhaps most significantly, Joseph refers to Bowie's Ziggy Stardust, as an alter ego rock 'n' roller and made real through filmic snatches of a storyline committed to song not celluloid.
Joseph started his own musical development back with childhood piano lessons, which he stuck at long enough to get to the point were he realised music offered the chance for real self expression. He's subsequently developed a range of musical skills, paying his dues on the road for many years, grounding in touring bands and an ambition to break into jazz. It was actually his song writing, particularly lyrical themes that first attracted Peter Garbiel, however, leading to the release of Big City Secrets in 97. He left Real World in the middle of the following decade, the relationship has been rekindled, firstly with a reissue programme and now this double disc.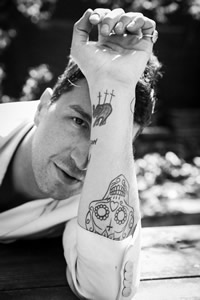 As well as the various inspirations and endorsements, Joseph has recruited some notable help to realise this ambitious musical project. The Band's legendary Garth Hudson adds keyboards, while the equally legenday Jim Keltner is behind the kit. Joan Wasser (aka Joan As Policewoman), Kula Shakers bassist Alonza Bevan and Maria Mudaur's Daughter, the silver voiced Jeni and Juliet Lewis are a few notables amongst a varied cast list.
As noted, it's a double disc set and both CDs clock over 50 minutes, which for someone with confirmed CDADS, having grownup with a maximum of around 20 minutes per side of vinyl with a convenient pause at the midway point, might be regarded as a stiff challenge. It would be more so if it weren't so goddamn good and there are times when The Ballad Of Boogie Christ is right up there.
There are certain key reference points for the sound, although if you give this your attention you will find, or create your own without problem. Yet it somehow avoids any temptation to write it off as hand-me-down, or the faint praise option of, "Yeah, it sounds a bit like (insert name of your choice)," with the suspicion that it could never come up to scratch. Primarily that's because, as already established, it holds its own and much more in some highly exalted company.
In the feverish lyrical cascades there's a lot of Dylan, especially from that thrilling period just after he'd plugged in, some of Lennon and Spector's collision, a nod to Laughing Lennie and fellow border-hopper Neil Young. Hell! If the Rolling Stones still had the wit and nerve to write the likes of Junkies And Limousines, then the recent tour's ticket prices would have been worth it. (They don't and they weren't.) You might even get a little Lou Reed, John Cale, Iggy, Alex Chilton, or even Todd Rundgren. The latter is one of the few others whose planet sized musical brain might have conceived something on this grand a scale in a recording studio.
So, over 100 minutes of music might be a lot to take in, but patience will be more that repaid in this case. It could be described as sprawling (I did so above), but then it depicts some kind of spiritual battleground, where the urban landscape is peopled with the wild, the beautiful and the damned and crisscrossed by highways, byways, backstreets and alleys, the semi-hardened arteries and veins of temptation, escape and possibility, with danger likely to lurk at every junction. This is visceral and alive, crawling and infected. It's sprawling in the way a city does.
A warning. It surely won't suit all comers.  The clue is in the title, so if that gives you the heebies, be aware that boundaries are crossed and life is a derestricted zone, where sex and drugs and rock and roll are on prescription. They get thrown into a melting pot, with godliness and idolatry of every stripe, in the hope that redemption will spill out as the whole mess boils over. If you are to pick touchstones then perhaps his re-working of I Miss The Zoo, I Used To Know How To Walk On Water, King Of Cleveland and Maybe Yes could be key to the narrative, but might equally be blind alleys. You decide. Although it's not hard to discern plotlines through the blue tinged smoky haze, the conclusions are a little more slippery, agnostic and ambivalent.
It certainly isn't perfection, but can such a thing exist and anyway, the more you play it, the more it seems to defy any easy edit points. Did you ever used to buy records on a whim and play them until you liked them? If so you will understand that this is one to go back to again and again. It teeters on a knife edge between iconoclasm and the need for salvation, a razor wire stretched taut between hedonism and torture, stupor and unknowable highs, mercy and mortal danger. Joseph Arthur has walked it without a safety net. All you need to do is sit back and listen. For some it's an easy life.
Review by: Simon Holland
The Ballad Of Boogie Christ Act 1 & II is released via Real World Records 9 Sep 2013
Order from: Real World | Amazon
Watch our Exclusive Video Premiere of 'Currency of Love' here.