Songwriter L.D. Brown embarked on his Grey Reverend solo project when he lived in Philadelphia. Now based in New York his name will be familiar to fans of The Cinematic Orchestra and Bonobo. We were lucky enough to catch a few words with him while he prepares for some live dates in the US to promote his second album for Ninja Tune – A Hero's Lie.
Grey Reverend's sound is a stripped-back combination of acoustic guitar and vocals, as is clear from the opening track, Everlasting. Even the opening track itself contains a contrast, though, with a gentle summer drone throughout and some backing vocals that are even vaguely reminiscent of The Cocteau Twins. This wider, almost choral sound is echoed later in This Way. All this is quite far removed from Brown's jazz days in Philadelphia. The move to New York seems like a significant turning point, and heralded a sea change in his musical outlook…
GR: Yes, When I lived in Philly I played and wrote for solo guitar mainly. When I moved to NY is when I really started to write songs with lyrics. I was always reluctant to sing because it makes me uncomfortable, and still does, but I wanted to give it a real shot. I had a few songs with words that I thought were potentially really good and wanted to know what others thought. I started giving demos to friends and playing in the subways to gain confidence. Then I started gigging here and there and people were really supportive and encouraging towards me. I decided to stick with it.
Brown played the saxophone from age 9 and only later began to learn guitar. Tutored and mentored by guitar improvisation wizard Pat Martino, he still finds plenty room for those early jazz influences in his work as Grey Reverend…
GR: I just love the music really! I feel very fortunate to have found a way to absorb Jazz music and understand it as a musician. It really opens up your ears when you learn to listen to the subtle differences in Jazz, as well as many other styles. The music that I record as GR is derived from the idea of using an existing vernacular and trying to create something personal and poetic within it. Most of the songs that I write are done by me just picking up my guitar and playing, or improvising until something hits me.  I spend most of my time writing lyrics afterwards if I feel that the piece needs them. That can be quite torturous at times. If there is any lucid correlation between the two it is that for me, a song is never "finished". I alter my songs all of the time. If I didn't challenge each song when performing it, then I'd probably lose interest in them.
More than any other track, The Payoff illustrates the degree to which Brown has mastered this transition. With its opening nod towards a blues lineage it slips effortlessly and poetically into the jazz era. The song is especially poignant with its inclusion of a piano sequence played by J. D. Brown's close friend and collaborator Austin Peralta, who died last year at just 22 years old.
Brown has also endured his own health problems. In his 17 years as a guitarist, he's spent 14 years learning to cope with Focal Dystonia (FD) of the hand – losing all the dexterity in the fingers of his left (fret) hand. This must have been a hard road – so how was he able to bounce back so positively and produce such a wonderful sound?
GR: Having fd is something that effects about 5% of guitar players from what I have read, and it can certainly end a career. I can't say that I will ever really bounce back from having it, but I don't really know how to do anything else, at this point, and I have to take it day by day…literally. There are plenty of ways to play the guitar besides the conventional approaches.  I just try to keep my options open when it comes to writing and performing as a guitarist. Most of the people I've worked with didn't even know that I had fd until I announced it on radio a few years ago. There are things that I've learned to do with the guitar that I would have never discovered if I didn't have to deal with the problem. I guess that is positive?! Playing the guitar requires humility, and some people have to learn that the hard way.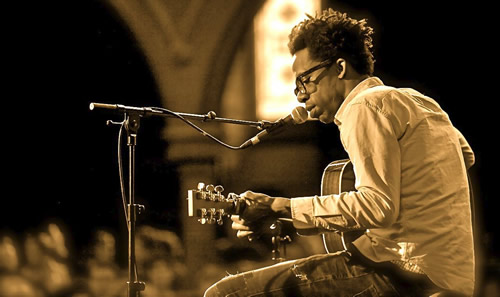 There's much mention in the press and publicity material of influences like José Gonzalez and Will Oldham (Bonnie Prince Billy). But there are distinct flavours of Nick Drake in there, especially with the guitar and vocal delivery on certain tracks. A Hero's Lie and the soul-searching Postcard immediately spring to mind. While in Only One the song writing shows a similar heritage, the richer sound created by the inclusion of vibes, percussion and mellotron seem to mirror John Martyn's willingness to adapt a song. There are shades of the 1970's transatlantic folk scenes in here too wouldn't you say?
GR: When you say Transatlantic I think Bert Jansch! He was just remarkable to me. I think that I nearly had a heart attack the first time that I heard The Pentangle. Such a great sound that they had. That period for music is as good as it will ever get for me. What I really liked about that scene was how these bands were taking such heavy influence from both east and west styles and making something so fresh out of it. It was endearing as hell. The first time I heard a Nick Drake song I bought all 3 of his albums and listened to them constantly for years. His music definitely spoke to me in a profound way, because I was searching for it for such a long time. These guys were writing simple folk songs, but they could play Monk and Mingus, and Ravel with as much appreciation and skill. It was kind of anti-genre ! When I started to write my own stuff I would gather ideas from everything I ever liked musically and try and create my own recipe with all of the ingredients swirling around in my head.
Oh, and about that mellotron – how do you find the time to build your own mellotron, why take the trouble?
GR: I was obsessed with making one after I figured out how to do it. I could have used a plugin, but none of them had the sound that I was looking for. Mellotrons are quite expensive, and heavy, and hard to come by. I figured I'd give it a shot and I just took the time out to create it. It's actually not that hard to do. Like putting toothpaste back into a tube…
There's a stark contrast between Grey Reverend's own stripped-back, organic style of writing and performing, and The Cinematic Orchestra's multi-dimensional, multi-media epics. Is it difficult to reconcile the two?
GR: TCO have made some incredible records over the years, and I've always enjoyed and appreciated working with them. When I met J Swinscoe back in 2006 or so, we would sit and talk about music for hours, and I think that we realized that we had very similar approaches to writing. We both love music for film, and I think that we desire similar emotions from music in general.
Brown's engaging and atmospheric guitar style was also the cornerstone of his previous album, Of The Days, which he recorded at home after studios failed to provide the right atmosphere. The more polished finish of A Hero's Lie is perhaps most clearly evidenced by the laid back but lively fingerstyle instrumental Little Jose. This comes across as a direct follow up to Little Eli on Of The Days. The two tracks serve as an ideal comparison of how Brown's guitar and production techniques have matured in the intervening two years. Little Jose may be Eli's younger brother, but he's far more sophisticated. Which begs the question, how did the two recording experiences compare?
GR: The last album was recorded in 3 days. The process for this one was a bit more deliberate and drawn out at times. I was playing other instruments and layering parts, so I had to consider more things. Some of the songs were done in hours, and some were done over a period of days or even weeks, until I was satisfied. I still recorded all of the guitar and vocals at home, and a friend lent me a Wurlitzer and an organ to use. Nobody at the label knew that I was making the album until I started sending them mixes either, so I just took my time with it until I thought it was ready.
In the closing track, Fate, guitar & strings (especially that breathy violin / viola) and addition of percussion, piano and ultimately brass in the closing sequence round off the album beautifully. Fans in the UK may already have heard some of these new songs live, how soon can we expect a return visit?
GR: The last time I was in the UK was in May of 2013 at Union Chapel, London. I played some of the stuff from the album there. I'd like to return to the UK and play again very soon. Possibly November?!?
Something to look forward to without a doubt. There's deep honesty and a breathless, contented melancholy in Grey Reverend's songs. The combination of style and content offered in A Hero's Lie are guaranteed to attract an ever-widening audience.
Review and Interview by: Neil McFadyen
Everlasting

My Hands

Album Stream via Deezer

A Hero's Lie 2 Sep 2013 Motion Audio
Order via Amazon