Following the review of Gill Sandell's latest album Light the Boats by Helen Gregory (read it here) Simon Holland catches up with Gill to talk about her album which is released on 16th September.
Can you tell me about how the album 'Light the Boats' has come together?
I knew I wanted to create a second album quite soon after releasing my debut Tarry Awhile, one of the reasons being that I really enjoyed the process of writing and arranging all the songs, hearing the whole thing come together and living with it all in my thoughts for many months. As soon as the creative period was over, I missed it!
Tarry Awhile had a gestation period of several years, beginning as some fun recording in my spare time, without a clear vision, and eventually evolving into an album with its own character and sound. For the second album, I wanted to have more of an idea of a theme for the songs. The process began with the song Rooms For Sleep which, in an early form, was released as Seventeen Days, a B-side to the 7″ release Fingers and Toes. So I had a starting point, and the rest flowed from there.
I guess you've been pretty busy over last two and a half years. Do you get much time for writing and private music making?
Yes, the last two years have probably been the busiest and most challenging of my life in some ways! Last year was an exciting time for Emily Barker & The Red Clay Halo, what with touring with Frank Turner in Europe, playing at The London Olympics and Wembley Arena, rehearsing and recording a new album. I also have a couple of 'day' jobs, working in social care with adults with learning disabilities, and so have commitments there. So, writing my own songs and creating the album had to very much fit in with everything else. Also, the head is a great storage space and ideas can be floating around up there while you are getting on with other things, ready to float out at the right moment!
Did you set out with a goal of writing for the album, or work when the inspiration hit you? Also are there any particular themes or ideas that you were working with?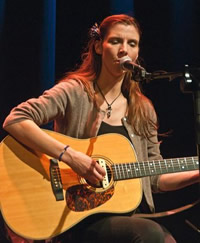 I did want to have more of a set concept for the album. It actually had a working title early on to keep me on track, which was Gilbert Lyle And The Life He Lay No Claim To. That probably doesn't make a lot of sense but, for me, Gilbert Lyle is a character with a connection to The Message, a song from Tarry Awhile. His wife, Lily Lyle, features in the song. She is a good soul and friend, but I wrote another song to reveal a darker side to her life: in the new song Sparkle Eyes, Gilbert has done her wrong and has shocked the community around them. The theme is really about one's actions, choices and responsibilities (or lack of) and how they affect oneself, the people around you and the environment as a whole.
The most immediately attention grabbing song for me is Sickle Swing because of the unusual structure. The counting is very effective, I'm really intrigued.
The mood was definitely inspired by a book called When The Ass Saw The Angel, written by Nick Cave. There are some very dark moments there and although the song is not directly related to the book, the emotion I felt when reading it is a connection. I imagine the scene in Sickle Swing being almost never-ending: the man is fearfully awaiting his fate, shuffling across a vast space into an ever-expanding horizon; counting the days, hours, minutes, seconds. He is quite delirious in the intense summer heat. I'm not sure what crime he has committed, but it ain't good!
Are you happy to talk about some of your inspirations and lyrical ideas?
Certainly most of my songs come from my own experiences and a place within me that then meets my imagination and creates a fictional scenario. I often picture scenes and stories before writing a song and usually feel the mood of a song first.
I also gain a lot of inspiration from being far from my everyday life and particularly like being in isolated places, such as The Outer Hebrides. The song Distance was written on a piano in a house on the Isle of Harris. The house had been inhabited by a family for some years but they had since moved to the mainland, leaving behind a place that echoed memories and space. I felt that sense of abandonment, the remoteness of the island, vulnerability to the elements and wondered at battles that had taken place there. I also felt very removed from the people I know and love but closer to them than ever in my thoughts. The story in the song developed from there.
Can you tell me a little about the people you have collaborated with as well, both the guests and Owen who shares the production credit with you?
Yes, I'm hoping one day to create a 'Rock' family tree of the musicians and friends I work with as we are all so inter-connected and it's an ever-increasing network!
Nearly all of the musicians on the album I've worked with in other projects. Obviously, there are the Red Clay Halo ladies – Anna, Jo and Emily – who I've been in a band with for over eight years now recording four albums. Ted Barnes and Ali Friend also worked with us on Almanac, plus Ted features on Dear River. I play music regularly with Ted and Ali as part of a band for kids and their families, based in London called Mrs H And The Singalong Band. The next link in the chain is Ben Eshmade of Arctic Circle, who, as well as playing French Horn, hosts Daylight Music at Union Chapel and promotes Arctic Circle music events, several of which Emily, Ted, Adrian Crowley and I have been a part of. I enjoyed accompanying Adrian on the piano during a recording of one of his songs for Age Of Not Believing and we both said it'd be great to work together again. I am also a huge fan of his solo albums so it was an honour to have him involved.
The final big connection is a group of great friends I have that all met at Bretton Hall, where we studied music on two different courses, Classical and Pop, and two worlds collided! I shrugged off my classical training for a while and moved to London with Jen Macro and Jon Clayton after forming a Britpop band (that evolved into Emo-Indie) called Blusher, in which I played keyboards, often wore flares and was pretty (or not so pretty) angsty! We were actually quite good and had some close calls with major labels but finally called it a day after a few years and joined other bands, one of which for me was Timothy Victor's Folk Orchestra with Chris T-T and Mary Epworth.
Timothy Victor and I also played together in The Broken Family Band, who recorded several albums with Owen Turner at Sickroom Studios. Although Owen went to Bretton Hall too, I didn't really get to know him until The Broken Family Band days, when he asked me if I'd like to play keyboards in the band Magoo, (in which Owen plays guitar and engineers all the records, Andrew Rayner writes, sings and plays guitar and Stacy Gow plays drums). They were signed to Chemikal Underground at one point (coincidentally Adrian Crowley's label) and were a favourite of John Peel. I recorded a couple of Peel sessions with them, have appeared on a couple of albums, as well as touring and became good friends with them all. So that is how, years later, I chose to visit the Sickroom to record Tarry Awhile and Light The Boats.
As many bands who visit Sickroom Studios will say, Owen is great to work with. He is possibly the most patient person I have ever met and has a relaxed, no-pressure way about him. So, I always feel at ease to try out new ideas, change my mind, change my mind again (!), keep working until I'm happy with something. But I think we've produced two good records because we both like to pay attention to detail and because we have known each other for years and are comfortable with being honest about our musical ideas/interpretations. It really made sense to me to return to a familiar environment to record the second album, where I already had a good understanding with the engineer and co-Producer.
I guess everything you do must be part of learning and growing as a musician, but has recording with Emily (especially on Dear River), changed the way you approached this recording? Has it altered your expectations? Was there a sound that you set out to achieve?
I think it has been interesting recording both albums at similar times, as the two recording methods were very different. For Dear River, the goal was to create a quality studio album, quite radio-friendly, and recorded in a set number of days with a chosen producer, Calum Malcolm, who had a vision for the sound he wanted to achieve. Therefore, during the recording process, we didn't have long to question our arrangements or make changes. We learned to let things go in a certain sense and heed Calum's expert advice!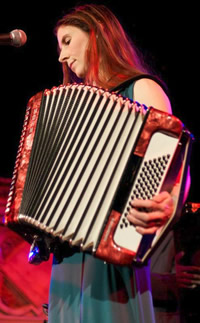 The opposite was true when recording Light The Boats. For a start, I was fitting in around other commitments so would spend a couple of days in Norfolk at the studio, then have an opportunity to reflect/listen before returning. I'd also have a chance to send other musicians, such as Ted or Ali, a work in progress that they could hear and use to think of ideas and would also have to have diary meetings to work out when people could spare time in their own busy schedules to come to the Sickroom to record! There was also no deadline initially, until I set a release date when I felt we were close to having a finished album.
In terms of a sound, I knew I wanted Light The Boats to be richer than the first album, with some orchestral moments and generally more detail. I am fortunate enough to know plenty of fine musicians who could help me achieve that goal!
When deciding who to ask to master the album I came across Ray Staff at Air Studios, and just had a really good feeling about him. Just before I called him, I remembered that I wanted to check who had mastered a Nick Cave album And No More Shall We Part that is one of my favourite albums – I did check and it turned out to be Ray Staff! So, I thought 'this is meant to be'. He really seemed to understand the music, didn't believe in making a loud record for the sake of it but instead respected the dynamics of the songs, which is really what I'd hoped for. Plus, he just did something magical to the strings in Distance!
Can you tell me a little about the use of samples? Some have intriguing names (pool table sample, paracetamol sample).
A conversation that I'd had with Owen from the start was that I'd like to have interesting samples in some of the songs but that they had to be natural, taken from field recordings that I'd made or from objects around us. So, for example, there is bird song on 'Somedays' recorded on the Isle of Sark when we played at The Folk Festival; sounds of the sea from the coast of Pembrokeshire; recordings of the pool table at the studio on 'Sparkle Eyes'; footsteps on gravel in a tray and rusty hinges scraped together on 'Sickle Swing' and yes a soluble paracetamol dissolving in water on 'Every Willing Answer'!
What about your musical history? What did you grow up with, who if anyone other than yourself have you aspired to be.
I was classically trained on the piano and flute and got a degree in Music, but I didn't really hear music that inspired me to write my own songs until I went to college. Then I was introduced to people such as Sandy Denny, Nick Drake, Neil Young, James Taylor, basically the 70s! I also later loved listening to Leonard Cohen, Nick Cave, Bob Dylan, Joni Mitchell, Natalie Merchant. They are real musical poets, and I have definitely been inspired by them all.
What, if push comes to shove, is your favourite record/ piece of music?
I'm surprising myself here by saying I think it has to be 'The Swan' from The Carnival of the Animals! Not because it is a piece of music I always listen to or that it's the most wonderful music ever composed (there's plenty of that) but it was on the first record I ever owned, given to me on my 4th birthday, and it holds so many memories for me.
A current top 5 please.
Adrian Crowley – I See Three Birds Flying
Nick Cave and The Bad Seeds – Push The Sky Away
Treetop Flyers – The Mountain Moves
Karine Polwart –Traces
Eddi Reader – Sings The Songs of Robert Burns (always in my top 5!)
What are the plans for the live shows?
I'm really excited – I'm going to be part of a little band, consisting of Anna Jenkins on violin/viola and Ted Barnes on guitars. Plus, our other Red Clay Halo, Jo Silverston, will be joining us on cello for a few gigs, including the London album launch at Green Note, which will be great. We've been rehearsing and working out how to translate an album into a live performance. I don't think people will be disappointed, well I hope not!
What about The Red Clay Halo?
There's a little 'Gill Sandell Sandwich' among Emily Barker & The Red Clay Halo activities! We released Dear River in July, played some festivals over the summer and will be touring extensively in October and November with a slightly augmented band and some extra help on the road! In between those dates, I'll be releasing and touring Light The Boats.
There will certainly be EB&RCH plans next year but when possible, I am hoping to tour in Germany, release a new song or two, play some UK dates in April 2014 and collaborate with a good friend to release a traditional folk album. I'll also be continuing playing to the kids with Ted Barnes and Ali Friend as part of Mrs H and the Singalong Band. We're also planning to record a new album with Mrs H, the wonderful Harriette Ashcroft!
Tell me about the artwork.
Andrew Rayner often sits in the studio and sketches, or adds illustrations in his lyric books and I really like the style he has. So, we discussed ideas for each song and he went away and came up with the lovely black and white drawings. My Dad then coloured them all in and completed the artwork design. I really love it, having had lots of nice comments so I'm very grateful to them both! We'll be making some badges of some of the illustrations for the tour, plus a couple of prints too that people can buy.
Tour Dates:
Friday 20 September – The Old Courthouse, Thirsk
Saturday 21 September – Club Cotherstone, Barnard Castle
Sunday 22 September – Private House gig, Tarvin
Tuesday 24 September – The Prince Albert, Stroud
Wednesday 25 September – Private House Gig, Herefordshire
Thursday 26 September – The Brunswick, Brighton
Friday 27 September – Cambridge Folk Club,
Saturday 28 September – Private House Gig, Salisbury
Sunday 29 September – Album Launch, Green Note, Camden
All links to tickets/info are on my website: http://www.gillsandell.com/live-tour-1309.html
Light The Boats is released 16 September 2013, pre-order it here
Photo Credit: Diana Jarvis