In stark contrast to the mammoth trek up to Tiree for my previous festival, Wickham is in my backyard. Just 3 miles up the road, it's become a summer highlight for locals and visitors alike. It's been so pleasing to watch it grow over the last few years, both in size, 5000 capacity this year, and stature, capable of attracting the very best artists from both folk and rock. Wickham has always used a big top for the main stage, not a closed, seated venue like Shrewsbury but one open around 60% of its sides with a standing area at the front and people free to bring their own chairs into the rest of the space. The extra capacity this year has largely come from using another big (little) top as a second stage.
Of the more folk-oriented artists, I knew to expect lively festival sets from the likes of The Peatbog Faeries, Lúnasa, Shooglenifty, Seth Lakeman and The Waterboys, whilst vocal treats would certain to be coming from Show of Hands, Martyn Joseph and Fay Hield, amongst many others. But one of the joys of festivals is the chance to hear sets from artists you're less familiar with and there were plenty of those to choose from on the Wickham line-up. Add to that the opportunity to catch one of the farewell performances from rock legend Wilko Johnson and the weekend was brim full of promise. It didn't disappoint and came with a bonus of unexpected treats.
Wickham's Thursday evenings have always tended towards a less folky theme and, true to form, this year's main stage line-up of The South, 10cc and Dexys was designed to appeal to a wider audience and appeal it did, to an almost capacity crowd.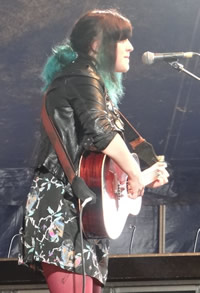 It's a daunting prospect for any performer to be first up on main stage at the start of a day full of high quality music. Two Folk Radio UK favourites, Lucy Ward and Jess Morgan had this task on Friday and Saturday respectively and both pulled it off splendidly. Lucy makes no bones about it, her songs frequently deal with serious, often sad, subjects. Just so there's no doubt, she starts her set with a song about the end of the world. It's very much part of her stage chat to set the audience straight, don't expect happy endings, but as that chat continues between songs it's her plain talking Derbyshire humour that comes to the fore. By the time she introduces her version of Jarvis Cocker's Common People, she has a firm hold on the audience's attention and they're hooked. Her set ends with the crowd calling for more, no mean feat at the start of the day. Talking after the set, Lucy was understandably delighted by her reception. Her plans for the future pose a nicely contrasting pair of challenges, a visit to Canada earlier this year looks to be leading to a first US tour next year, taking her solo work to new audiences. In contrast, at home, she's focusing on developing working with a band including some of the musicians assembled for her just released second album, Single Flame.
Jess Morgan seems to be specialising in kicking off festivals this summer, a role she takes very seriously. She gave me the impression she would feel personally responsible if acts later in the day didn't play to a lively, engaged audience. She certainly needn't have worried about the Wickham audience; she left them splendidly warmed up with beautifully structured songs that demand to be listened to. A new album is on the way, she says; expect a release around April 2014.
For the remainder of the weekend, the main stage was dominated by bands rather than solo performers but there were two notable exceptions. Roy Bailey has been performing his songs for over 50 years, songs that range from socialist polemics to children's stories, whilst, for nigh on 30 years, Martyn Joseph has been engaged in rather more subtle, but no less committed, campaigning for social justice through the medium of his songs. In their different ways, the performances from both men held the audience spellbound.  Martyn has associated himself with World Vision Canada for a number of years as a facet of his campaigning but tells me he's looking to go further, setting up his own foundation to, as he put it, give people the chance to do something rather than just making them aware of issues through music. His last studio album, Songs for the Coming Home, was quintessentially his own songs and reconfirmed his song writing mastery. But, for his current project, he's taking quite a different direction, by recording an album of Springsteen covers.
Giving the sound guys a bit more to do compared with solo performers, we had a number of duos during the weekend. Belinda O'Hooley and Heidi Tidow have been gathering major praise over the last year both for live performances and for their album, The Fragile. They also collected a nomination for best duo at this year's Radio 2 Folk Awards. With a performance strong on humour and audience participation, as well as musical excellence, it was easy to see why they've become a must see festival act. Having set up the O&T Agency to handle bookings for themselves and others they are getting far more opportunity for live performance and, as Belinda said, they're consequently becoming much more comfortable on stage, not just with the music but also with handling the audience. In contrast to this assertion of independence, their approach to the next album has seen them handing over a chunk of responsibility to their chosen producer, Gerry Diver. They met at this year's Folk Awards and immediately knew they wanted to work together. They're 6 tracks into the project, sending voice and piano parts to Gerry for him to add arrangements, and are "blown away" by the results. It sounds as though this next album will propel the duo to even greater heights of popularity, watch out for the album release and a major tour next year.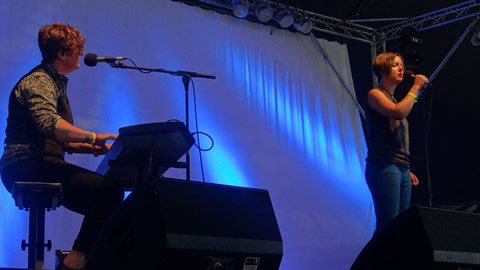 Tim Edey and Brendan Power
are a rather more loosely configured duo. In fact they confessed to not having met for 2 months prior to this gig. It didn't show, two acknowledged masters of their instruments and past winners of the Radio 2 Folk Awards Best Duo category, they produced a blistering, virtuoso set playing both together and separately. They are both heavily involved with other projects; Tim enthusiastically talking of his recent collaborations with Natalie MacMaster over in Canada and on The Chieftains European tour whilst for Brendan it was his venture into harmonica manufacturing that dominated conversation. Having set up X-Reed Harmonicas to market accessories for commercially available instruments, they've now launched their first original design.
Spiers and Boden showed yet again that they far transcend the 'Bellowhead Lite' tag  that you sometimes hear uttered. The combination of melodeon or concertina and fiddle augmented with a stomp board and teamed with vocals gave a depth and variety to the performance that kept the audience entranced. A consummate festival performance from two masters of the craft.
Should I still be considering Show of Hands as a duo? Mmm, probably not. Steve, Phil and Miranda have rarely been missing from the Wickham line up, or indeed that of the late, much lamented, Easter Festival in nearby Fareham. For a South Hampshire audience, familiarity just breeds an insatiable desire for more. The duo of three duly obliged, producing one of the highlight sets of the weekend, mixing a healthy selection from the back catalogue with some standout tracks from last year's Wake the Union album. Miranda also managed an appearance on the Little Top stage with mandolin maestro Rex Preston.
The Waterboys headlined Friday night, arriving on stage to an audience already brought to the boil by the sheer, dance groove infused, exuberance that is Shooglenifty. The Waterboys first few tracks were from their Fisherman's Blues era, possibly the most familiar of their material for a good proportion of the audience. It got them off to a great start and a packed tent was kept on their feet for the remainder of a storming set. I must confess to sneaking off to the Little Top stage about half way through to catch one of my favourite folk rock bands, Little Johnny England. Their last album, Tournament of Shadows, was released back in 2009 and the guys haven't subsequently been gigging anything like as much as their many followers would like. Consequently, I wasn't alone in forsaking the main stage for them and their set was enthusiastically received by an equally packed tent. There's talk of an album in preparation and the reception they received this year could well translate into a main stage appearance next year.
With such a high quality main stage programme it wasn't easy to catch as many of the acts on the other two stages as I'd have liked. Both the Little Top and the Outdoor Acoustic Stage showcased a vast number of local bands and artists over the weekend as well as more intimate gigs from main stage artists such as Lucy Ward and Jess Morgan. A Little Top set that I made a point of catching had Cathy Jordan from Dervish on stage with former Dervish fiddler Seamus O'Dowd and California native, Sligo resident, Rick Epping on harmonica, banjo and concertina. Together they occasionally perform as The Unwanted (main image), exploring transatlantic dimensions to the Irish and Appalachian musical traditions. They were an unexpected treat and one I'll certainly be looking to repeat in the future.
The main stage produced another unexpected treat in the shape of Slim Chance. When The Faces split in the mid 70s, Ronnie Lane yearned for a rural life style, so he bought a farm in Shropshire. Musically, his yearning was for the rural sounds of the southern States and Slim Chance was the band he formed to bring this to life. All this passed me by at the time but almost 40 years on and five of the original members have re-recorded 10 of the songs Ronnie wrote back then. And what good songs they are, bluesy tinged with zydeco, high quality transatlantic folk rock.
Saturday's headliners, Seth Lakeman and his band, can always be relied upon to produce the goods for a Festival audience, sending them home with beaming smiles and feet still tapping to the echoes of the music. At Wickham they did more than that, as an artist from earlier in the evening was heard to remark, "that was the best Seth Lakeman gig I've heard in a while".
There are quite a few artists that haven't had more than a passing mention in this review. Fay Hield, Jon Boden, Kris Drever and Le Vent du Nord are all down for separate write ups following our conversations at Wickham. The Peatbog Faeries, The Moulettes and Lúnasa played Cropredy the following weekend, so look forward to more about them when that review appears.
With its new site just a couple of hundred metres further away from the village, the Wickham Festival has found an almost ideal location with room for all 3 stages, still leaving space for its regular attractions such as real ale bars stocked with an enormous variety of local brews, The Groovy Movie Cinema, kids entertainment and heaps of clothing, craft and food stalls. Plus, for the first time this year, a couple of extreme fairground rides. Next year the Festival is moving its dates to the weekend after Cropredy (for agricultural reasons) but other than that I hope little will change and we can look forward to another well organised, superbly friendly festival packed full of excellent music.
Review by: Johnny Whalley