Early morning aboard a CalMac ferry, three hours out from Oban and from a grey mist, a concrete jetty appears. Welcome to Tiree. That was probably the last hint of greyness for a week during which the sun shone continuously, music put a smile on everyone's face and the islanders showed just how phenomenally hospitable the people of the west coast of Scotland can be.
Two full days of music on Saturday and Sunday but the logistics of getting onto an island normally served by one ferry a day means many festival goers arrive on Thursday and Friday. Friday afternoon and a fair number strolled up to the annual Agricultural Show, pitting our wits against the professionals judging the best sheep, heifer, heavy horse, or even trickier, supreme animal in show. The cup went to a heifer but the heavy horse got my vote. The impression builds that this is a music festival fitting snugly into the fabric of the island and not a foreign object landing from the mainland.
Friday evening and the Festival kicks off with the beach party and what a beach, 5 minutes walk from the camping and 2 kilometres of pristine white sand curving away to the east. Build a massive bonfire, bring down a genny, a tractor trailer to act as stage and island band Chunks can get the dancing underway. Folk it isn't but as the sun sets and the bonfire flares nobody is objecting.
For Saturday and Sunday there are three music stages, an open air main stage, a marquee-housed community village stage and an indoor ceilidh stage, all in and around An Talla, the island's community centre. In our preview of the Festival we highlighted the rich vein of musical talent that has emerged from Tiree over recent years. The community village and ceilidh stages gave a forum for bands and musicians still based on the island along with several mainland based bands with strong island connections. But this was no festival backwater; the village stage also hosted sets from widely known bands such as Manran and Breabach.
Early Saturday afternoon, music on the main and ceilidh stages hasn't started yet, a glance into the Village tent and teenage band Dun Mor are playing. A fair number of the audience are on their feet dancing, proper dancing, no jigging about on the spot here. Average age of the dancers? Pushing 20. There's an unbridled enthusiasm in so many of the youngsters we meet for music and dance that's grounded in the Gaelic tradition, though I doubt they look on it that way. It is simply part of the fabric of life. When the ceilidh stage is in full swing later in the evening we see how true this is for all ages.
No surprise then that the "West Coast Ceilidh Band" genre is so well represented at the Festival. Not that there is just one style fitting that tag. Members of the Cornaig Ceilidh Band are part of the current crop of teenagers at, or just left, the island's high school. Led by legendary accordion mentor Gordon Connell, they have one of the more traditional line-ups, 3 accordions, 2 fiddles, acoustic guitar and drums and, not surprisingly, play largely traditional tune sets. Somewhere near the further end of the spectrum are Skerryvore, pretty much the house band of the Festival, with accordionist Daniel Gillespie also functioning as its Artistic Director. I first met up with Skerryvore in 2008 in Glasgow where they'd been booked for a ceilidh and very effective they were too. Their current line up of accordion, highland pipes, fiddle, guitar, bass and drums gives them the authentic Celtic rock sound much loved by Scotland's younger generation of ceilidh audiences. However, they've travelled widely, both musically and geographically since 2008. Last year's CD release, World of Chances, exploited much more the song writing talents of vocalist/guitarist Alec Dalglish but the feeling around the band seems to be that the CD currently being planned will see them returning closer to their roots. Building up material for the CD is likely to be on hold for a while with their next major US tour kicking off towards the end of August. The audience had to wait until midnight Sunday (there aren't any neighbours to object to late night music on Tiree) for the Skerryvore set that closed the Festival, by which time excitement and anticipation had reached a crescendo. There followed 90 minutes of musical skill and high octane performance during which no one could be still for more than a few seconds. So, Illinois, Wisconsin, Indiana, Missouri, Ohio and Pennsylvania, watch out, you're in for a treat.
Between the opening ceilidh and the climax with Skerryvore, lovers of the west coast sound were well served with sets from Gunna Sound, Skipinnish and Trail West. These bands represent three generations to have emerged from Tiree onto the national stage, the island link being largely through the band's accordionists and that man Gordon Connell. He's been an inspirational teacher of the island's youngsters since 1969 and was recognised in 2010 with the award of Music Tutor of the Year at the Scottish Traditional Music Awards. It was a pleasure to sit and chat with him, self-effacing to the point of wondering why I would seek him out, he reckoned 'music was in the island head' and so there was no difficulty in getting youngsters to start learning an instrument. Trail West's accordionist, Ian Smith, one of Gordon's more recent protégées, added a reason why relatively few starters fell by the wayside, at the high school it was simply uncool not to be playing an instrument. Music tuition and inspiration on Tiree can't solely be down to one man. With Gordon retired from his full-time teaching post, Joyce MacInnes, the current teacher, runs the High School Music Club and oversees the vital tasks that ensure success for pupils in grade exams and traditional music competitions. It was a privilege to share, for just a few days, in the spirit that makes music, be it traditional or contemporary, such a source of enjoyment and pride for the Tiree community.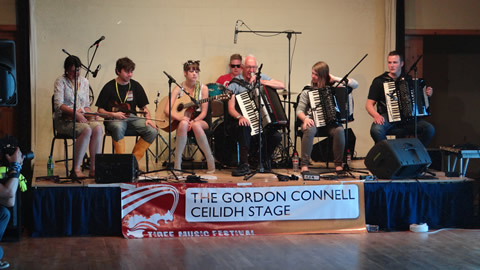 Back at the Festival stages and there was plenty of music from other parts of Scotland to get excited about. The Scott Wood Trio have only been gigging together for a year and with a line up of pipes and whistles (Scott), fiddle (Mhairi Mackinnon) and guitar (Ron Jappy) they represent a more pared down approach compared with the ceilidh bands. Nevertheless, they put on a performance that filled the main stage with a sound that was impressively varied, slow and lyrical with whistle or fiddle to the fore, or full on piping pieces. They have a 4 track EP currently available, well worth checking out. With notable performances both Saturday and Sunday on the community village stage, a group of 4 youngsters from North Uist, Na h-eileanaich, impressed with great musicianship and youthful energy, I'll be watching out to see if they make a wider impact, at present it seems you may have to go to the Taigh Chearsabhagh Arts Centre in Lochmaddy to catch them.
Operating three stages meant you could interleave hunting out new talent with catching the stunning sets produced by more established bands. Long time favourites of mine, Breabach, gave one of their classic festival performances, great tunes with arrangements that are beguilingly deceptive, straightforward solos seamlessly transforming into energetic ensemble pieces. The set included tracks that will appear on the CD they are about to record with Kris Drever as producer. The CD has a release date of November linked to a UK tour and something of a world tour taking in South Korea, Australia and Canada.  I'd not previously managed to catch a live set from Mànran and came away mightily impressed. Talking with the band, they were equally excited about what their future holds. Their first American tour starts on August 14 and, before then, they are genuinely delighted to have one of the support slots at Runrig's 40th anniversary bash, The Party on the Moor, on August 10th.
One downside of multiple stages is that you can't always see everyone you'd like. This was the case with Washington Irving, a band I'd heard good things about, all confirmed when talking to people who did catch their set. Ah, well, next time. A tag line on their web pages says 'we are electric folk and like to play loudly'. In all honesty, this could be applied to a fair number of the bands over the weekend. One notable exception was Lori McTear (image at end of article), just 19 and writing some acutely observed songs performed solo with acoustic guitar and, the following day, as a trio with keyboards and electric guitar.
Amber Road arrived on Tiree still in shock that they were there at all, having just won the TMF Unsigned competition. Lead singer, Mike Horsburgh, was more shocked than most having only joined the band in February. But he recovered well enough to deliver great vocals, mainly of tracks from their just released 6 track CD, Working Man. Bass guitarist Graham Brown and drummer David Lindsay have, between them, composed all but one of the tracks but other band members are waiting in the wings to add their own compositions. A talented bunch, we can expect to hear a lot more of them in future.
In amongst the bands from far and wide within Scotland were Coast, hailing from near my own home base in Hampshire. Their inclusion on the Tiree bill is partly explained by two band members, Paul Eastham and his brother Chris Barnes, having spent formative years on the Outer Isles. They're happy to acknowledge the strong Celtic influence in their sound but their songs are also heavily imbued with the places and experiences of their present home town of Southampton. It's an intriguing combination and one that I intend to explore further.
Saturday night headliners Capercaillie were eagerly awaited by a largely young audience that may not have had many previous opportunities to see them. In this, their 30th anniversary year they are touring more extensively than for a while, delivering new material from the about to be released album, At The Heart of it All, along with a great selection from the back catalogue. The trademark combination of Gaelic songs from Karen Matheson and beautifully structured instrumental work featuring fiddle (Charlie McKerron) and uillean pipes, flute and whistles (Jarlath Henderson proving to be a first class replacement for Michael McGoldrick) kept old and young riveted until well after 1am.
On Sunday the main stage crescendo building to Skerryvore started in earnest with Blazin' Fiddles in the early evening. One of the all time, good times, bands, rooted in complete mastery of their instruments, Blazin' Fiddles (main image) epitomise those musicians who perform out of sheer enjoyment of the music they make. As ever, at the finish, the audience have the broadest of broad smiles on their faces. Coast then stepped up to the plate, well able to keep up the enjoyment level, followed by Roddy Hart and the Lonesome Fire. For anyone only familiar with Roddy's solo acoustic work, this was a revelation. He's not abandoning his earlier country influenced persona, in fact, he says that he expects to return to singer/songwriter mode in future releases. But, for the moment, he's focused on the big sound that he achieves as part of a 6 piece band. Yes it's big, but it's also intricate and staggeringly well produced. As I heard someone remark, you could have been listening to a studio recording. I hope they meant it as a compliment on the sound quality because there was certainly nothing 'studio' about the energy and excitement that was generated on stage. After that it was just as well that only Skerryvore had to follow.
A week spent on Tiree was a real happiness booster, great music, the friendliest of people and scenery like no other. It's a long way from the south coast of England but given the chance I'll be back there like a shot.
Review by: Johnny Whalley
Festival Videos
Trail West

Dheanainn Sugradh

Festival Images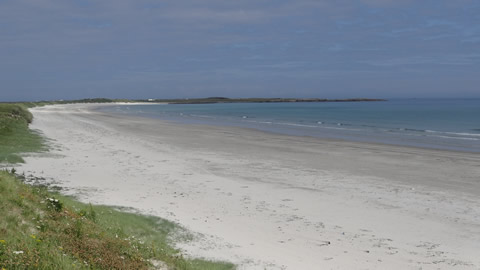 http://tireemusicfestival.co.uk/
All photos by Johnny Whalley