For today's Song of the Day I'm stepping back in time to 2005 which was an exciting time for folk music. The Highest Tree appeared on the one and only album from the band known as The Eighteenth Day of May whose short life was in many respects due to a rapidly changing music industry. The band began life as trio of American vocalist, and flutist Alison Brice, Swedish multi-instrumentalist Richard Olsen, and English multi-instrumentalist Ben Phillipson. In Jeanette Leech's Seasons They Change: The Story Of Acid And Psychedelic Folk it's revealed that Phillipson had been playing in folk clubs around Oxfordshire from the age of 11. As he got older he was introduced the likes of The Smiths, he joined a number of bands and adopted a strong indie influenced style of music.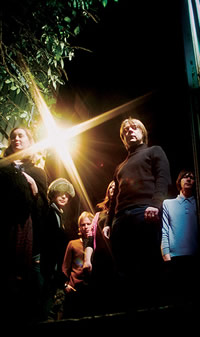 It wasn't until his father's death in 1997 that he re-visited the folk music of his childhood which was quite an eye-opener having dismissed much of that music in his early teens. The likes of Steeleye Span's Pleased to See the King appear to have had a big impact on the music he was then drawn to. When the initial trio of band members met they found a common kinship in music helped by the fact that they all knew who Barry Dransfield was! The band later grew in size to include drummer Karl Sabino, bass player Mark Nicholas, and violist Alison Cotton.
It was a call from RykoDisc that sealed their first and only record deal and their eponymous debut was released in 2005 at the height of the freak-folk boom. It was a magical time and a lot of the music being played on Folk Radio UK (on our channel called 'The Edge' back then) reflected the scene with the likes of Tuung, Clayhill, This is the Kit, Micah P Hinson, Espers and Devendra Banhart. The Eighteenth Day of May offered an alternative take on British Psych-folk and one of my favourites from that album was The Highest Tree:
Within a year of the album release a change in label marketing and a take over by Warner Brothers helped put an end to the band who became the small fish in a growing profit driven industry. Members split and went on to form other bands including The Left outsides who I will be seeing this weekend at Woolf Music.
Order from: