Folk in a Box is one of those concepts so simple that it could only be either a harebrained idea doomed to failure, or a flash of genius bound for success. Given that it's the brainchild of musicians Emily Barker and Dom Coyote, you know immediately that the odds are heavily stacked in favour of the flash of genius option. What is Folk in a Box? The clearest description I can give is to be found on the website:
"Folk in a Box is a unique one-on-one music venue and performance space. It is a bespoke wooden box with a little front door for audience members and a little back door for performers. It can be set up anywhere. One audience member is allowed in at a time. The door is closed behind them. They are given one song, performed by one musician."
Having said that it's a simple concept, I'll now contradict myself by saying that there are other subtleties and nuances at play, some unexpected and some challenging. The removal of money from the usual equation of 'audience pays for a musical performance' being the most obvious challenge for anyone conditioned into that mindset.
The physical space of the Box itself breaks another barrier: that of the musician separated from her audience by a stage, maybe an orchestra pit or other structural contrivance. To sit in the pitch dark, in the smallest possible enclosed space needed for one musician and one audience member challenges a fundamental notion about the relationship between the two. You may think that years of city life has desensitised you to infringements of your personally-defined boundaries of personal space but the Box creates an altogether different form of imposed intimacy – and for once, it's consensual. For any musician to perform for an audience involves give and take by both sides and that really strikes home at Folk in a Box. The two of you are the only people who will ever experience that song, in that way, in that time and space. The effect is surprisingly potent, not least for the audience because it requires simply "being in the moment": no taking photos with your cellphone, no scribbling down song titles for a later review, no jumping up and down hooting and stamping your feet – just paying attention to the music. When you think about it, it's amazing how many obstructions we put in the way of simply interacting with that raw emotional power.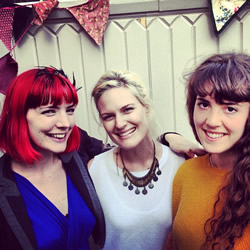 With all this in mind, it's not difficult to understand why it's taken me a while to convince myself that it's okay to go to a Folk in a Box event and simply enjoy the experience without guilt-tripping myself about not paying for the privilege – and I was really glad I did. Perched on the balcony of the Young Vic Theatre, the ornately-carved, white-painted Box was festooned with colourful bunting and looked glorious in the afternoon sun; a musical Tardis washed up from some faraway beachfront. I was greeted by Gabby Young (of Gabby Young and Other Animals) and we chatted while Emily performed in the Box. Minutes after I'd arrived, Jessie Moncrieff turned up, followed shortly afterwards by Emily (of Emily and The Woods).
At this point it occurred to me that the value of Folk in a Box isn't something to be measured in financial terms, or even the number of performances given. There are two other aspects which are perhaps of far greater importance than mere money. Of course there's a promotional aspect, the opportunity to let people know about your current projects, but the Box also brings together the musicians themselves. Gabby, Jessie, Emily and Emily are all outgoing, personable and sociable women who welcomed me into their ad hoc assembly without hesitation and it was fascinating to witness the spontaneous networking which, I feel sure, isn't restricted to those four alone. Although it might be tempting to dismiss it as just 'a bunch of musicians talking shop', in fact it's a great way of building networks.
Another benefit to the musicians that I hadn't considered was that agreeing to play in the Box was a perfect reason for them to get out of the house – and I say that in all sincerity. It's all very well spending the day in your PJs, writing songs and generally honing your musical skills, but the isolation can be quite dispiriting.
Duly enlightened as to the multifunctional nature of the Folk in a Box experience, I was delighted to find that, by chance, I'd managed to arrive during a momentary lull in the afternoon's proceedings and so was fortunate enough to be able to hear a song each from Emily Barker and Gabby Young. No, I'm not naming the song titles – and I know that might seem incredibly perverse of me, given that this is supposed to be a live review – but I will say that in each case it was an uplifting, affirmative and, above all, personal experience.
Folk in a Box goes far beyond hearing live music in a new way, it challenges the audience to think about the dynamics of interaction, of acoustic space, social networking and the way music is performed and consumed. To coin a phrase: if you want to think outside the box, first you have to go into the Box. Don't miss it.
Links
Folk in a Box – http://folkinabox.net/
Emily Barker – http://www.emily-barker.com/
Dom Coyote – http://www.domcoyote.net/
Gabby Young and Other Animals – http://www.giftofthegabrecords.com/
Jessie Moncrieff – https://myspace.com/jessiemoncrieff
Emily and The Woods – https://www.facebook.com/emilyandthewoods
Photo Credits:
Main image at The Young Vic by Emily Barker (by kind permission of Emily Barker)
Inset Photo of (L-R) Gabby Young, Jessie Moncrieff and Emily Woods at Folk in a Box at The Young Vic (by kind permission of Gabby Young)