Despite being a big, imposing and often grumpy place, London has some rather cosy, convivial corners in its folk scene and there are many charming venues for fine folk in this fair city. These are a few of my favourites, there are many more but there isn't enough room to list them all –
Cecil Sharp House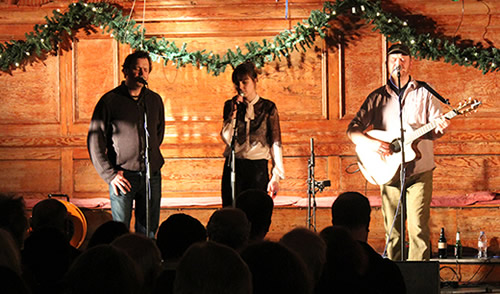 Cecil Sharp House is the natural choice, being the headquarters and home of EFDSS (The English Folk Dance and Song Society). You might well assume that it would be the nucleus for all things folkery in London town and you'd be right. Its stunning wood-floored rooms are perfect for raucous shanties and creepy murder ballads. However it is also home to clog dancing lessons, lectures and presentations, classes and céilidhs. There are certainly all things traditional here but there's also the Nest Collective's 'Folk Rising' concerts in the Trefusis Hall, showcasing the freshest folk talent. Be it majestically traditional, groove-tastically modern or downright weird-ly brilliant, it's all here. So it stands to reason that C# House, as we like to call it (and if you don't get that joke, congratulations, you are not a tragic muso) provides a healthy pulse to the London folk scene.
The Slaughtered Lamb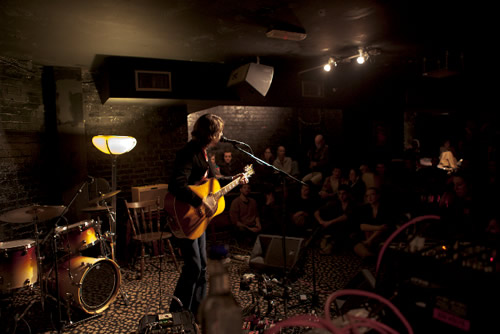 http://www.pulluptheroots.co.uk/index.php
This low-lit basement room of a bar in Clerkenwell is the home-ground for Will Rees and Joe Kelpie's 'Pull Up The Roots' promotions. The room, decked out with comfy vintage sofas, is blessed with a decent PA and a guy who knows how to use it. These nights always have their own frisson, with the quality of music on offer and the care with which it's been promoted and presented, you can't help but leave feeling like you've seen something (or just played something) a bit special. It's been host to names like The Civil Wars and Fionn Regan but has also provided the fledgling flight for many of London's new musical hatchlings seen first emerging here before soaring into wider fame or notoriety. For me the beauty is this mix of big and small, new and established, traditional and modern happily mingling to great effect under one roof.
Paper Dress Vintage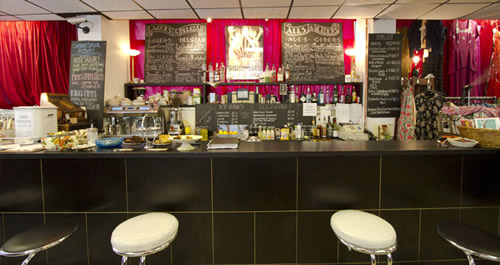 Where else in the world would you expect to find a gig amongst the clothing rails of a vintage dress shop? OK so New York will have already done it but Shoreditch would be your next guess, right?
Correct!
In Curtain road just off Old Street is Paper Dress Vintage: the whole 'gig in a shop' idea is a bit trendy but it works. (The problem for me personally is that it combines playing a gig with dress shopping, to dangerous effect…) The stage is set up in the window display and the odd staring drunk aside, it makes for a highly pleasant setting. The shop is also a cafe so that's the beverage side sorted, which is so often the tricky part of these kind of pop-up-esque gigs. Each night is hosted by different promoters touting slightly different musical wares. However the one I know best is 'The Music Box' [https://www.facebook.com/themusicboxfolk]
Billed as 'Folk & Acoustic' you can expect the freshest of sounds from the newest of artists.
The Green Note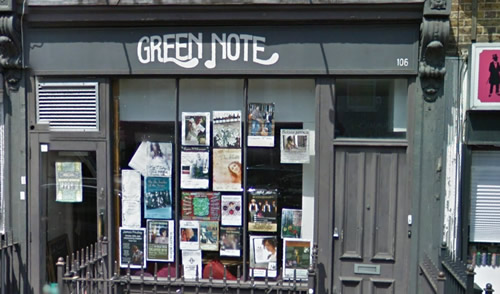 Personally, I think I've saved the best till last, The Green Note is just round the corner from Cecil Sharp House in Camden at the top of Parkway, past the jazz cafe and a safe distance from the dreaded Dublin castle. It's small, with rickety wooden floorboards and the room is far longer than it is wide. Not the perfect recipe for one of London's best folk nights, you might think, but you'd be wrong. I don't know exactly what it is about it but the atmosphere at Green Note gigs is just better than it is in so many other places.
Being small obviously lends itself to a more intimate setting, but it's not just that. The room is very dry sound-wise meaning it has little natural reverb and the sound system is set up in such a way that you don't really notice it's there. You just hear the music exactly as it's played live, like an unplugged gig, but not. As a performer you are in close proximity to your audience and this changes the way you feel, play and the songs you choose. It may also be something to do with the crowd it attracts, many regular punters swear by the Green Note over other (sometimes cheaper) gigs. I never feel the usual separation between audience and performer, it's sort of like I'm playing some songs to some friends instead.  It's the perfect setting to take a leap of faith and try a new tune out, with a quiet yet utterly engaged room the subtlest of nuance is never missed and any flaws, easily forgiven. Graham Smallwood runs 'Folk on Monday' there [http://www.folkonmonday.co.uk] I urge you to go along and see for yourself. In fact, how about September 2nd? Ben and I will be playing! [http://www.wegottickets.com/event/194822] 
He assures me there is also great beer and organic cider to be had, you'll enjoy it and then you'll want to come back the next night too (sep 3rd) for David Gibb and Elly Lucas' album launch. So maybe we'll see you there next week! [http://www.wegottickets.com/event/180922]
Part 2 coming soon