There's a nice promo video on Antun Opic's website (also below) that offers insight into the man and his band. It starts with a simple statement from Antun, "I am a songwriter. I write and I do my music because I feel like I have to do it." A simple sentiment, but I wonder how many other artists out there would instantly agree with that compulsive need to make music. Of course some readers, probably with a specific target in mind, would argue that just because you feel you have to doesn't mean you should. Thankfully in the case of Antun such thoughts are immediately banished by songs peppered with wit, wisdom and a debut album of considerable charm.
The video features the core trio who take Antun's name, with the guitarist and songwriter joined by guitarist Tobias Kavelar and acoustic bassist Horst Fritscher, talking about playing together and the music they make.  Tobias' description of Gypsy folk is as neat a summary of the sound as you're going to get, but it blends different influences into an easy swinging mélange that sets toes tapping immediately. As a trio they mostly play acoustically, with Tobias' nylon strung guitar runs sitting somewhere betwixt Django Reinhardt and Paco de Lucia adding to the jazzy, Gypsy vibe, but several of the tracks on No Offense are also fleshed out with vibrant percussion and brass.
Despite his Croatian origins, Antun has grown up in Germany and is keen to play down any Balkan musical tag. It's clearly there in the mix, but he reasons it's just one of several musical influences that have an equal part in their sound. Significantly, he also claims to feel rootless, not German – despite that being the place where he has grown up and his first language – or Croatian, despite his family roots. He seems particularly unwilling to align himself with any of the factions that wrought such devastation on his ancestral homeland.
Perhaps this in part accounts for his decision to write and sing in English, acknowledging it as the first language of the Anglo-American rock and pop culture that been inspiring him for most of his life. But he also delights in the different viewpoint that it gives him, creating a unique distance and perspective on his songs subjects as he wrestles with describing them in a foreign tongue. You can also add a taste for drama and creating and developing characters to inhabit his songs, not all of them people you would want to know he tells us.
Antun has gained valuable experience playing the live circuit in the lead up to this fully fledged debut. He formed Wildwuxx ten years ago with Peter Schreyer and they became a fixture of the Munich scene, notably as a street band. He's also spent some time touring with punk-cabaret outfit Strom & Wasser. Perhaps most importantly his relationship with Tobias goes back years. As the boyfriend of Antun's older sister, Tobias was his guitar inspiration and tutor, but when the romance perished so did their musical sparring. There was a gap of some dozen years before contact was re-established and the current trio took shape.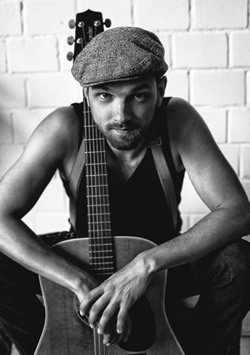 Perhaps that explains the chemistry that they clearly have. Referring back to that video, Tobias explains, "Generally Antun is writing the songs on his own. It takes maybe one afternoon, maybe a few years." The video cuts to Antun, who simply and somewhat enigmatically says, "And then something happens."  That something is of course the magic of arranging and recording the material, which Tobias reveals is firstly a process of careful listening and him finding his part. The trio then produced the recordings themselves, which they jokingly refer to as one person playing, with the other two listening, criticising and generally annoying the person whose take it is. Again there are doubtless many musicians who would instantly identify with that. It all seems very good nature however and Tobias also refers to what he calls a, "blind understanding," that the trio can call upon, whatever the circumstances, acoustic, electric, gig, studio and so forth.
That chemistry is very much in evidence as soon as No Offense starts to spin and Antun and Tobias' guitars cook up a groove for Hospital, with the latter's fluid lead trills spicing up the mix, while Horst's big acoustic bass guitar and the drums lock tight. Anton gets into character, somewhere between playful, mocking and outright sinister. By contrast he sounds defiant in Bulletproof Vest, with Tobias' banjo line adding to the somewhat wistful, yearning tone.  The couplet "I'm your bulletproof vest, I wear your heart in my chest," proves that although English may not be his first language, he has sufficient command to find its poetic core.
If the title track is somewhat downbeat, almost resigned sounding and a little oblique and difficult to follow in narrative terms, it's a still lovely song and Antun maintains the richly melancholic tone of voice. He's back into unhinged mode for a tale of neighbourly dispute in The Informer, the effect enhanced with a disquieting chorus of voices rattling around the protagonists head, but the brass fuelled finale keeps things romping along nicely.
Moses has a delightful echo of gospel in the falsetto chorus of, "Let my people go." Again it's a cleverly constructed song about modern slavery of sorts, a theme also taken up by We Don't Give A Damn, although in the latter case it's more the power that material wealth holds, taken as a languid blues. Meanwhile another of Antun's unsavoury characters seems to be in Juanita Guerolita, as he opens by singing, "You're no good."  Another slightly offbeat tale unfolds suggesting nefarious goings on, while Juanita is apparently not someone to cross.
Don't Forget is another sprightly tune that has something of a high life riff about the guitar work, perhaps echoing Paul Simon's Graceland and David Gray's Babylon in the delivery. Warm, Troubled Waltz and Good Friends see us heading for a slightly downbeat conclusion, as Antun seems to be musing on the hand he's been dealt. Each track is, however, delightfully embellished with horns, bass clarinet and of course those fluid guitar runs. The albums finale is another twist and another surprise. Starting with acoustic guitars and bird song, over seven minutes Rootless Tree develops into a mini epic, complete with a rather strange mock news flash and the chance for Tobias to show off his electric guitar skills.
The CD that I've been sent is also in an unusual oversized, somewhat homemade looking package, but a blog post on the website suggests that someone has now got involved to help Antun Opic. Antun candidly admits to not really having a clue about the machinations of releasing a CD. Whether this means that the CD will find a more conventional package I can't say, but either way the contents will remain, unique. The different moods of the tracks are set by the changing personas that Antun creates and his decision to filter his ideas through a foreign tongue. Yet somehow, the core trio with their "blind understanding," create something musically cohesive from the varied strands and the hired hands add extra pizzazz to the musical mix. The result is boldly ambitious, remarkably good and hugely enjoyable.
Review by: Simon Holland
No Offense is to released on September 16th