I've fallen under the spell of Kevin Doherty's Seeing Things, a record that has intrigued me on all kinds of levels. There is enough melodically and in the unique string arrangements to satisfy the craving for a good tune. Those strings create a chamber feel, resisting a push towards the symphonic, balanced against some otherwise fairly economical musical backing. Then there's Kevin's voice – characterfully craggy rather than off the peg pure – his somewhat leisurely style can still hit the heights of amorous intent on songs like I Saw The Rose. But mostly what has me are the songs like that one, suggesting a poetic reach beyond the ordinary and with further clues to be found on his website, my curiosity ramped up to red alert.
So when offered the chance of an interview I jumped, but with Kevin in Ireland and me in London and lives to be lived, a couple and more telephone calls this way and that failed to connect us. Thankfully, email proved more reliable, although the correspondence between us quickly started to take an interesting turn. The replies I received seemed to confirm a sharp mind and poetic heart, with Kevin very much the Rambling Irishman, prepared to take the path less trodden to answer my questions and even pose his own.
In sifting the to-and-fro to steer us towards something transcribable for Folk Radio UK, it dawned on me that it was in the somewhat cryptic flow of our communication and what I initially took to be notes in the margins from Kevin, the real interest lay. Allowing Kevin to roam freely around the details of his career, his creativity, his craft   and compositions might prove more illuminating and enjoyable than a simple Q & A.
Realising that I was possibly setting my self up for some head spinning rings to be run around me, I suggested to Kevin that we treat this as a series of letters. His response seemed enthusiastic.
Do people still write letters? I know I don't and never really have. You might think me pretentious, but this just genuinely seemed like a good time and place to start. How far it will go, how often and how frequently remains to be seen, but following is a brief summary as our opening exchanges gathered pace and the first of our Kevin Doherty letters.
The Kevin Doherty Letters
Hi Kevin,
I left another rather overlong message on your answer machine. There's no great need for us to talk, as I've said I think it's friendlier than just an email. Call me if you like, but there's no urgency.
Thanks for your message – I genuinely love the album and it has me intrigued in lots of ways. As you say it's often best if these things take their time to reveal themselves as those are the ones that tend to hang around. But there's enough going on to put most CDs in the shade and something about it to get me hooked from the start as well.
The questions are below, there's nothing especially sophisticated here, so feel free to take a tangent or combine things at will. I'm just after some sense of you as a writer and performer to introduce to the Folk Radio UK audience.
Simon
Dear Simon,

Missed you again! Sorry, sorry!

I've had a quick look over your questions, I like! They are quite slippery! Well maybe slippery is a little strong what I mean to say that they are quite…illusive, hard to hold on to!

I'll try my best. You should have my answers by early 2014! "Takes deep breath and looks out the window"!

Talk soon, all the best,

Kevin
Kevin,
Feel free to treat the questions as a dot on a blank canvas and paint the picture you want from that – much like the CD's cover.
My job  is to try and introduce the man behind the music of Seeing Things to the wider world, in that hope that interest created by this will be followed up with enthusiastic devouring of your recorded works by fair means.
For your part, you can be as honest and revealing or as oblique as suits you. You may feel there is stuff that you simply don't want to talk about, have said before, etc. I hope, however, I haven't been either too dull or ambitious.
It occurs to me that it might be fun to conduct an interview as a series of letters backwards and forwards. Maybe that's a little pretentious and me getting above my stated aim. You may also rightly argue that life is too short for such fancy.
Anyway, I'm off downstairs with your CD in hand to play it while feeding the cats, peeling potatoes and attending to other domestic chores. The benefit of having a pair of speakers wired up in the kitchen cannot be overstated.
Cheers for now and let me know.
Simon.
Dear Simon,

Well now, I do like that idea of a 'picture' emerging through correspondence. I don't know if you've read the book Stepping Stones? It is the closest Seamus Heaney has come to biography thus far.

It comprises a series of written questions from Dennis O'Driscoll, answered by Mr Seamus then 'furthered' by O'Driscoll. I'd love to give it a go…. We might get a book out it!

All the best,

Kevin.
Kevin,
Thanks for that… I suspect that you could run rings around me in a literary sense so I bring what my wits, a reasonable willing to do my homework as time allows and a degree of enthusiasm for an experiment. I hope that will prove enough to become the grit for your pearls in this particular oyster.
Simon.
Dear Simon,

My tongue was a filling estuary,

My palate hung with starlight:

As I tasted the salty Pleiades

Orion dipped his foot into the water.
Now we're motoring!  With the help of God and two policemen I'll be back to you later in the day.

Kevin
Dear Kevin,
Perhaps to get this show up and running lets start with the first of my questions. If you can turn your attention to…
Q: It sounds like your musical past has been very varied. Can you tell me a little about your background? Are there any musical touchstones or elements that have fed into your solo work?
…Then we'll see where we go from there. I can see that at very least I'm going to have to swot up on Seamus Heaney, but I'm up for that, but lets see if we can have a little fun.
Simon.
Dear Simon,

I've had my fun! I am the son of a Professional golfer from the Inishowen peninsula in North Donegal. Until the age of 14 Severiano Ballesteros was my Elvis. Now that comparison is not as strained as it might first appear. My father didn't teach me any music but he did show me how to swing! The early years on the golf course also prepared me for the solitary life. Around the age of 15 it became obvious to me that golf was not going to sustain me.

You ask what came first, the words or the music? The word. I began writing or needing to write at that time, terrible, wonderful stuff!! The creative urge grew in perfect harmony with an appreciation of the enormous importance women have in the scheme of things. Songs spilled forth with no particular place to go.

I believe my father knows that place where songs come from, now, he didn't return with any examples that he shared with me but I'd like to bet that his head is crammed with scraps of melody.
Everyone goes there, it is the place where the air, the very air is charged and changed and that which before had seemed static takes on multiple dimensions and possibilities.

Musicians know this. Day after day nothing happening, then for no apparent reason the journey from G to C repeated, holds a beauty equal to anything that is past or passing or to come.
That feeling remains the moth to the flame the skin in the game…

I was very fortunate that this burgeoning afflicted me at a time when Buncrana was crammed with fantastic musicians with whom I could hang (back) out and learn.

Traditional music featured heavily and Ciaran Tourish of Altan was both class mate and session guide. It was at these sessions that I met Cathal Hayden and Gino Lupari.

I learned folk songs but in an effort to remain true to what I heard in my head and also with an instinctive awareness that there is nothing that an audience hates  more than a faker. I learned songs from the American folk canon rather than the Irish, my teeth and tongue didn't seem to fit around our native songs…Hank Williams songs now they were different again, Jimmie Rodgers..Jimmy Reed..Roy Orbison!!

It was at that point as well I realised that the songs I sang best were my own so I determined to pursue that line.

The first songs I can consciously remember listening to were Eleanor Rigby and Lee Marvin singing Wandrin Star. The first song that raised the hairs and 'flung the door open' was [Dylan's] Watching The River Flow, with honourable mentions for Diamonds Are Forever, Big Bill Broonzy singing and playing See See Rider, Ennio Morricone's score for Fistfull Of Dollars and Hank Snow's Nobodys Child. The there's Skeeter Davis, The Bee Gees and my Grandmother singing Slim Whitman songs Rosemarie, oh, and Perry Como's take on For The Good Times. JimReeves was always around and John McCormick sounding like he was coming from next door though right beside you.

Then BAM! I found Bob. That is a random selection but is true for today.

Kevin.
Part 2 Coming Soon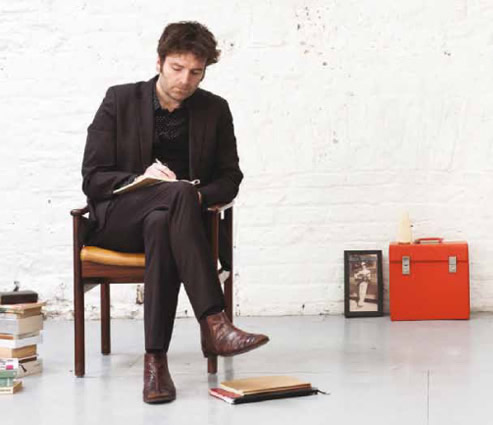 Read the review of Seeing Things (with Album Stream) here
Seeing Things is released on Proper Records 17th June 2013
Order from:
Amazon | iTunes | ProperMusic