I don't know that it's accurate to describe Martin Simpson as underrated, after all he has over 25 nominations through the run of the BBC Radio Two Folk Awards and is a multiple winner of Best Album and Musician of the Year categories. That confirms his renown as a guitarist and banjo player with few peers across the international folk scene, while in more recent times Martin has also happily found a knack of penning some moving and memorable new original songs. Never Any Good from Prodigal Son, both winners in their Folk Award categories, is just one fine example of his renewed songwriting vigour, but you may easily pick from a growing canon of others as personal favourites. Yet despite the accolades within folk circles, there is still a lingering sense that he doesn't get the wider acknowledgement he deserves.
Perhaps it's just me. Perhaps it's fanciful or even undesirable to get into comparisons anyway. Whose twiddle has more diddle is just opinion and frankly neither here nor there and while he's selling out arts centres rather than arenas, Martin is still a must-see billing for many on the folk festival circuit including Cambridge, where his latest recording Vagrant Stanzas was launched over the weekend. But perhaps there's also something in the new CD, which serves to highlight the conundrum that I'm wrestling with.
Vagrant Stanzas is understated, just Martin and a chosen guitar or banjo, with very little overdubbing, recorded live and mostly in one take. It's almost unassuming, free of a glittering guest list, lacking any production razzle-dazzle and on the surface, oh so simply done. Yet it's also so finely crafted that it vaults straight to the very toppermost of his work to date and the guitar and banjo playing will find few, if any, equals this year or next. It might also be the perfect case of less is more, should you be seeking a winning trump card to underline that particular maxim. I'd hesitate just shy of calling it economical, such are the flurries of his finger picking, yet there is a sense of that each pluck and pick is there for a reason.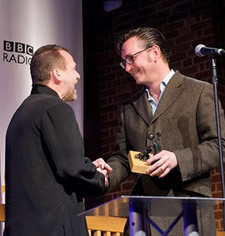 Martin's near neighbour in Sheffield, Richard Hawley, gets a co-production credit. The duo have apparently spent many an evening sat at the kitchen table swapping songs and stories. They first came together when Richard presented Martin with one of those awards (image left) and Hawley has admitted that the two were surprised to find they lived so close to each other. He also confesses to not knowing much abut Martin's music, but then the pair had moved in very different musical circles. During the post pub sessions that ensued after their meeting, Richard obviously recognised something in Martin, especially when comparing what he heard in this relaxed atmosphere with Martin's recordings.
There is brief video footage of Richard talking about working with Martin (see below) and he uses the words, "natural" and "pure," which seems to hit the nail on the head. For Martin's part he acknowledges in the sleeve notes that, "The material reflects 48 years of learning songs from everywhere and performing mainly solo. Just like my solo gigs, there are Scots ballads, my own songs, American traditional songs and guitar improvisations." It simply serves to emphasise that this is Martin doing what comes naturally and in fairness something he has done before on record, albeit not for some years – not that there has been anything wrong with half dozen albums released over the last 12 years that feature much fuller production and numerous guests. Still it's a little ironic that the last released, entirely solo CD is Bootleg USA, recorded as the title suggests in concert around America.
In fairness it's the run of Topic Records CDs starting with Prodigal Son, through True Stories to Purpose And Grace, which have seen Martin's profile rise, with a growing critical momentum that makes the appearance of Vagrant Stanzas so timely. It's also a great set of songs, which on the double disc, special edition runs to 22, featuring some interesting choices, all excellently and engagingly annotated by Martin too, explaining each selection. Interestingly, the title derives from Buell Kazee, a banjo player that Martin was researching, who used the term "vagrant stanzas," to explain the floating verses, that transmigrate around traditional songs.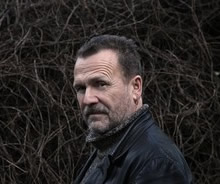 For those unfamiliar with Martin, he turned 60 this year and his recording career began with the release of Golden Vanity in 1976. In the early 80s his solo work ran in parallel with a fruitful and mutually beneficial collaboration with June Tabor, but in the middle of that decade, Martin moved to America. He spent 15 years in America and there immersed himself with the same passion in the folk and blues scenes of his newly adopted homeland, to the extent that if anyone can claim to straddle the Atlantic musically, Martin can.
Although Richard Hawley enjoys a co-production credit as he worked with Martin in Sheffield, it was originally mooted that they would record together. Once the sessions started, however, Hawley was so impressed by Martin's initial takes, it was decided that anything more was unnecessary and there they would stick. American, Peter Denenberg also takes credit, alongside Martin for some tracks recorded in Maryland, with Richard's simple entreaty to, "Remember the kitchen table," retained as the modus operandi, echoing through all these takes.
Martin has described it as, "I feel as though this is the record I've been working towards all my life. It's the first time I've made a studio album which deliberately tries to capture the immediacy of a live performance…. In fact it is the intimacy of playing to a friend which is at the heart of this album. It is not a record of repairs and corrections… This is what I do at a gig. "
Vagrant Stanzas reflects on five decades of immersion in traditional and contemporary music from both sides of the Atlantic and is a mixture of Martin's original compositions, including a song commissioned by BBC Radio 2 for their award winning Radio Ballads series, with classic songs by Bob Dylan (North Country Blues and Blind Willie McTell), Leonard Cohen (Stranger Song), Chris Wood (Come Down Jehovah), Leon Rosselson ( Palaces of Gold) and, of course, songs plucked from The Child Ballads and other traditional sources.
A couple of songs, the wonderful self penned Jackie And Murphy and Child Ballad Waly Waly (or Lord Jamie Douglas) reference June Tabor, who Martin clearly retains a great admiration and affection for. On the deluxe edition's second CD, there are a couple of epic ballads, Fair Annie and The Green Linnet, with the notes for the latter paying tribute to Dick Gaughan as a major influence. It also has Dylan's Blind Willie McTell, one of the few songs to obviously benefit from an overdubbed slide guitar part. The song was originally dropped from the Infidels album, but released via bootlegs has eventually attained classic Dylan status.
Some of this is gritty and the inclusions of the Chris Woods and Rosselson songs, Dylan's North Country Blues, as well as Martin's The Bell and Jackie And Murphy, with the American Civil War Ballad Blue Eyed Boston Boy, show Martin's delight in playing this, "Bolshevik nonsense," as an aunt by marriage of his haughtily dismissed it. But some of it is simply beautiful too. There are some instrumental interludes, mostly shorter tracks that display yet more ideas and musical and cultural marriages, and seem tailor made for soundtrack placement.
It was the slide guitar intro tour de force of Waly Waly, however, that prompted my wife to casually remark, "Sounds like Ry Cooder," as she passed through. Well, yes it does and no it doesn't. It actually sounds like Martin Simpson, a man at the top of his game and every bit as talented as his American counterpart, but as suggested, comparisons are probably useless anyway. Just delight in the sound of Martin Simpson, pure and simple.
Review by: Simon Holland
Vagrant Stanzas Video Feature
[Youtube_Channel_Gallery feed="playlist" user="PL4JF84Oj6ZVnrDt1unB6bZGUaYwhj-Gco" videowidth="500″ ratio="16×9″ theme="light" color="white" autoplay="0″ rel="0″ showinfo="0″ maxitems="48″ thumbwidth="160″ thumbratio="16×9″ thumbcolumns="3″ title="1″ description="0″ thumbnail_alignment="top" descriptionwordsnumber="6″ link="1″]
Vagrant Stanzas Album Stream
(via Deezer)

Vagrant Stanzas is released via Topic Records
Order the Deluxed Edtion CD via Amazon | Topic Records Store