Folk music has a way of tearing itself in two, with those who favour and sometimes will only acknowledge the traditions against those who eschew such arcane notions, reasoning artists merely brandishing acoustic guitars are enough to fit the billing. It's doubtful that entering this debate has any merit, but on the traditional side you have those for whom provenance and common ownership seem paramount. Fair enough as it goes especially on the latter point, but then does that mean that folk music is over and at what date do you draw a line? What does 'trad. arr.' mean anyway? For example Dylan certainly lifted plotlines from folk songs wholesale, so is he in or out? Why raise the question anyway?
Well Fire & Fortune by Josienne Clarke & Ben Walker, is a blend of traditional song arrangements and their own compositions.  It is also fundamentally so damn good that hardliners of either persuasion will be thrown a proper poser. On hearing this, even those who disavow what they regard as fuddy-duddy-folkers, will have good reason to think anew. Meanwhile, diehards of the tradition, will also surely have trouble in finding anything to actually dislike.
Significantly, however, the duo are sensitive to the schism. When I ask Josienne about the approach they took to the recording and whether they started with the traditional songs or their own, she explains, "It was quite a process from the first idea to the final thing! We originally had another album of traditional folk songs (sort of the sequel to The Seas Are Deep) which were all season based songs. However, we consulted a few in the know (Jim Moray amongst others) and they asked why we weren't including any original compositions on the album? It was hard for me to see how they would sit together comfortably on an album, we had never done that and I felt that the trad. songs would look too old and my songs would look too new."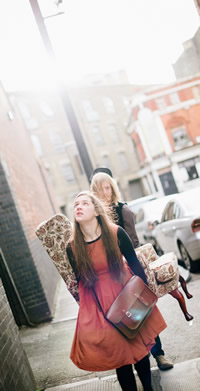 Josienne refers me to her blog, where she takes the point even further and has written, "The traditional songs have become so revered in modern time and the proof of their worth is in the fact that they have lasted so long in social consciousness. This has thrown up some insecurity I have about my own writing and whether it will look too shiny, frivolous and modern alongside these well worn stalwarts of British song craft."
Whilst I understand that and have also made the conundrum my lead into this piece, I think in the case of Fire & Fortune, the effect is all but seamless integration. The singing, the playing and the arrangements are of such fine quality that the source becomes the least concern. Instead the satisfaction in the listening comes in an emotional response to the whole.
We certainly get into some emotional turbulence and again I think the blog is instructive as Josienne, "I write almost exclusively in the first person, I do this because I am writing as me about me mainly. My songs are about my experiences, I lay much heavier emphasis on the emotional experiences I have rather than the day to day occurrences and I consider my experience to be fairly typical of the time in which I live."
Perhaps that is the key. Although some of the traditional songs are somewhat given away by the phrasing of titles such as, My Love Is Like A Red Red Rose, Green Grow The Laurels and perhaps also The Month Of January, the songs have survived because they have an emotional resonance that has defied the passage of time. When you make a connection to Josienne's emotional state through her own songs it is exactly the same process.
That's perhaps confirmed as I ask whether there was a theme or message that linked the different song threads and again Josienne explains, "Well, the album is certainly overidingly melancholic as is our preferred brand! There weren't specific narrative themes in mind but all the songs are personal and reflective. We chose the original compositions that fitted with a folk sensibility. Fire &Fortune as passion and fate are a theme throughout all of the songs."
There's also an even handedness that runs through most of the arrangements. It's not to say that every song sounds the same, but just that Fire & Fortune is an album of subtle nuance rather than showy details. That said, when you listen closely those nuances add up to something very finely crafted and Ben offers an insight as to why, telling me, "We recorded pretty much everything at home, so there wasn't any major burden or pressure on getting things done before heading to another studio. Strings were already demoed out with samples, and the scores were sent to the players well in advance."
The string arrangements certainly make a difference, but I press Ben as to whether they adapted things as they went along, especially allowing for the other musicians to be themselves. He reveals, "We knew what we wanted and where it would go beforehand: we still had production tick charts, but instead of it being crammed into 3 days, we spread it out based on each guest's availability. Our parts were done pretty much at the same time, through rehearsals and demos. Then we wrote bass and string parts on the keyboard or guitar, before sending the scores to everyone else."
He admits elements of spontaneity, "For some of it we just let the guests play over the top and we'd then pick and edit the parts afterwards." When I pinpoint the unusual use of the saxophone, which has a natural looseness, more typical of the usual jazzier settings for the reed he confirms "Josienne played the saxophone solo , which was more ad-libbed."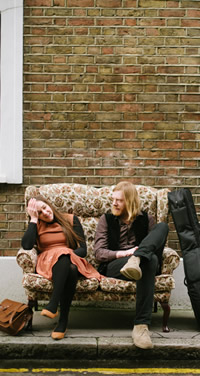 But returning once again to the song choices, Josieene has also written a detailed blog on the way that she has adapted The Seasons, reasoning that singing with the voice of a rural farm worker wasn't entirely honest. I suggest in truth, this is how the 'folk process' works with a singer adapting a song to suit their own setting and purpose. Josienne agrees, "Yes that's how I believe it should be done, it's the beauty of traditional songs. They are collectively owned and should be treated with a certain amount of reverence but yet you can also adapt them to add your own version to the canon. I have also added a verse to Green Grow The Laurels, taking influence from the Sandy Denny version and the idea that one day someone might choose to use mine is exciting."
Therein lies the rub. If another singer picks any of these songs to perform at their local folk night, do they then become folk songs? Once a recording finds its way into the world do these songs not belong to us all? Well of course writing credits, copyright and ownership are the hot topics on the agenda for the music industry. Mind you, it has been the case since the days of troubadours, journeymen, hawkers and travellers singing for their supper, not to mention broadsides. Besides, should you pick a song to sing, I doubt Josienne and Ben will have the royalty police on your trail.
Yet they are trying to make a living of their talent and their wits, but why folk music? Ben's path was not so straightforward and he tells me, "I had classical guitar lessons as a child, but never really got into folk music. Our local guitar hero was Gordon Giltrap, who I occasionally saw at the local arts centre. He played a few Bert Jansch things which got me into Bert, but my parent's record collection consisted mostly of Dire Straits, so I played a lot of electric guitar instead." He continues, "I was playing in an indie band, and was having some tracks mixed by a friend of the band's. I was noodling about on his Martin guitar and he raised the question, "If I could play acoustic guitar like that, what was I doing in an indie band with a bunch of assholes?" I replied that I didn't really know anything about folk or any folk singers, but then he already knew Josienne, so introduced me to her."
The parental influence was more natural for Josienne. "My dad used to listen to James Taylor, Don McLean and Gordon Lightfoot so I already had an early taste for melancholic song writing. I'd been a keen singer from when I was very young, but had done more choral and classical stuff in my teens. I first heard Joan Baez when I was about 17, and it was from her I learned my first traditional folk song (Lily Of The West). When I performed this song, somebody told me I sounded like Sandy Denny, so I went and sought out Fairport Convention, and this opened up a whole new thing for me. I found June Tabor, Pentangle, Nick Drake, Fotheringay etc."
She's quick to suggest why it seemed to gel between them, and offers, "I think Ben's style of playing suits my singing and songwriting. He's lightly classically trained, like me, and that gives us a similar approach to timbre and phrasing. It started off pretty complimentary but has evolved even more symbiotically over time." She also fondly remembers, "One Light Is Gone was the first proper thing we produced together," and Ben interjects, "Still available if anyone wants one!"
For all of the talk about the holistic pleasures of the record, there is probably one track that does stand out, because of its arrangement and also because of the slightly controversial video. I suggest that even by folk's standards the short film for the album's title track was pretty dark. Josienne agrees, "We knew it wasn't going to be everyone's cup of tea, but folk music does contain a lot of murder and therefore it seems in keeping to me.
"Yes it is pretty dark, although it's all implied violence. We wanted to make a video that wasn't simply a dramatisation of the song, but had an interesting storyline more referencing the song than trying to visually represent it. We gave Richie (Bardsley) a film-maker friend of ours a list of things we didn't want in a music video, and the brief that we needed to be in it, and he (being slightly twisted) came up with the "Joan of Arc" treatment."
So, with the pair pleased as Punch to have the album released on Navigator on Monday, they have a launch gig in Camden tonight and play Cambridge next weekend. As with their recording it sounds like the year ahead is being planned out as Ben reveals, "We have a spreadsheet! At the moment we're looking at recording a Christmas album, touring in September, booking more gigs and festivals." With Fire & Fortune as their calling card Josienne and Ben can blaze their way to glory.
Review by: Simon Holland
Tracks
The Seasons

Anyone But Me

Fire & Fortune (Pete Flood remix)

Fire & Fortune is released on 22nd July via Navigator Records
Available from
Album Launch: Fri 19th July (tonight!)
The Forge
3-7 Delancey St, London , NW1 7NL
Tickets & Details
For full Gig dates visit:

http://josienneclarke.co.uk