Listening to the first of these two CDs from The Complete John Kirkpatrick Band recorded live, I had a moment when Bellowhead popped into my mind. Sure, this is only a five piece band, but they seem to be playing with such vigorous energy that you could easily mistake them for two men each. In truth it was probably more the tuba parping away in the lower octaves, played by bassist Dave Berry rather than Ed Neuhauser, but holy moly! The John Kirkpatrick band could cook up a righteous noise when they hit their stride.
It turns out to be none too fanciful either as John in his wry introductory text in the booklet, refers to a 10 piece version of the band gathered with the impetus of a Radio 2 session. If all had gone to plan a kind of 'national ensemble', may well have been the result, but doubtless diary problems, not to mention the sheer logistics of the proposed tour, contributed to it all falling apart, despite the popularity of the sessions earning a repeat broadcast. So this was John's substitute, as some gigs finally did get booked and he was determined not to let people down.
The original spark was in 1991 and these recordings were actually made four years later, coming out the year after that. Apart from the obvious frustrations involved, it seems John also had cause to take stock of his life, career and music. Plucking the best of various stalled or half realised projects, he decided to throw his hat into the ring of folk rock and turned to a guitarist and drummer that he'd met while working with The Albion Band, Graeme Taylor and Michael Gregory. They in turn were happy with the addition of bassist Dave Berry and John also recognised the fiddle and recorder talents of Paul Burgess would fit the bill.
With all of the delays, it seemed an ill starred project from the off, but John is candid enough to admit that he took a hit on this financially too, as it never quite happened. Perhaps it was with an eye on Fairport's Cropredy Festival where the folk rock stalwart's fortunes seemed to be on the up and up, especially compared with a decade or so previously, that ambitions grew. Cropredy was the one place where The John Kirkpatrick Band did score success, but the big paydays simply didn't follow in the wake of that appearance.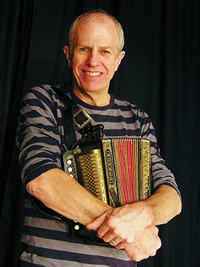 You can debate the whys and wherefores of timing and everything else until you disappear with a comic pop up your own fundament, but time has actually been reasonably kind to these recordings. You might also debate the whys and wherefores of this or that in the arrangements – for some it will rock too much for others it will folk too much – but on the live CD, Force Of Habit, the combination of seat of the pants virtuosity, the sheer energy, a great set of tunes and songs and the utter commitment to their mutual cause is very hard to pick holes in. In fact a few of the rapscallions of today might do well to tune in to this double disc set, while for those for whom the aforementioned Fairport Convention, Albion Band, Fotheringay and their ilk are still sounding good, here be buried treasure.
John of course gets to play with the best because they gravitate to him as one of the very best, give him a free reed instrument and he's in his element. What also comes across is his deep love and understanding of the Morris tradition, so tune sets are naturally a feature of both of these CDs. There are constant references in the notes to playing with The Richard Thompson Band, which fed directly into these sessions. So amongst all of the traditional tunes are several of John's own, with several original songs too.
For most people John will forever be associated with Shropshire, having made his home in Shrewsbury. He actually grew up in West London and it was there that the family's love of music became a big part of his life. He sang in church and school choirs and was taught both piano and recorder, but it was joining the Hammersmith Morris as a 12 year old, in only their second week that changed the game. It was with the Morris side that he took up the melodeon, setting in chain a musical career that runs through modern English folk music, with considerable theatre work as a bonus on top. It was in Shrewsbury he set up the Shropshire Bedlams in 1975 and still dances with them now, with his four sons, on a good day.
Even for a non-musician some of the tricky time signatures and changes of the tune sets are apparent and one can sympathise with drummers confusion over the lurch from 7/4 to 6/8 in the opener Pepper In The Brandy / The Seven Coloured Linnet, although there is no loss of stride here. It also sets the tone as it launches at a steady gallop. Arrangements too are varied and the notes show the perverse delight they took in the setting of George's Son, a song written for a dramatisation of Far From The Madding Crowd, to mandolin, accordion, tuba, recorder and rat-at-at drumming.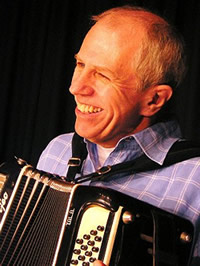 Of John's songs, however, it's later in the set that the standouts appear. Black Against The Snow, is a mournful lament for a troubled heart, while the following Blue Balloon is a helter-skelter cascade of imagery and flurry of fingers. Perhaps the best of all the songs, however, is the arrangement of The Oakham Poachers that allows Graeme Taylor to bring his guitar into the spotlight.
There is a lot more evidence of his abilities on the studio set Welcome To Hell, which as you expect takes a much more considered approach. One of the notable features is that both Graeme and Paul Burgess add their harmony singing to the mix. It adds to a pleasing complexity and if perhaps these recording lack the out and out brio of the live set, the songs and especially the tunes also benefit form a bit of breathing room.
That said, once more John's notes add to the sense of things not going quite to plan. Fields Of Gold from Sting's Ten Summoner's Tales might not be the obvious choice  for the folk cognoscenti anyway, but as John points out, while it's hard to follow the Geordie popster's line of thinking as he seemingly tries to re-invent himself as a folk singer of sorts, this is actually a good song. But it seems that studio pressure here intervened and a planned recorded solo within the band's version had to be omitted due to , "Hitherto unmentioned technical procedures." There is the sense of the studio clock ticking and perhaps the financial pressures starting to stack up against the band.
The title song is a suitably wry riposte to a Gary Larson Far Side cartoon, which added to the Vaudeville styling of Accordion Joe and the mock shanty Fill 'Em Up Rosie, about a petrol pump attendant, keep ringing the changes, while On The Road To Freedom is a rabble rousing march. Lovely Nancy is the only trad. song to make the cut, but Step Dance Tunes and Shropshire Tunes help to maintain the connection.
In many ways you might look at this as a folk curio, but it would be a mistake to right it off as such, as there's simply too much to enjoy about it. The project may have been flawed form the outset, but the ambitions are surely to be applauded and as a vehicle for John to corral some hitherto underutilised musical strands, The John Kirkpatrick Band deserves to be heard. Sure, were this to be recorded today, some of the tones and timbres would doubtless change, but the songs and tune sets stand up. Repackaged and taken as a whole, over the two discs, it all adds up to much more than a diversion and is another notable milestone in an extraordinary musical journey.
Review by: Simon Holland
Album Stream (via Deezer)
The Complete John Kirkpatrick Band is released on 22 July 2013 via Fledg'ling
Order via Amazon
Useful Links:
John Kirkpatrick Discography (via The Bees Knees)
http://www.johnkirkpatrick.co.uk