With Andy Murray making his way into another Grand Slam final at Wimbledon and  the British Lions taking the series over the Aussies down under it made a fitting start to a glorious (truly glorious) Summer's day in Garforth for the culmination of their Arts Festival. With the grounds of the local college being transformed into a full festival site and a fully covered and well lit stage taking pride of place at one end of the playground, it did exactly what it said on the tin.
With locals, the Garforth Jazz Rock Band, Hope & Social and the African influenced sounds of Love Society providing a pleasant build up during the afternoon, it was a teatime slot for 2013 Folk Award's best band winners Lau and with set up time at a premium it was Martin Green and his shade wearing cohorts Kris Drever and Aidan O'Rourke and their three instruments showing what they could do without some of the loops and electronic trickery they use in their recordings and their own gigs. Aside from the simple tick tocking rhythm with accompanies Throwing Pennies it was a return to basics set but none the worse for it. Alongside their usual set pieces, Torsa and Horizontigo it was Lal Waterson's Midnight Feast which stood proud having been a highlight of their regular sets. Sitting on the grassy banks over-looking the crowd with Lau doing their stuff – it was a perfect setting.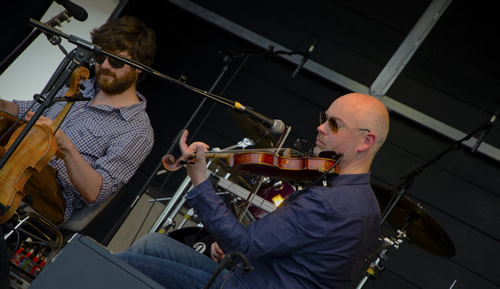 A perfect setting it was too for Kate Rusby and her band who followed a soulful set by the legendary Ruby Turner. As the sun began to set, Kate's gentle tunes provided the  perfect soundtrack with the impeccable playing of her regular band Damien O'Kane;  Julian Sutton,  Duncan Lyall and Aaron Jones. With some of the rearrangements of songs from last years 20 compilation getting another airing, it was rewarding  to hear some of the older material which has reappeared and made its mark. So alongside  regular favourites The Elfin Knight and The Good Man, the inclusion of The Cobbler's Daughter, William & Davy, and Green Fields made up a great set which is forever evolving.
As usual, any Kate Rusby gig is accompanied with the stories behind the songs and recent updates from the Rusby household. With a gap of six years since the last appearance at Garforth there was quite a lot to fill in. It's the endearing  familiarity and the intimacy that makes you feel as though she's sitting across the parlour rather than a school playground with a couple of thousand people stood behind you. Even repeat attendees at Kate's gigs appreciate the delight and unaffected charm which is totally sincere as she seems genuinely touched at the response to her songs. Up close, it's also possible to pick up on Kate's wicked chuckling after introducing The Game Of All Fours with a nudge nudge wink wink reference for the under 16's to the content.
With a few more Summer festivals to come and an Autumn tour kicking off later in the year it looks like being a busy end of 2013 for Kate; with Make The Light her last new album back in 2010 (sandwiched between her two exquisite albums of festive music which form the bulk of her dazzling  'Kate Rusby at Christmas' gigs)  who knows what 2014 has in store?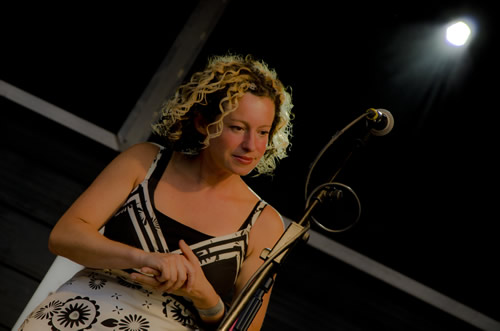 With  Bellowhead up next a short delay for an eleven piece band to set up was inevitable, but to the credit of the organisers and the crews, the changeovers throughout the day made sure timings were virtually spot on and festival slippage was at a minimum. With the sun down too, it was time for the full stage lights to come into their own, much to the alarm of the front rows who found the full effect almost as dazzling as Jon Boden's rather fetching pink jacket.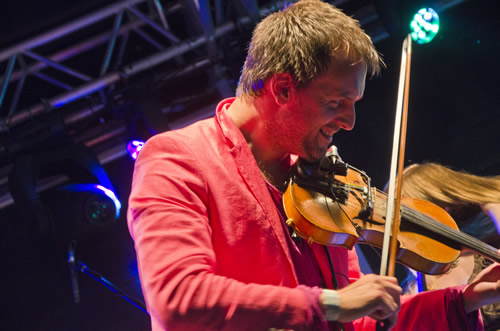 It must have been slightly surreal for the band to look out at the front row to see most of them decked out in sunglasses at ten o'clock in the evening but being slightly irreverent and off kilter is part of the charm with Bellowhead and the reason as to why their live performance is so highly regarded. And what a performance it was. In total contrast to Kate Rusby's gentle and much more mellow (yet no less intense) performance,  Bellowhead pulled no punches. In eight years of Bellowhead watching from the tentative days when Eponymous signalled their intent, the hour they entertained the Garforth masses was intensity personified and probably the best performance I've had the pleasure of seeing them give. The term 'all killer no filler' could have been made for their set. After taking opener 10,000 Miles Away to settle the sound, it was foot to the floor with all eleven parts functioning like a well oiled machine, and even being called back for an encore just before the eleven o'clock curfew, Paul Sartin 'reluctantly' apologising to local residents who were subject to an, should it be possible,  even more raucous and carousing run through London Town and Frogs Legs And Dragon's Teeth involving mass jumping, there can't have been anyone who disagreed with this being Bellowhead at their best.  The only possible complaint might have been that there was no time  for a rousing Haul Away which would have sat beautifully in the festival set!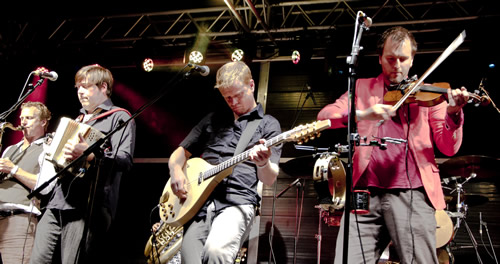 Certainly a day to remember for the Garforth Festival  which, with bringing such quality to the table, has elevated the status of this friendly and unpretentious event up a notch or two.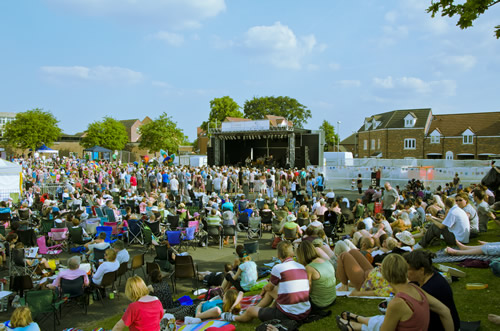 Review by: Michael Ainscoe
Photography: Michael Ainscoe, All Rights Reserved