Among gramophone lampshades, chairs in multicoloured fabric and a window with a view of Prague (if only the bar, not the city), Sam Lee from the Nest Collective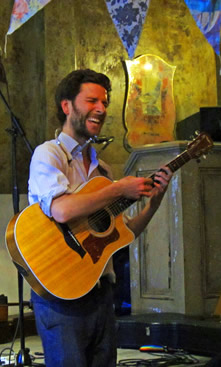 welcomed every single person warmly as they wandered inside. From underneath the self-made Nest Collective bunting, he encouraged the audience to show off their musical talents to open the night.
By now a lovely crowd of diverse ages, wearing everything from folklore dress to black suit, had gathered and Nick Edward Harris rose to the challenge. Able to perform without amps thanks to the attentive audience, Harris played two of his folk songs. His style is something to behold: he played entirely on the neck of the guitar and, occasionally, used the instrument like a cajon. The atmosphere was so friendly and respectful that people who arrived while someone was playing, waited in the door, listening until the song was over before finding a place to sit.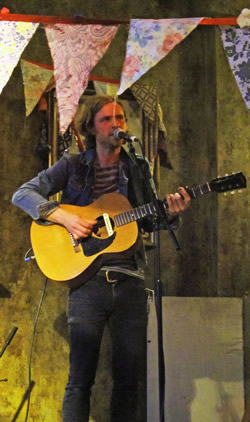 Next up was Lowpines with what they call "lo-fi-anglo-americana-pop-songs". Describing himself as "more of a solo-duo", Oli Deakin was only joined by Lyla Foy from WALL towards the end of his set. Deakin's first song, the title track of Lowpines' latest EP Avenue Blues, sent us off towards excellent early evening melancholia with slow disco ball specks of light dangling across the room. Switching between e-guitar and acoustic guitar, he shared mellow dusk secrets with songs such as "Talk Not" and, with Foy on vocals and electric guitar, "Heavy Hander" and "Give Me a Horse". Hesitating slightly, Deakin also played a new song, "Loose Canon" with a lovely soaring melody, which hopefully will be recorded soon for everyone to hear. Having just learned a number of covers for a Nick Drake-themed night, he made a point of playing "Riverman" and, later, as an encore, "Place to Be". Personally, I liked Lowpines' own songs best and they were certainly applauded with equally great enthusiasm and whoops from the audience. No surprise when, for instance, "Haul Me in the River" has lines such as "I've been taking punches from silhouetted enemies"!

After a short break, Fiona Bevan leapt onto the stage. In a flowery dress, of which she later said: "Does everyone like the bunting? I've colour-coordinated my dress. Pair of old curtains, it's how I roll." Grinning, like she was whenever she was not singing and, sometimes, while she was singing. No wonder Sam Lee said, by way of introduction, that it would be amazing if you could bottle her up (she replied: "Please, don't bottle me up"). And not just because of her infectious cheerfulness but also because of her ragamuffin soul-folk-pop songs. Without a keyboard this time, but with an acoustic guitar, an electric guitar that looked like an acoustic guitar, a ukulele and plenty of "oh"s. Admiring Lowpines' courage playing a new song, which always is "terrifying", she played a new song, too, "a manifesto" no less. Its lines "don't stop for a second / you don't need directions" and "with the wind in your sails and the fire at your heels" definitely set the scene for her performance. Energetically, she explored highs and lows and, with her precise sharp guitar strums had ecstatic listeners snap their fingers and tap their feet. Especially striking was "Dial D for Denial", where she slipped from a deeper pitch into a soft ethereal voice at the end.
She connected with people in between songs, as well. Introducing people who arrived during her set, taking a bit of banter too far ("Who needs Glastonbury when they can be here? By the way, who needs Wimbledon?")  and generally talking to the audience as if to friends. She dedicated her insomnia song "Us and the Darkness" to a fellow insomniac in the audience assuring him that "everyone who is awake is connected" and, thus, never alone. "Pirates and Diamonds" she dedicated to someone else as an early birthday present. When she played "Slow Mo Tiger Glo", a song about "waking up next to somebody lovely", people really did not "want this to be over", as she sings in the song.
Hence, she came back for an encore with "Moths". Which, not expecting to be asked to play encores, she had not practised. Halfway through, she forgot the lyrics but the audience, repaying her kindness, started humming the melody until she picked it up again exclaiming "Oh my God, you're amazing!" A glorious moment symptomatic of the whole evening. Subsequently, Sam Lee convinced her to play another encore, "Love in Cold Climate", the most unseasonal song, as she called it, but very suitable indeed for that evening of unconditional warmth in north London. Apart from the excellent and heartfelt performances, it was also Sam's enthusiasm in hosting the night which made it a special occasion. So if you haven't been to a Nest Collective event yet, you are missing out. By the way, they're taking Keston Cobblers' Club to the roof of the South Bank Centre on 8th August.
Live Review by: Anne Malewski
Artwork and Photography also by Anne
Nick Edward Harris Tour Dates
03/07 London, Power's Bar
06/07 London, Redchurch Brewery
11/07 London, Upstairs at The Ritzy
16/07 London, TV Nights, Ronne Scott's Jazz Club
17/07 London, FolkRoom
18/07 London, Spiritual Caipirinha Bar
28/07 London, Spiritual Caipirinha Bar
01/08 Bromley, The Icarus Club at the Shortlands Tavern
02/08 Somerset, Cloud Cuckoo Land Festival
25/08 Reigate, Party 4 Patrick @ Littleton Manor Farm
29/09 London, The Sunday Fete with Patch and the Giant
Lowpines
Next gig is 02-04/08 at Standon Calling Festival http://www.standon-calling.com/
Fiona Bevans Tour Dates
05/07 Lewes, Glynde Place
06/07 Driffield
19/07 Lyme Regis, Marine Theatre
20/07 Bridport, The Bridport Arts CentreYou are attending.
25/07 Cambridge, Cherry Hinton Hall
28/07 Cambridge
08/08 Edinburgh
22/08 Snape, Snape Maltings Concert Hall
13/09 Great Bardfield, High Barn
26/09 Colchester, Le Talbooth
25/10 Maidstone, Pizza Express
26/10 Suffolk
01/11 Coventry, Warwick Arts Centre
26/11 Cambridge
http://thenestcollective.co.uk/
http://www.nickedwardharris.com/
http://lowpines.bandcamp.com/ (latest EP is name-your-price)
http://www.facebook.com/FionaBevanMusicNews