In the first of a two part interview Simon Holland talks to Emily Barker about her new album 'Dear River' (review here) which is released on 8th July on Linn Records. Emily is our Artist of the Month for July.
A new label deal… How did the signing to Linn come about?
The Red Clay Halo and I were playing a gig on a Monday night at Brel, an intimate venue in Glasgow, a couple of years ago. After the show, Gilad Tiefenbrun, managing director of Linn Products and Records, came up to buy a CD and have a chat at the merchandise desk. Coincidently I had just been hearing all about Linn Records via a friend of mine, so our meeting was quite timely. After our tour had finished, I was invited up to the Linn warehouse to be shown around the premises and explained the ethos behind Linn.
Linn are a company of two sides, one of which designs and manufactures exceptional music systems, and the other which is a record label releasing music in the unique form of studio masters (as well as the usual forms of vinyl, CDs, mp3s, etc.). What really struck me about the company was their belief in longevity and quality: certainly traits that are hard to come by in this age of obsolescence.
This thinking is not only applied to their music systems, but also to their label. They care about creating the best sound possible right from the outset. This meant that they offered to team us up with a top producer/engineer (Calum Malcolm) and put us in a world-class studio (Gorbal Sounds, Glasgow). I certainly didn't step lightly into being a signed artist, having released all my previous records on my own label, but Linn have been so passionate, innovative and supportive, and we all feel really honoured to be working with them.
Then a new studio experience too – can you tell me about the studio – first impressions – what was the set up like – was it very different to what you are used to?
Working at Gorbals Sound studio in Glasgow certainly was a different experience for us. It was any recording musicians dream come true. Previously we've been on such shoestring budgets (which meant doing the best with what we could afford in terms of space, equipment and time), so it was a wonderful experience to work in a state-of-the-art recording studio with a kick-ass producer.
We were in Studio 1 for the duration and for starters, the control room is really spacious with a beautiful Neve console in the centre. There are four rooms surrounding the control room, all with glass separation so you can clearly see the producer/engineer. From all the recording rooms you can also see each other, allowing you to play along together without sound bleed but still being able to communicate visually. So a great design, and the recording equipment was also brilliant.
How was working with Calum? Did you find yourselves doing things in a very different way or was it much the same?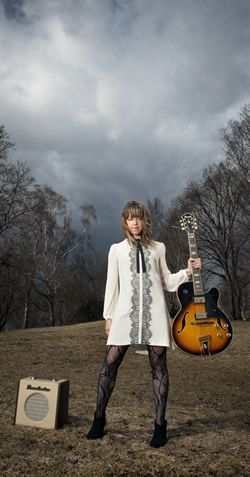 It was wonderful working with Calum. He has so much experience and had such a clear vision for this record. Our usual process is for me to write the songs, and then I bring them to Jo, Gill and Anna (The Red Clay Halo) and we sit down and arrange the parts altogether. We usually just head straight into the studio from there and tweak things as we go. So we started out this way and then Calum joined us for pre-production and suggested a few changes. It was great to have an "outsider" come in and be a 5th pair of ears, to give us constructive criticism, offer suggestions, and push us towards experimenting with new ideas.
The record certainly sounds very different, did you set off with a different objective from Almanac?
I'm so glad you think it sounds different .Yes I set off with a different objective to Almanac. I'm very conscious about trying not to repeat myself. I want to challenge myself in my songwriting and playing, and the girls are also aware of trying to do things differently each time. What's the point in just churning out the same old all the time – that gets boring for everyone!
Did the songs for the new record come together as specifically for this recording, or where they written over a longer period? I guess I mean do you write with an end goal in mind for a record, or is it more a case of having a number of songs in your notebook and picking from those? There seems to be a linking theme if not actually a concept as such.
Dear River was written in the space of just over a year. All of the songs are to do with theme or themes of 'Home'. To me home is much more than just bricks and mortar and a roof over my head. Home is a complicated question when you move around the world, having ancestors from far away, grow up on stolen land, etc. So the album is my personal journey of home but incorporates the stories of others along the way. There are three parts or locations to my story of home…
By the Blackwood River in the south west of Australia: my first home. I explore childhood innocence, family, colonialism and first landscapes.
The path between two points becoming home: encompassing the journey, travel, temporary or "non-spaces" and itinerant lifestyles.
The third is set in England and covers adulthood, experience, settling in a home away from home, exile, emigration, inherited loss and ancestry.
So there's a lot of ground covered and I got really studious about it all, reading many books, watching a lot of films, taking notes, delving into family history, listening to other people's stories. It was fascinating and I feel I could have kept going really. I could write forever about home. I wrote 15 songs in total and we chose 13 to record. Then 11 made it to the album.
The river motif opens and closes the album almost like a life cycle, but also comes through in Ghost Narrative and also in Everywhen, but more as a metaphor for the flow of time and all human life (probably at this moment my favourite two tracks). The latter in particular seems to carry a credo for living, without giving everything away can you tell me a little more?
The river motif became a way for me to connect all these themes and strands of home. It certainly follows a life cycle, like blood moving through veins, like a path, like time. I like the river as a symbol of connectivity.
Everywhen is a political song that asks all non-Indigenous Australians to listen to our Indigenous nation, to acknowledge our bloody history, to face up to our racist government and to stop repeating the patterns of oppression that comes in different forms and disguises but continues regardless. The line "sorry is only as strong as the time it takes the past to repeat again" is a reference to "National Sorry Day" in Australia – what is the point in apologising if you keep making the same mistakes, keep causing pain and oppression. There needs to be change and learning, as well as apologies.
You obviously feel deeply about the native Australians and how they have suffered under colonisation. Can you tell me more about you interest? When was this stirred? A Spadeful Of Ground is very direct, but I also love Bones from Almanac?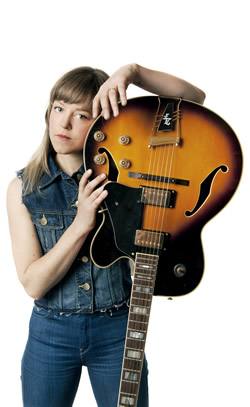 Growing up in Bridgetown, there were only two Aboriginal families in my school. There was so much prejudice and racism towards them and it used to make me really angry, even as a child. I remember getting into a fistfight with one of my friends because she called Judith, one of the aboriginal girls and also my friend, a really offensive name. I guess it was my parents who instilled this in me.
I then went on to study Indigenous politics at University for a semester and was completely blown away by what I learnt. I realised then just how little non-Indigenous Australians are taught about Indigenous Australian culture. There is nothing, at least when I was there, in the school curriculum – another case of history being edited by the "victorious".
And what is most shocking of all is that oppression of aboriginal people continues today. United Nations recently visited Australia and declared aboriginals "the most oppressed nation of people in the world."
It seems that more and more Indigenous people are able to have their stories heard, and the arts has been amazing bridge between our cultures, but there's still so far yet to go.
So it's an issue I feel very strongly about but it also took me a while to feel comfortable writing about it. I think the important thing for me is that I'm aware that I'm writing from a non-Indigenous perspective. I'm not putting words in anybody's mouth. Indigenous Australians have their own stories to tell, in their own way. I just hope my songs might encourage more people to listen.
Letters is also very moving tell me more about the story. I believe it was your grandfather, did you learn his story first hand?
Well for me home is not only a place, but also is made up of the people we know and the stories we inherit from our family and ancestors. My grandparents on my mum's side were Dutch and emigrated to Australia in 1952 by boat having never been to Australia before. Like many WW2 survivors, they set off in search of a new beginning and to leave behind the trauma of having lived through a war.
My grandfather didn't talk much about his previous life in the Netherlands, so there were many questions that went unanswered.
Since my grandparents death, my mum has attempted to piece together their lives in Holland and recently sent me a parcel containing an autobiography written by my grandfather's brother that documents their time in exile along with some letters exchanged between my mother, in Australia, and her distant relatives in the Netherlands.
Most of my song Letters is written from the perspective of my Grandfather Reinier, and his brother Frans, and their time in exile during the war. They fled Rotterdam leaving behind their family and their girlfriends (my Grandmother to be) and hid out for three years in woodlands, farm houses and old factories along the German/Dutch border. During this time they both attempted to get word back home to let their loved ones know they were still alive. Imagine being a mother and not knowing if your sons were alive or dead. Imagine waiting, watching the clock for hours on end, for years on end, waiting for a sign, a message, a letter.
Did you record the acoustic versions after the full production? In their own right they offer a wonderful alternative world perhaps more in keeping with Despite The Snow and have a charm of their own.
Thank you, I'm glad you enjoyed them. Yes we recorded them about 6 months later in one day completely live. We recorded at Dog House Studios in Henley-on-Thames with Mike Silverston, Jo's father. It was really great to strip everything back and play just the bones of the songs and arrangments. I think they have their own, special quality too and certainly hark back to the Despite the Snow record.
You have a massive tour booked are you looking forward to it? Are you playing around Europe, and are there other countries where you're starting to make your mark? What is the reception back at home in Australia?
Yes I can't wait for that tour. We have done very little outside the UK so it's quite an unknown for us. I know Wallander has been broadcast all over the world and I often get messages from people in America, Australia and Europe asking if we're touring anytime soon. Our plan is to head over to Europe this year on a more regular basis and next year we'll focus on Australia and America.
Interview by: Simon Holland
Dear River is released on Linn on 8th July 2013
Album Stream (Samples)
Headline Tour
| | | | | |
| --- | --- | --- | --- | --- |
| Thu 10 Oct | | The Lemon Tree, Aberdeen | | Tickets |
| Fri 11 Oct | | The Arch Inn, Ullapool | | Tickets |
| Sat 12 Oct | | Ironworks, Inverness | | Tickets |
| Sun 13 Oct | | Oran Mor, Glasgow | | Tickets |
| Tue 15 Oct | | Komedia, Brighton | | Tickets |
| Wed 16 Oct | | 02 Shepherd's Bush Empire, London | | Tickets |
| Thu 17 Oct | | Blackfriars Priory, Gloucester | | Tickets |
| Fri 18 Oct | | The Globe, Cardiff | | Tickets |
| Sun 20 Oct | | The Musician, Leicester | | Tickets |
| Mon 21 Oct | | Artrix, Bromsgrove | | Tickets |
| Tue 22 Oct | | St. John the Evangelist Church, Oxford | | Tickets |
| Wed 23 Oct | | The Apex, Bury St Edmunds | | Tickets |
| Fri 25 Oct | | Open, Norwich | | Tickets |
| Thu 7 Nov | | St. Philips Church, Salford | | Tickets |
| Fri 8 Nov | | Brewery Arts Centre, Kendal | | Tickets |
| Sat 9 Nov | | The Cluny 2, Newcastle upon Tyne | | Tickets |
| Sun 10 Nov | | Brudenell Social Club, Leeds | | Tickets |
| Mon 11 Nov | | Junction, Cambridge | | Tickets |
| Wed 13 Nov | | Discovery Centre, Winchester | | Tickets |
| Thu 14 Nov | | Exeter Phoenix, Exeter | | Tickets |
| Fri 15 Nov | | Stag (Plaza Suite), Sevenoaks | | Tickets |
| Sat 16 Nov | | St Mary in the Castle, Hastings | | Tickets |
| Sun 17 Nov | | The Wedgewood Rooms, Portsmouth | | Tickets |
| Tue 19 Nov | | Glee Club, Birmingham | | Tickets |
| Wed 20 Nov | | The Greystones, Sheffield | | Tickets |
| Thu 21 Nov | | Floral Pavilion Blue Lounge, New Brighton | | Tickets |
| Fri 22 Nov | | Bristol Folk House, Bristol | | Tickets |
Free Download
Buy 'Dear River' on: