British Folk music's most loved label Topic Records have been hard at work managing the next phased roll-out of digital releases as part of The Great Big Digital Archive Project. The project will see their entire back catalogue released along with in-depth PDFs, artwork and images, no easy task as head man David Suff revealed in our interview back in January (read it here).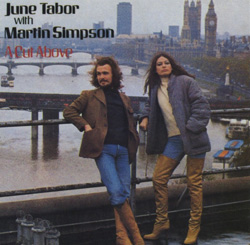 With Martin Simpson's new album Vagrant Stanzas set for release at Cambridge Folk Festival on July 28th this year it was more than fitting that the next tranche of releases from the project should be Martin and June Tabor who had a musical partnership back in the 70's. Martin worked with June on her solo albums and earned a co-billing for 1981's A Cut Above, one of my personal favourites, as was Flash Company:
Topic will publish digital booklets for all of June Tabor's Topic back catalogue this month to include:
TSDL298 JUNE TABOR Airs & Graces
TSDL360 JUNE TABOR Ashes & Diamonds
TSDL410 JUNE TABOR & MARTIN SIMPSON A Cut Above
TSDL432 JUNE TABOR Abyssinians
TSDL449 JUNE TABOR Aqaba
TSDL490 JUNE TABOR Aleyn
TSDL510 JUNE TABOR A Quiet Eye
TSDL532 JUNE TABOR Rosa Mundi
TSDL543 JUNE TABOR An Echo Of Hooves
TSDL557 JUNE TABOR At The Wood's Heart
TSDL568 JUNE TABOR Apples
Then in July Topic publish digital booklets for Martin's Topic releases:
TSDL513 MARTIN SIMPSON The Bramble Briar
TSDL540 MARTIN SIMPSON Righteousness & Humidity
TSDL553 MARTIN SIMPSON Kind Letters
TSDL567 MARTIN SIMPSON Prodigal Son
TSDL578 MARTIN SIMPSON True Stories
Continuing monthly throughout 2013, further archive titles will be released.

www.martinsimpson.com
www.topicrecords.co.uk