Tom Russell is a true maverick who along with Dave Alvin is credited with creating the sound that became known as Americana. He now enjoys the kind of acclaim from critics and peers that demands to be taken seriously. Never having been one to take the easy route, however, it's the late flourish in a career that spans more than 35 years and almost 30 albums that marks him as one of America's greatest songwiters. His trio of studio albums starting with Love And Fear through Blood And Candle Smoke to Measbi contains some of the most vivid story telling you can hear in song.
Just consider the latter, Mesabi, that loosely knits Bob Dylan, Elizabeth Taylor, James Dean, the actors who voiced of Peter Pan and Jiminy Cricket, the McCarthy era communist witch-hunt and the lawless border town of Juarez in Mexico that sits across from El Paso, which is ironically one of the most peaceful cities in the USA, into a meditation on celebrity and the fickle and arbitrary nature of fate and fortune, success and failure and life and death. Phew! A couple of somewhat superfluous bonus tracks aside, it's a brilliant, fascinating and compassionate work, that could have you rattling round Wikipedia for weeks.
Dotted amongst these three albums is a tribute album called The Wounded Heart Of America, with Tom's songs being sung by the likes of Johnny Cash, Iris DeMent, Suzy Bogguss, Dave Alvin and Eliza Gilkyson. There's also One To The Heart, One To The Head, a wonderfully titled collaboration with the equally erudite Gretchen Peters and a compilation of his earlier recordings over two CDs called Veterans Day, which contains yet more evidence of his brooding wisdom and patient humanity, not to mention a sly humour.
To make the case for wayward genius irrefutable, Tom also has a master's degree in criminology from UCSB and has taught the subject in war torn Nigeria. He's also lived in Norway, Spain, Puerto Rico and his early musical career included stints with a circus and playing the seedy end of the Vancouver live circuit.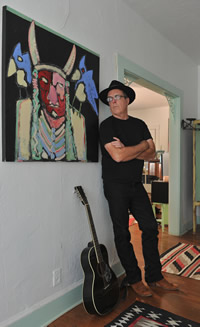 Tom also has links to the last of the beat generation and has a concept album based on his correspondence with Charles Bukowski. The leaders of that movement, along with cowboys, horses, border life and other aspects of American history have also featured in Tom's other main form of artistic expression, as he's also a painter of some repute.
Russell seems to delight in an outsider's status, not wanting to get caught in the machinery. It's a position that gives him wide ranging empathy and makes the humanity in much of his writing all the more powerful for its heartfelt, non-judgemental stance and amity. Hailing originally from Los Angeles and having made his home in the Texan border lands, that empathy is probably most acute for those on the wrong side of the Mexican border, who see America as the promised land.
With all of that there also comes a wilful streak and there's no surprise perhaps that his latest recording throws us yet another curve ball. A live recording featuring some of the finest songs from his recent career high is one thing, but one that features the 32 piece Norwegian Wind Ensemble, well that's another thing all together.
Actually there is a logic to it. As mentioned above Tom lived in Norway for a while and can also apparently trace his family lineage back to the country. It's obviously a place that he still has in his heart and that is clearly a mutual feeling amongst the many Americana fans residing there. Besides, it works a treat, with the lush, big-country, Panavision orchestration adding to the cinematic sweep of his story telling. It also seems to enliven the Tex-Mex threads that weave through his melodies, without recourse to the more obvious Mariachi treatment.
With trusted compadre Thad Beckman along for company, the whole set up is recorded live, although either in a very well managed or edited form, as there's very little in the way of between song banter. Those who have seen him will know that Tom is fond of extrapolating on what are often already quite involved song narratives, but here they get to pretty much speak for themselves.
It's a great set too opening with Love Abides. The closer of the main act of Mesabi, the song is a prayer for both sacred and secular blessings to find those that need them most. Without being specific, it seems to cast back to the émigrés who left Europe for America and thus connects Tom back to his ancestory, making it a perfect place to start.
But typically perhaps it also carries religious imagery and echoes of the plight of the Mexicans and that finds its way into Guadalupe and especially Goodnight Juarez. The consequence of the 'war on drugs' is felt most keenly in the Mexican city and Tom tells us, "Our Lady of The Seven Sorrows just caught the last bus out, she said: "Seven Sorrows used to fit the bill, boy I need ten thousand now." The mariachi horns are silent, the guitars don't make a sound, the children have all disappeared or are hiding underground."
You also get the autobiography of East Of Woodstock West Of Vietnam and Criminology. The latter, propelled by some lovely guitar from Thad, makes light of several of Tom's near death experiences, running riot with images of music and art and the self-deprecating line, "I know a little bit about a lot of things, I got a master's in the art of criminology." But the songs range far and wide from the poverty of Stealing Electricity, to the hurricane storms of The Mississippi Running Backwards and a fading star of Jai Alai, once called the fastest game on earth, with another connection to his Norwegian hosts in St. Olavs Gate, a street in Oslo.
Best of all though is Nina Simone, a song that is simply about loving music. I say 'simply', but it is both profound and poetic and seems to hit at the core of something I have trouble expressing in prose week after week, "Yeah we've been to hell and back, where love cuts us right down to the bone and walking beside us was Nina Simone."
The orchestration is wonderful and the new arrangements by Mats Hålling seem to bring the best out of Tom with his emotive tremor of a voice running the full range from gritty to sweet as the subjects demand. Nothing seems out of place and perhaps therein is the surprise as the songs make their transition to these new settings with seamless ease. Again it's tempting to say it all sounds so simple, but you know that the orchestration is meticulous and the playing it absolutely top-notch. Perhaps the one place where the word really does work is to say, "Simply sublime."
Review by: Simon Holland
Album Stream
Aztec Jazz is released on Proper Records July 1st 2013
Available from:
Amazon | ProperMusic (Ltd Autographed Edition)
UK Tour
Tom Russell is touring the UK throughout July.
Jul 12, 2013 Galway, Ireland
Jul 13, 2013 Mallow (Cork), Ireland
Jul 14, 2013 Dublin, Ireland
Jul 16, 2013 Portstewart, Northern Ireland
Jul 17, 2013 Belfast, Northern Ireland
Jul 20, 2013 Perth, Scotland
Jul 21, 2013 Gateshead, UK
Jul 23, 2013 Leicester, UK
Jul 24, 2013 Hereford, UK
Jul 25, 2013 Farncombe, UK
Jul 26, 2013 Oxford, UK
Jul 27, 2013 Hove, UK
Full tour dates & venue details can be found here.