Boo Hewerdine has been widely acknowledged as one of the UK's finest songwriters, attracting those kind of notices steadily for some years with literally hundreds of compositions and co-writes to his name. Perhaps State Of The Union is the next logical step on a meandering career path and runs a parallel course to a thriving Tin Pan Ally, or Brill Building like production line.
Arguably, Boo works best in partnership with someone and certainly his musical relationship with Eddi Reader from the mid 90s onwards has been wonderfully productive. Boo's Patience Of Angels helped to kick start Eddi's solo career and is an enduring reminder of that first flush of success. But by then Boo already had an album with rising 'new country' singer Darden Smith under his belt. Even before that his musical ambitions had crossed the Atlantic, with Steve Earle enlisted to help produce the second Bible album.
Add in the efforts Boo has made to reconnect with his own body of work, simultaneously rediscovering the kindred spirit born of close quarters live performance, the simplicity of a duo of acoustic guitars and voices perhaps has obvious appeal. Or then again, perhaps it's just the chance to work with another highly talented individual, with whom you share an obvious musical chemistry that is too good to turn down.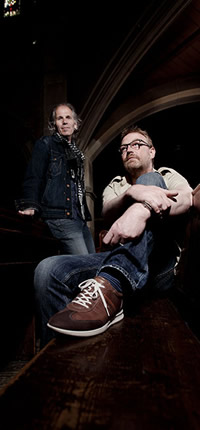 Brooks Williams is certainly a talent in his own right. And the chemistry between the pair is plainly apparent on this second CD 'Snake Oil' and especially if you see them live. Williams is an exceptional blues guitarist with a jazzy edge. He has a lovely, laid back manner reflected in his voice too, although is tempting to suggest that their voices are growing together. His unfussy, incredibly natural way around the fret board makes a great partner for Boo's rather more economic, workman like, but none the less effective style. He's also prolific, having released pretty much an album a year since his debut in 1989, including self titled debut from State Of The Union from a couple of years ago.
Brooks hails from Statesboro Georgia, but is resident in the UK, the reasons for which may well be written into Union Jack on the debut album. But as well as a fair amount of gigging both in this combo and solo, he's a guitar tutor of some renown, associated with Anglia Ruskin University and also a recipient of an Arts Award from South Cambridge council for his contribution to the local community. This perhaps explains how he was able to easily join the bill of Boo's annual Christmas concert, after the weather had intervened to prevent others making it.
One could only wish that all such instances of happenstance could result in equal success, but then should just be thankful when it does. Unsurprisingly for two people who seem to have surfeit of songwriting ability, they have proved a prolific partnership, with the 22 tracks recorded thus far split almost equally individually, with six written together. They work quickly too with the first album taking just a day and a half to lay down. The simplicity of the presentation, with a minimum of embellishments overlaying the two guitars and voices, is obviously an advantage in that regard, but it would be wrong to underestimate the subtle skill involved.
All of that said, the opener on Snake Oil is somewhat of a curveball. The Bonnie and Clyde-esque tale of Blaze Of Glory is given an almost hymnal feel by the piano accompaniment. With the sleeve credits assigning just guitar and vocals to the duo, one can only assume that it's Gustaf Ljunggren on the keys, as he's simply credited with, "Everything else." In keeping with the predecessor, it's once again produced by Mark Freegard at Glasgow's Kyoti Studios. The same attention has obviously been paid to the sonics, using vintage microphones and the same live, in the round, feel exists. There is perhaps just a hint of a bit more of arranging, with voices and Gustaf's contributions obvious signs of that.
Haunted and the title track return us to more naturally bluesy territory and Brooks' guitar comes into its own and there's some nice mandolin too. Haunted is in fact more of a blues tinged country song and the changing running through the old town as Brooks' sings about a restaurant, "It used to be Italian, but now it's something else again." Snake Oil meanwhile is brooding, slightly sinister and has an almost  Tarantino-esque, cinematic story line of dodgy dealing and the medicine show leaving town.
The mandolin, or possible ukulele continues through the breezy Daydreamin with it's jazzy lilt. It's a slight little song in a way, but has a great old-timey feel. It's also valuable mood changer before the mournful Going Away, a real heartbreaker as Brooks sings "You took the kids, you took the car, you took what you felt you own. Daylight fades, I try to call, but you're not answering your phone."
Man With The Hammer a is about hitting the wall, in the sense of running a marathon and Hellzapoppin' is a song about the depression era parties that were held to raise the rent money. Both are sprightly and the latter in particular has just a suggestion of working well in the hands of the likes of Pokey LaFarge, but then so do Leaving In Her Eyes and Georgia. The latter is Williams' homage to his homeland.
There are little subtle bits of pedal or lapsteel mixed in with Williams resonator that again suggest something of the old-timey, a little Hank here a little Bob Wills there a little Sonny Boy or Blind Lemon hither and thither. Even Boo's beyond The Next Horizon refuses to break the spell, with its jaunty little sunny-side-up swagger as Boo assures us, "The sun is always shining, the sky is always blue, the songbirds there are singing it's what they're born to do."
The songwriting throughout is simply joyous, even in its sad eyed moments, there is that bittersweet pleasure. As hinted at above it sounds disarmingly simple stuff, yet has such depth and there are clever, funny and astute lines that seem to hit their targets with ease. Some of these songs should have a life in the much wider world if there is any justice, but for those who favour a rootsy stew of acoustic guitars and great singing, there is simply no need to look any further – unless of course, it's Beyond The Next Horizon.
Review by: Simon Holland
Live take from Union Chapel (filmed by Baylis Gray)

State of the Union is released on Reveal Records on July 15th

Tour Dates
21/6/2013
Whitstable Sessions Music Club
Whitstable
Info
14/7/2013
Ely Folk Festival
Ely
Info
27/7/2013
Cambridge Folk Festival
Cambridge
Info
6/9/2013
Junction
Cambridge
Info
19/9/2013
AMS
Brighton
Info
21/9/2013
Ilex Farm
Chesterfield
–
29/9/2013
Topsham Folk Club
Topsham
Info
4/10/2013
Woodend Barn
Banchory
Info
11/10/2013
Kelvedon Institute
Kelvedon
Info
13/12/2013
Carlisle Folk & Blues Club
Carlisle
Info