For many festival and music lovers the launch of the End of the Road Festival in 2005 by Simon Taffe and his team was a saving grace, it was a direct move away the commercial mainstream festivals. Rough Trade Shops have been running a stall at the festival since day one so they are pretty pleased to be announcing today the release of a new compilation that intends to capture the spirit of the festival. In their own words:
From the outset Simon attempted to create an independent festival with a strong ethos, a booking policy that avoided over hyped bands, where artists played longer than normal sets and a holistic approach to staffing, environment and facilities that we think brought a breath of fresh air to the small festival offering.

2013's End Of The Road promises to be a heavy, intensely rewarding collective experience with Rough Trade favourites like Sigur Ros, Belle and Sebastian, Dinorsaur Jr and David Byrne rubbing shoulders with exciting new artists like Savages, Charlie Boyer, Merchandise, Angel Olsen, Deptford Goth and much, much more.

We at Rough Trade are pleased to be at EOTR once again this year and are delighted to present a compilation, that we hope captures the spirit of one of the most outstanding festivals in the calendar.
The compilation contains many Folk Radio UK favourites including: Angel Olsen, The Leisure Society, Damien Jurado, Night Beds, Diana Jones and many more.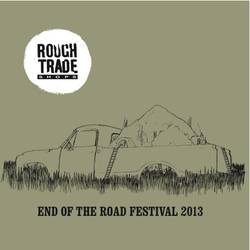 Full Tracklisting
CD1
1. The Leisure Society – Another Sunday Psalm
2. Jens Lekman – Waiting for Kirsten
3. Belle & Sebastian – Women's Realm
4. Angel Olsen – The Waiting
5. Damien Jurado – Working Titles
6. Sharon Jones & The Dap-Kings – Inspiration Information
7. Diana Jones – If I Had a Gun
8. Houndmouth – Penitentiary
9. Doug Paisley – No One But You
10. Night Beds – Borrowed Time
11. Jessica Pratt – Streets of Mine
12. Matthew E. White – Will You Love Me
13. Warpaint – Undertow
14. Efterklang – Apples
15. Seventeen Evergreen – Polarity Song
16. Teleman – Cristina
17. Serafina Steer – Night Before Mutiny
CD2
1. David Byrne & St. Vincent – I Should Watch TV
2. Dutch Uncles – Flexxin
3. Deptford Goth – Union
4. POLICA – Tiff
5. Sigur Ros – Brennisteinn
6. Pins – Luvu4lyf
7. Savages – She Will
8. The Walkmen – We Can't Be Beat
9. Parquet Courts – Master of My Craft
10. King Khan & The Shrines – Land Of The Freak
11. Dinosaur Jr. – Watch the Corners
12. Eels – On the Ropes
13. Futur Primitif – Nuclear Shockwave
14. Cayucas – High School Lover
15. Charlie Boyer & The Voyeurs – Feathers and Tar
16. Merchandise – Time
17. Palma Violets – Last of the Summer Wine
Rough Trade Shops End of the Road 13 is released on July 1st and can be pre-ordered here:
Order it here