There's just something about the photo used as the cover image of the book that bears the same name as this CD compilation, documenting Eliza Carthy's musical career. It's perhaps the sense of a chin-out pride, not in a haughty way, but in the 'I'll look you straight in the eye as every bit your equal, whoever you may be' kind of way. Even if that interpretation is wide of the mark, few could argue with Eliza's right to such self belief, but should you chose to disagree, Wayward Daughter the double CD set will give you 31 reasons why you're wrong. That you could, if required, pluck another, similar sized but different compilation a dozen times and more from her recorded output knocks any such dissent into a cocked hat.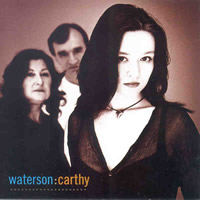 Eliza Carthy, as much as anyone can be was born to make music. A child of the Waterson:Carthy dynasty music has been part of her life since she was in the womb and as an absolutely fundamental part of her growing up, her future career was probably well starred. She's joked about her parent's hoping that she'd get a proper job, but in truth we all know she's had that for the last 21 years and even by the family's high standards has overachieved.
Amongst all of the biographical information, press release and so forth attending this release a couple or so sentences stood out. "Eliza Carthy grew up immersed in the world of traditional English music. She has lived a life based on the philosophy that it is a genre worthy of and equal to any other, and that musicians need no boundaries and deserve no restrictions to what they do as artists. To her, all music is connected and should be taken at all times at face value. This makes for a sometimes bewildering body of work that straddles genres and is always fascinating and adventurous, never static or predictable."
You could say that Eliza is a musical whirlwind who has picked up the stone tablets of folk's holy tenants, taken them on an unearthly spin and cast the shattered fragments to the four corners of the musical compass. She has never shied away from genre bending, in fact seems to have made a point of it. But equally one should not lose sight of her deep passion for and understanding of the traditions. Arguably all she has ever done is simply bend the music to her will and present it in a way that makes sense in the context it is in. In doing so, Eliza has done no more or less than those who have done the same down the centuries before and indeed, those that follow after.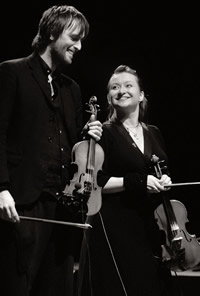 If you consider the latter then Eliza's whirlwind has always scooped up a representation of the most talented musicians around. Those that feature across this compilation are far too numerous to mention, but it would be hard for example to image the massive, chart breaking success of the rambunctious Bellowhead without this music, or indeed Jon and John's role as Ratcatchers at Eliza's behest. As for the prior, well the lack of recording technology simply means that we will never have proof of what weird and wonderful lives these songs have had. As even cursory research will show the myriad variations some of the better known ballads have mutated through, it would appear unwise to think conservatively of their history. Even those people that have carried the tradition through generations, or transcribed and annotated tunes and lyrics have doubtless added to that process of change and adaptation, as have the revivalists down the years.
One could write reams about Eliza's life and achievements, but for a fuller exploration, Sophie Parkes' biography, Wayward Daughter seems well received. This compilation that shares the title is easy to like too, ringing the changes and sequenced with skill by Ian Anderson of fRoots magazine and a regular contributor to the Folk Radio UK airwaves. It's a thoughtful and entertaining playlist that eschews any sort of box ticking and concentrates on listening pleasure.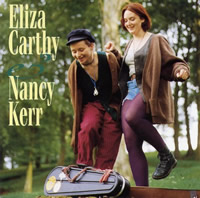 The oldest tracks here date for 1995 and Eliza's duo with Nancy Kerr, who can take some credit for reviving Eliza's interest in the fiddle. It's strange to think that she almost abandoned the instrument. It was Nancy's much broader knowledge of good tunes that encouraged Eliza to persevere and over the course of two albums the kindred spirit passed between the two teenagers.
It's interesting to hear the young Eliza's voice, unmarked by a lifetimes singing. Those early 90's recordings have a purity when set up against say Jack Frost from the Waterson:Carthy album Holy Heathens And The Old Green Man. Arguably she has simply got better down the years, the trademark tremolo and slight husk are so familiar, but the tracks plucked from say Red, show that voice in transition. Musically too the same could be said, although that aforementioned genre bending, means that the stylistic gear changes are somewhat more random.
There are a couple of obscurities too and Great Grey Back and Rolling Sea are two nautical delights that you may not be familiar with. Worcester City, Gallant Hussar, Willow Tree and Adieu, Adieu, however, are more familiar and comforting. Those of you who are adherents down the years might bemoan a favourite omitted here and there, but arguably this isn't aimed at you anyway.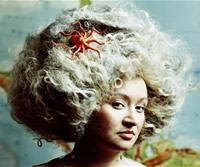 What is good is the smattering of her original songs, however, which are every bit as weird, witty and wonderful as everything else contained herein. Angels & Cigarettes, Dreams Of Breathing Underwater (which debuted on Folk Radio UK) and Neptune are three albums that are just as much a part of this story as the feted (and indeed Mercury Music Prize nominated), Red Rice and Anglicana. Indeed Britain Is A Car Park (Neptune 2011) is all of those 'w' words and much more, putting a big smile on your face as disc two comes to its conclusion.
It adds up to being a great and frankly, at times, astonishing selection and as the story so far of a unique talent, is an essential part of the collection of anyone but an Eliza completist. Come to think of it, if you are one, you're probably going to buy it anyway. The rest should form an orderly queue. I was fortunate to get a CD for review purposes, so I've ordered the book from my local independent book shop, but in one way or another we should all welcome the Wayward Daughter into our lives. She may be borderline bonkers, but is also bewitching and utterly brilliant!
Review by: Simon Holland
Video: Eliza Carthy and Saul Rose
Eliza Carthy and Saul Rose play a set of tunes in the woods near Robin Hood's Bay. Eliza and Saul will be playing together as part of the Wayward band and tour, celebrating Eliza's 21-year career as a professional musician, along with an all-star big band and folk star Jim Moray, celebrating his own 10-year anniversary. See them in the UK June 2013, never to be repeated!

Podcast: Eliza Carthy presents The Wayward Tour 2013
Eliza Carthy presents The Wayward Tour 2013 Podcast by Eliza Amy Forbes Carthy on Mixcloud
Tour Dates
June
1st – Bristol, Colston Hall
3rd – Edinburgh, Summerhall
4th – Saltaire, Victoria Hall
5th – Guildford, G Live
6th – Southwell Folk Festival
August
22nd – Birmingham, MAC
23rd – Greenbelt festival
24th – Folk East Festival
The Band
Sam Sweeney (Bellowhead) – Fiddle
David Delarre (Mawkin) – Guitar
Barn Stradling (Blowzabella, Kings of Calicutt Eliza Carthy Band) – Bass
Saul Rose (Whapweasel,Edward II,Waterson:Carthy,Kings of Callicut) – Melodeon
Beth Porter (Eliza Carthy Band) – Cello
Lucy Farrell (Emily Portman Trio, solo) – Viola
Willy Molleson (Peatbog Fearies, Eliza Carthy Band, Kith & Kin) – Drums
Laurence Hunt (Pram, Modified Toy Orchestra) – Percussion
Andrew Waite (Tyde) – Accordian/Keys
Nick Malcolm (Moonlight Saving Time) -Trumpet
Adrien "Yen-Yen" Toulouse (Fanfare Gonzo) – Trombone
Wayward Daughter is released on Topic Records 3rd June 2013