For the crowd at Dalston's Café Oto, former Squirrel Bait guitarist David Grubbs' appearance may seem slightly incongruous. He takes to the stage, stocky and determined, wearing a stripy tee-shirt. He looks like my plumber. His introductions are wittily terse. But many of the knowledgeable audience are rightly in awe: Grubbs has the intellect, talent, and bullish presence to make north-east London's post-hipsters quake in their hi-tops. He is joined on stage by Italian pair Andrea Belfi (percussion) and Stefano Pilia (guitar). Whilst Grubbs is undoubtedly the focal point, his muscular style is complemented wonderfully by Pilia's energetic angularity and avant-garde leanings, and Belfi's drumming is full of imagination without ever being overblown.
A large amount of tonight's material is from the recent solo release, The Plain Where The Palace Stood (album review). The title track, shorn of some if its more outré musicianship, gains poise and directness. Grubbs grins and gurns through the opening section, his left hand taking on the appearance of a mechanical claw pinioning the guitar's neck, before the instrumental bombardment kicks in.
I Started To Live When My Barber Died discusses youth, music, memory and ageing via the medium of sideburns, and raises a collective giggle from the crowd, before the instrumental Super-Adequate provides a lesson in simple brutalism – like a lot of Grubb's recent output it is closer to post-rock or math-rock than his post-punk roots. But the modernist, compositional approach and the alacrity and engagement of the performance make these genres seem outmoded and doddery by comparison. Grubbs, admirably, has never been content to rehash old forms.
Perhaps his weakest suit is his singing – his voice lacks some of the power you might get from a conventional rock frontman. In the most successful vocal pieces such as Ornamental Hermit or Hesitation Waltz he circumvents this by matching his voice to the often unexpected melodies of his guitar – in effect, the words rise on musical peaks, and swim tantalisingly in the air for a while when those peaks drop away. It's an intriguing technique, capable of results that are both naïve and knowing.
It would be incorrect to suggest that David Grubbs is at a career peak – that would imply a recent trough – but neither would it be right to say that he has reached some kind of high plateau. His work – as critic, artist, writer, teacher and musician – is too protean and multi-dimensional for that. It's best to see tonight's performance as the latest in a long line of high points from a songwriter-composer confirming his role as, amongst many other things, a standard-bearer for intelligent, uncompromising guitar music.
Review by: Thomas Blake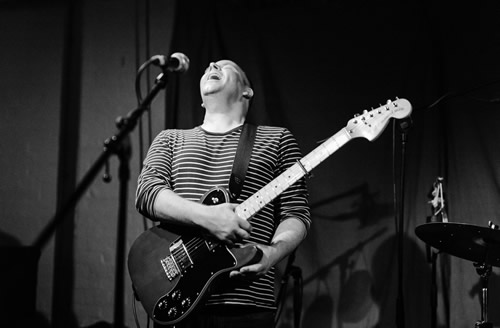 All photos by Fabio Lugaro::
All rights reserved by fabiolug