From Midnight on Sunday 23rd June we will be making a number of changes on Folk Radio UK. Our long-standing Folk Radio UK broadcast will end and in it's place our Deezer radio service and new on-demand content will take prominence.
The reasons for taking this action relate to funding and the continual increasing costs of running the service but we also believe these changes will bring new opportunities as well as making it easier to listen via PC and mobile apps.
We will be adding significantly more new music and variety over the coming weeks to our Deezer Channel to bring it in line with our own playlists that have featured on Folk Radio UK. You will see at the very top of our website a Deezer Widget, this is free to listen to and to ensure your music is uninterrupted whilst browsing our website you just need to click on the pop-out icon (see below) which opens the player in a new window.
To enjoy Deezer to its fullest we recommend you sign-up to enjoy some of the other rich features that we use Deezer for such as album previews for which you will only hear a 30 second clip if you're not logged in. Signing up is free and easy. When playing an album widget you will get a prompt to sign in after 30 seconds. Just click on 'log in' if you have an account or create an account by clicking on register.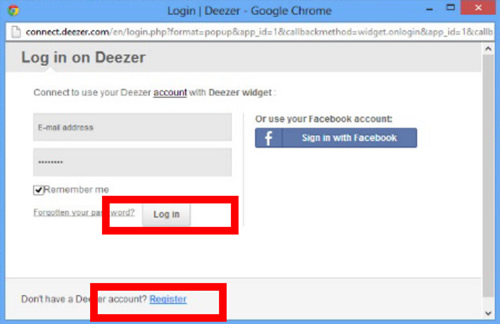 You can also sign-up now by clicking here.
CLICK HERE FOR OUR FAQ SECTION AND FURTHER INFORMATION ON DEEZER
New On-Demand Content
We will also be bringing a significant number of new on-demand features allowing you to listen to mixes and shows in your own time as well as exploring themes, new artists and more. To keep up to date on new on-demand features we recommend you sign up for our newsletter and follow us on Mixcloud where some of the new content will be hosted.
We will also still be featuring shows and these will also be available on-demand.
More details relating to new content will follow very soon.
Support
As many of you will know I run Folk Radio UK full time and the kind support of many listeners has meant we've managed to continue broadcasting as long as we have. Thanks to Deezer we can continue but as always please consider supporting us if you enjoy the service. We are not ruling out the return of a future broadcast but for now we have no other option but we hope the Deezer service that many of you already use and new on-demand content will keep you engaged and sharing in our passion for the music we love.