I'm in Norway to see Anne Marie Almedal. Well OK! The  truth is that Norway has more or less come to me, as this particular corner of the Norse-land is tucked away on Belgravia Square a short, if traffic fumed step away from Victoria Station, so 20 odd minutes and a couple of quid have got me here and even Ryanair can't compete with that.
Anne Marie and band are here for two nights, the first is this early evening show at The Norwegian embassy to launch of
Memory Lane
. They're here as a five piece with with their own sound man Ove Nesheim. Young bassist Audun Ramo has the unenviable job of standing up in front of
Danny Thompson
, whose bass parts decorate the album. Danny's only here as a spectator tonight, such is the practical business of touring the record. A quick chat with the legendary bassman at the end of the evening reveals he's impressed by this evening's music and his young deputy, but more so by the whole project. He chooses who he works with carefully and Anne Marie, he assures me, is no exception.
Nicholas Sillitoe alternates between acoustic guitar and piano with Kjetil Grande adding subtle detail and ambience as well as some trademark 'crying' lead lines with his Gibson. It's an intimate set up and perhaps the most telling chemistry is between Anne Marie and Sigrun Tara Øverland. She adds autoharp, a little harmonica, lyre and percussion but most significant is the way her voice entwines with Anne Marie's. The two seem to watching each others every breath, yet there's a natural unforced magic about their voices together.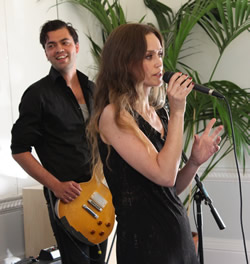 All of course play their part in this quiet and none the less full sound. The autoharp in particular creating an ethereal shimmer, but it's the rich timbre of Anne Marie's voice that fills the room. She is in very fine voice and as much as the songs have a melancholic air, the tunes seem to dance lightly around the piano lines. Anne Marie remarks on that dark heart making its presence felt, threatening us, "You're not going to leave without a slice of Norwegian melancholy." But then she laughs dismissively making light of the idea that it's part of the Norwegian national psyche. Still Scars is an emotive tale, seemingly of a foundering relationship and the need for escape.
They play through half of the album, including May You Never, which Anne Marie introduces saying, "Sometimes you play a cover version because you think you can do a better version and sometimes it's just as a tribute, because you love the song. This is definitely the latter."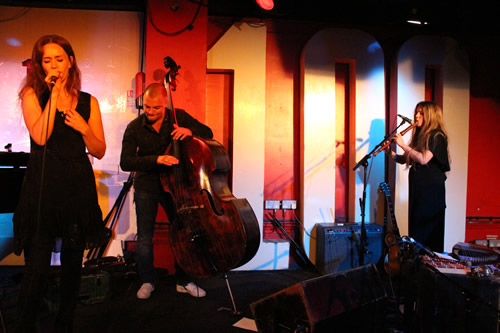 Relocating to the 100 Club the following evening (pictured above) and much is blissfully the same. The setting makes up for what it lacks in class and careful, polite hospitality (good Norwegian micro brewery beer is a strong recommendation), with its legendary status. Again the album is the main focus. One Day, And It's The Loneliness, the aforementioned Scars and May You Never and The Wanderers are immaculately presented, beautifully realised and once more tug at the heart strings.
But there are a number of other songs included over the two shows. Joy is announced as the first song that Anne Marie and Tara played together. The dreamy Blue Sky Blue we learn is the theme song for one of the most watched TV dramas in Norway and the title song of her previous album. From that also comes Show More Love and at The 100 Club, Mediæval Bæbe, Katharine Blake joins them with her recorder.
Generously Kjetil gets to play one of his own songs. The bluesy Shine gives him a chance to show off his guitar playing, very much in the Paul Kossoff mould of feeling over showy technique. On the second night Tara too gets to sing her own Hindenburg. There's even an encore of Easy, which comes from Anne Marie's indie band Velvet Belly.
The two shows are delivered in very different settings. The first is almost like a house concert, but in a very posh house, the second is the legendary basement club in the heart of London's West End. But in both cases, the carefully created soundscapes, the intimacy of the performance and above all Anne Marie's voice are a gorgeous combination. If there is a minor key, haunting quality that suggests that Nordic darkness, then there is also a wistful dreaminess and the songs are simply a joy to listen to.
Both Anne Marie and Nicholas seem happy with their all too brief stay as I enthuse about what I've just seen and heard. The latter is even hopeful that the contacts they are making might yield some more opportunities to tour soon. Let's hope so, otherwise Ryanair might be getting a bit of my business after all.
Live Review by: Simon Holland
Photo Credit: Vidar Mortensen (© 2013)