Aidan O'Rourke talks exclusively to Folk Radio UK about the commissioning, writing, performing and recording of his brilliant Holtline his exceptional third solo outing (review here).
How did the commission for this recording come about? There seem to be two at least different bodies behind it?
The music was initially part of a commission from the PRS for Music Foundation. The 20×12 initiative which commissioned 20 composers to write 12 minutes of music as part of the London 2012 Cultural Olympiad. I put in an idea through An Tobar Arts Centre in Tobermory. I worked closely with Gordon MacLean on a piece of music to celebrate the venue's 10th anniversary in 2008. This became my An Tobar album. We were talking about working on something again when the 20×12 scheme was launched. The timing was good. We also got support to make the record from Creative Scotland who are very active in supporting new ideas in Scotland.
So did the concept come from An Tobar or was it an idea you took to them?
Gordon and I sat down in a cafe in Oban and thought about ideas that could link the Olympics to Argyll. I remembered a building built during the Cold War on Gallanach Bay just outside Oban and the stories about the TAT-1 project from my Dad and we decided it was a strong idea that through modern telecommunications, the London Olympics you could experience from anywhere in the world. And this project near Oban was the biggest telecommunications project in the world at the time.
We did more research into the TAT-1 project to discover it was the first submarine transatlantic telephone cable, which carried the Moscow-Washington hotline between the American and Soviet heads of state. The cable terminal was buried deep inside a massive cliff face just south of my home town of Oban. It could only be accessed through bomb-proof doors and was designed to withstand an atom bomb. So the project developed from the original 2012 Olympics world telecommunications idea into a wider Cold War inspired piece of music.
What is the starting point for a commission like this? What was the spark that kicked it into life and how did you bring focus to it? What is the creative process? Are the moods, ideas and pictures that come to mind from your own childhood memory an important part of that mix?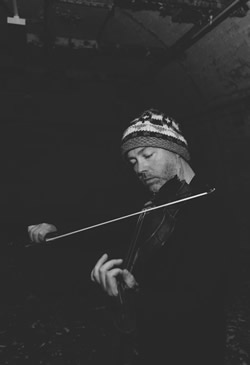 The chap who owns the TAT-1 building and the land around it was intrigued by the project and gave us access to the complex. The land is owned by MacDougall of Gallanach. Landed gentry ultimately, which never sits quite right with me, but the land was granted to his family by Robert the Bruce in the 14th century. So they've been there for a long time. The GPO through the government at the time made a compulsory purchased of some of his land in the early 50s because of it's latitude and west facing orientation, making it a perfect launch point for a transatlantic cable.
Anyway, Charlie MacDougall's father bought the now derelict complex back off the government in the 70s when technology moved on. So it now lies empty. Long dark tunnels with nuclear blast doors and rusted cold-war era fixtures and fittings lead into massive subterranean chambers that housed generators, fans and electronics. The groundwater has filled the lower lever chamber, but you can still see the stairwell leading deep into the water. It's all pretty eerie. The dripping water echoes round the chamber.
I started writing pretty soon after our first visit to the complex. I generally absorb the experience, take in as much information and then see what flows. It's a pretty subjective process but I feel it works. I try and channel the instinctive emotions which relate to the experience when I sit down to write. Rather than writing on location, manuscript in hand. I do take a recorded with me and often make notes but generally the writing starts after.
We returned to the complex a couple of times and recorded some of the fiddle parts in the chamber. The melody at the start of Clarenville was recorded in there as was some of the fiddle on Gallanach Bay. On Clarenville you can hear the water dripping in the chamber and also the crunch of my Dad's footsteps on the rotted vinyl flooring.
The TAT-1 project has always fascinated me and I'd read up on it in the past, but I didn't imagine I'd write a piece of music about it. It's funny how these things work out. It's been somewhere in my mind for a long time. So I had a benefit of having quite deep feelings about it and thoughts from my childhood. Oban is such a small place. It's beautiful and I loved my childhood there but there's not a whole lot going on. My brother's and sister and I used to cheer when they would occasionally mention Oban in the Scottish weather report. Usually rain!! Or if Oban was referred to on the news (in the 80s it became a popular drug smuggling port) we would scream 'Oban's on the news' and all gather round the TV. So having this important, secret project of significant world-wide importance just outside our town was a huge to me.
Were the musicians you worked with familiar to you already? The use of the saxophone is very striking; it lends the feel of a recording you'd find on the ECM label perhaps. Is there any improvised part of the music or is it all composed?
I knew I was going to write for the musicians that I worked with on my An Tobar record. Except Martin Green, my comrade in Lau, who was amazing on An Tobar and an asset to any project, but he was replaced by jazz piano/synth genius Paul Harrison. Martin and I work together so often now that I took this opportunity to work with someone new. The rest of the line-up was the same: Catriona McKay on Scottish Harp, Phil Bancroft on Saxophone and Martin O'Neill on Bodhran and percussion. In past experiences, in writing project based new music, I am usually faced with a new group of musicians which is exciting, but can take a little while to find the full sound spectrum available. But with Hotline I knew what the band was capable and I knew how well we collaborated as a group on An Tobar. I had already worked with Paul on Phil Bancroft's Home, Small As The World project. So I knew what was available to me and this was a great advantage. I knew how to develop and nurture what had already come into being on the An Tobar project.
There's always been a great relationship between jazzers and folkies in Scotland and in Edinburgh in particular. I first met Phil Bancroft when I moved to Edinburgh in '97. It was a great time to move to Edinburgh, the session scene in Edinburgh was flying and many jazzers were turning up and getting involved in sessions. And folkies were getting involved with the jazzers. I first played with Phil on a new piece of music written by Simon Thoumire which had a line up of equal jazz and folk musicians. The music on Hotline and similarly a lot of Lau's music is a product that Edinburgh scene.
Phil Bancroft is one of my all time favourite improvisors and an inspiration to work with. He's played on all my 'solo' records; Sirius, An Tobar and now Hotline. There's a bit improvising on Hotline, but most of it's written. There's a couple of blinding sax and piano solos and there's a bit of full band free improv too. That's more my thing. I'm don't think of myself as a jazz musician in any way, but I love to improvise. Most folkies do. Some don't realise they can, but there's a lot of improv in folk music. The ability to wander from the tune and for it to make sense harmonically.  Most of us don't go for epic soloing over changes like jazzers live for but we can take the tune on interesting instinctive journeys. All very naturally. And I think this spirit, along with the party skills, is what drew a lot of the jazzers into the sessions in Edinburgh in the late 90s.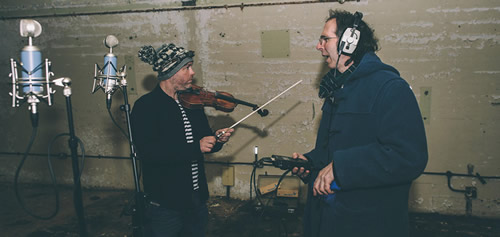 It is a beautiful recording, how long did it take? What was the set up?
The CD was recorded live in An Tobar Art Centre in Tobermory. I recorded some of the solo fiddle parts in the chamber outside Oban but the rest was done in 3 days. We set up in one room with a bit of sound proofing around the sax and played. There's very few overdubs or fixes. We went for as live a feel as possible.
It was a full on week last June. We arrived on the Tuesday. Rehearsed Wednesday and Thursday. Set up up for the premier performance (recorded for Radio 3) on the Friday. Rested/recovered/swam in the sea Saturday and recorded Sunday – Tuesday. Home Wednesday! It was a lot of work in a week but we got there. It was a joy actually. As I said, we knew each others way of working and I'm pretty open to suggestions in my music. There was five strong musical forces in the room, each open to each others ideas so there was great feeling of collaboration to the process. I mixed in An Tobar in December and mastered with Calum Malcolm in January and here we are now.
Were the samples an integral part of the songs?
We found the samples while working on the music in An Tobar. They weren't integral as such but certainly add more character to the music. They fell into place. Paul triggered them live during the gigs but we spent a while finding the right place for them on the record. The first on TAT-1 is Mrs MacDougall on Gallanach speaking down the cable to a gentleman in Canada. On Hotline it's Khrushchev's speak to the League of Nations intertwined with a JFK speech about the Soviet nuclear armoury. On Monarch you can excerpts from an interview on the laying of the cable. 'About fifteen hundred miles'. 'In one operation'. 'Unbroken.'
How did you go about finding the voice archive? It adds a certain cold-war frisson enhanced by the CDs artwork.
We did a bit of online searching and found most of the TAT-1 samples on the Canadian Broadcasting Corporation (CBC) website. The Kennedy / Khrushchev stuff was found on a great free online archive source at the Robert Vincent Voice Library from Michagan University. (http://vvl.lib.msu.edu). It's an amazing source and free to use. I could have spent days in there. I'm a great fan of how spoken word and old samples can add to an extra element to music. On the tune Hotline especially, the samples really set the atmosphere and emphasises what I was getting at with the music. It can be overdone but I hope we've got the balance right here.
It was a remarkable feat of engineering, but like all modern technology seems to be supplanted very quickly and only lasted just over 20 years.
This is true, things move on pretty fast. TAT-1 was retired in 1978. Before the telecommunications cables there was telegraph cables. The first communication through that cable (which went from Ireland to Newfoundland) reduced communication time from ten days (by ship) to a matter of minutes. That was a big leap. I studied civil engineering at university, so found the whole project fascinating.
You have toured this and I saw you play at the QEH in London supporting Imagined Village. How did it work taking this into the live arena, did the music change and develop at all. Will you be touring it again?
We premiered in An Tobar last June and then performed the following month in London during the Olympics alongside Imagined Village. The music was still very fresh from the rehearsal/recording week in Mull and we were all ready for another go at it, especially in the contrasting venue in London. The premier was in a 60 capacity venue on the Isle of Mull! It suited the big stage and PA and everyone rose to the occasion. The music had developed quite a bit from the first performance through the recording process. The arrangements had become a lot more focused and we were all very familiar with the geography of the piece and so were confident with it. There's a lot of interaction between musicians during the piece. There's space to improvise so it'll be different every time.  I'm planning to tour it early next year. I'll let you know as soon as I do!
Interview by: Simon Holland
Hotline is released on Reveal Records on July 1st
Available from