Probably the most interesting and apposite comment in all of the material surrounding this wonderful record is a quote from Steve Martin.  "I think that the goal of a collaboration should be to come up with something that each individual wouldn't have come up with on their own, and I think that we've done that here." It's a clear minded insight neatly summarising the way two distinct talents have come together to create the unique sounds of Love Has Come For You.
Perhaps a little less incisively, however, Steve has also described himself as, "A naïf in the music world." Whilst one could perhaps take that to mean a lack of artifice and music business know how, his musical ability deserves to be taken very seriously. Steve is a gifted banjo player and that is something that comes from many years playing, originally picking the instrument up as a 17 year old. Two Grammy awards and the acclaim attached to his bluegrass albums The Crow and Rare Bird Alert offer a small measure of success in what, bar the distractions of being a Hollywood A lister, successful television and stand up comedy, playwright and author, is still a notable musical career.
Edie Brickell can certainly claim to have had exactly that, bursting onto the music scene in the late 80s with her band The New Bohemians. Their brand of rootsy pop and particularly the single What I Am catapulted Brickell into the limelight, but meeting and marrying Paul Simon in the early 90s, she more or less turned her back on fame. Edie has even admitted that she perhaps wasn't ready for the headlong rush of that breakthrough success and the demands it created.
Perhaps as telling as the quote from Steve, Edie has said, "This is the kind of music that I've always wanted to make, but I never knew how until now. I just fell in love with all of these songs, because they all represent something that's true." She also describes how the words seemed to flow naturally from the banjo melodies Steve presented her with. Right from the start of the project, both parties realised that they were onto something special.
It seems the roots of this collaboration are to found in a casual compliment Edie paid Steve about his bluegrass records. Martin then followed up by sending Edie a banjo piece he was working on. He recalls her saying "when you said you had a tune with no song to it yet, I couldn't wait to hear it. I was so thrilled that you kept sending tunes to me, because they would arrive and there'd be little stories in them immediately for me. I saw a lot of images and all I had to do was sit back and write what I saw."
Thus the project grew, with them sending each other files as Edie brought Steve's musical ideas to life. She says "All of the opening lines came straight out of the banjo. The musical mood that Steve sets is so powerful that all I had to do was trust what I heard and how it made me feel, then start singing."
Steve equally seems to have been immediately impressed with what he heard and has revealed to David Itzkof of the New York Times that when he heard the words to When You Get to Asheville, the first track on Love Has Come For You, he said, "I thought: 'Oh! Good.' We're not writing old-fashioned pretend songs. We're writing contemporary songs with sort of an old flavour. The banjo is evocative of something in the past, and these lyrics are evocative of something new." Those opening lines "When you get to Asheville, send me an email. Tell me how you're doin', how it's treating you," set up a story full of possibilities.
He's commented too on the title track saying, "When the song comes back to me I hear the line 'Love has come for you,' I think that is such an unusual way to phrase something because normally someone would say, 'Love has come to you'." As he points out there's a double meaning loaded here. Is this a blessing or has love come to take you? Steve recalls, "I just thought that was such a beautiful, poetic way to phrase something I was just knocked out."
Essential to the inception of Love Has Come To You is of course Edie and Steve move in the same social circles. Another of Steve's friends, Peter Asher, became the projects producer. Candidly Peter refers to "A dinner party at your [Steve's] house where you played me some of the stuff." He was instantly intrigued by the way the record was being created and takes some credit for recognizing that there was something unique and unorthodox happening.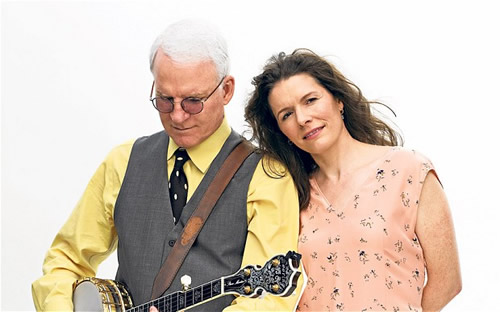 That approach worked its way into the arrangements. As Asher told The New York Times' David Itzkof, "You didn't have to restrict yourself to the bluegrass palette, which is a relatively formal one. It's like if you're writing Baroque chamber music, you only have a certain number of instruments to choose between. You don't think, what about a few electronic parts? What about a Fender Rhodes keyboard sound? Or what, indeed, about a drummer?"
Elsewhere Steve has remarked on having the chance to economise with his playing technique and slow the usual flurry of notes normally associated with his bluegrass persona. "It's the way I've longed to play and hear the banjo for so long, rather than it being present at every moment and playing sixty notes a second. I think the banjo can be so evocative when it's used sparingly, and that was in the back of my mind as we were writing.  In these songs, the point is to tell the story and get out."
The use of a string quintet, synthesizers, the aforementioned Fender Rhodes and guest appearances from veteran guitarist Waddy Wachtel, the Webb Sisters, another sibling pairing Sean and Sara Watkins of Nickel Creek fame, members of the  Steep Canyon Rangers, a bluegrass combo that Steve collaborates with as well as jazz bassist Esperanza Spalding, creates an ever changing musical backdrop.
Most importantly the songs shine out, there are stories here that mostly seem evoke a timeless mix centred on family and love, as Brickell has channeled some of her own Texan childhood through a love of old-timey country. As Edie reveals, "About ten years ago, I started listening a lot to Bob Wills and Buck Owens, because I love the lyrics and the stories and the sense of fun." She also recalls, "I grew up around a real matriarchal society.  My grandmother was one of 11, and she and her sisters were always at the house playing cards and casually gossiping and telling all these colorful stories of scandals and tragedies about 'down home' – Paris, Texas. There's a lot of that in these songs."
The result is a richly rewarding and surprising album that sounds simply superb. No matter how casually the initiation both Edie and Steve rightly recognise that they have created something special. With an extensive North American tour already planned, perhaps this is just the start of something.
Review by: Simon Holland
Album Stream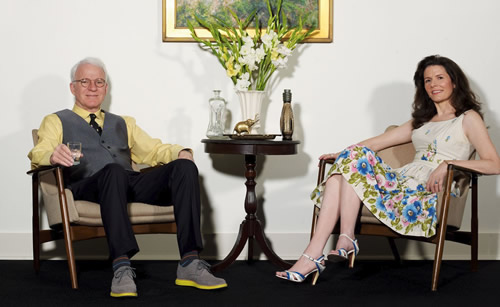 Love Has Come For You is released on Decca (UMO) on April 29th