Our Artist Of The Month Megan Wyler kindly took time out to answer questions about the inspirations and creation of the brilliant Through The Noise.
'Through the Noise' is your debut album, how long has it been in the planning?
MW: In a way it's been in the planning since I started playing music.  Not the songs themselves but the sound, the feeling, the ideas… I think it takes a long time to hone your sound and find your voice, and I think this album is a culmination of my explorations to-date.  Of course it is and should be ever-changing, but this is where I am now.
Are the songs recently composed or gathered over a period of time?
MW: Almost all of them are new songs.  There's a couple old timers which have had lots of reworking – but they're ones I felt I wanted to get out there, even though they were written a while ago.
When did you first start to write and what inspired you to do so?
MW: I started writing songs as a kid – nothing formal – little ditties I'd sing to my folks and perform for the trees.  We lived in the middle of nowhere, so spent long periods of time driving in the car.  My mom was hugely into music and we had cassette tapes blasting on all of our car journeys.  I just loved it.  Music was a big part of my childhood.  Its only when I began playing guitar in my late teens that I began really writing structured songs, and keeping lyric books with me at all times.
Has music always been a backdrop in your life? Do you have any long term favourite artists/albums?
MW: Music has been a constant in my life.  My grandpa was the leader of a big band, my folks were avid listeners and appreciators, and I was always looking for and digging in to new music from the time I was 7 or 8 years old.  I would get obsessed with a song or an album or an artist and listen on repeat.  Some of the big ones:  Bowie Low, Guided By Voices Bee Thousand, Emmylou Harris and PJ Harvey (pretty much everything), Pavement Slanted And Enchanted, Depeche Mode Black Celebration, Elliot Smith XO, Sparklehorse Vivadixiesubmarinetransmissionplot – I could go on and on.
Your bio suggests a remote and rural life and then a big change with a move to NY. Was this as dramatic a change as it sounds?
MW: Absolutely.  I did have a very remote and rural upbringing.  My parents are Ivy-league educated folks who are well read and well travelled and made sure my brother and I had the same regardless of the fact we were living this madly extreme existence- but we were still thirty minutes from the nearest town, living in the middle of nowhere with no electricity at almost ten thousand feet with a herd of goats!  So arriving in NYC as an eighteen year old girl was a shock I was in no way prepared for, but it was something I had dreamed about since I was little.  It was mostly amazing, but I certainly had moments of thinking city living was totally depraved.  Access to like-minded people and collaborators was what I had been starved for, and was what I got in abundance the minute I arrived.
Obviously there have been some more big changes in your life and you talked about the songs reflecting the mood coming out of you. Can you explain that a little?
MW: I think writing lyrics is so interesting.  Everyone always thinks lyrics are autobiographical – and of course some are completely.  But I think a lot in characters, probably from my acting training, so many of the songs are from the point of view of a character I dream up.  That said, of course part of me is in everything, as it comes through the filter of me and my experiences.  Leaving New York to move to London was a massive thing for me as it was so much a part of my identity and it was my creative home.  I think that is why a lot of the songs have characters and themes of love, connection, nostalgia, regret, loss, betrayal, as they were written in that moment of transition.
How do you set about capturing song ideas? Are there words or phrases that come to you, or is it a melodic idea that suggests a feeling? Perhaps a combination?
MW: I almost always come up with a chord progression first.  I find the changes and have a melodic sketch in mind.  Lyrics come after.  I often see lyrics in pictures first – like flashing images, or moodscapes.  Kind of stream of consciousness.  Then I put pen to paper with these streams, and later I find a way to connect the threads.  Sometimes this happens in conjunction with a particular chord progression, sometimes in isolation and I then transpose it onto a progression that makes a good marriage.
When you write with others as you have on three of these songs, how does that work?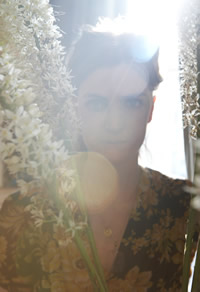 MW: I love writing with other people, and it works differently every time depending on who it is/what the circumstances are.  Through The Noise was an idea started by Oli Julian with that killer banjo lick, joined by Nick Foster with those gorgeous chord changes, and Peter Raeburn added melody and shape to the whole song, he also came up with the beautiful words 'through the noise'.  I came in when they had kind of set it aside as an unfinished idea/song, and fell madly in love with it, so asked if I could finish it lyrically and do an arrangement.  They were all happy for me to pick it up, and it just kind of landed that way.  I had the chord progression of Know You Know for awhile but hadn't been able to turn it into something.  Oliver Chanarin and I were messing around in the studio one afternoon in New York, and I started playing those chords.  He was singing I know you know, I know you know, over and over with those chords.  I loved it.  He then went off and wrote some more killer lyrics, and I took it from there and kind of shaped it into what it is now.  We sang it as a duet at first.
How did working with Adem come about?
MW: Adem and I did a cover of Johnny Cash's 'Walk the Line' together years ago.  Pete Raeburn was producing it and he put us together for the duet.  The funny thing is, we never met!  I was in New York, he was in London, and it was done by email in different studios.  A couple years later I met him in London, and we hit it off.  I am a huge fan of his solo stuff, and he self produced all of his own albums.  I kept trying to think of a producer/collaborator for my album that had a similar sound to Adem, and then realised I should just ask him to do it!  We had a great initial meeting in Stoke Newington, and decided to go for it.  He's an amazing talent and person, a true artist.
I'm intrigued by the recording process, can you explain a little of how you set about the recordings?
MW: We would meet in the morning, decide which song we wanted to tackle that day, and I would always start by putting down the rhythm guitar track.  From there it was a process of trying stuff.  Mostly led by Adem, but sometimes with lead line ideas or instruments/arrangements I had in mind.  I was wide open to his ideas though, I figured that's why you work with a producer, to get a fresh take on your own stuff.  And besides I loved everything he came up with.  We played everything between the two of us, except the strings, and drums on one track.  Adem is a brilliant guitar player, double bass player, piano player and drummer.  It's crazy.  I can muddle along with lots of stuff, so between us it worked really well.  Then I'd go away and he'd "cook" for a few days.  I'd come back, have a listen to all that he had done, we'd try other instruments, adding/subtracting, shifting stuff around.  And so it went.   Adem is a funny mix of a purist and an alchemist.   On the one hand he likes to use the first take, warts and all.  On the other hand, he is amazing with creating these vibey and lush soundscapes and moods, and he does it through unbelievably time consuming and detailed production.  I like the combo, it sits really well with my own music sensibilities.
There are some nice contrasts, yet the whole hangs together beautifully too. Did you aim to get something different out of each song?
MW: This is something Adem and I discussed a lot, and something he as the producer really, really thought about and felt was super important.  We mostly aimed to bring out each song in its best light, and realise it without over-dressing it.  I guess we also ultimately found a space that they all existed in, and though as you say there are indeed lots of contrasts, they all have the same mother, so to speak
Did the arrangements develop naturally or did you have an end sound in mind? Can you tell me a little about the string arrangements they add some real drama?
MW: Everything developed naturally.  The sound of the album developed over time and experimentation in the studio, and also from lots of chats Adem and I had before we even began about our influences, the songs themselves, what we each envisioned, and what shape we each saw the album taking.  The strings for me are a huge part of what made the album land.   Adem had worked with and was friends with Vince and Emma who are Geese, and he suggested they do all the strings and string arrangements.  I never even met them until the album was completed!  They did it all remotely.  We'd get a track in shape, Adem would send it to Vince, he and Emma would work their magic, send it back, and Adem and I would carry on with finishing the track using all or bits of what they had sent our way.  It worked really well.
Amongst all of the swirling moods, Drown seems very direct – a murder ballad – what inspired it?
MW: Years ago a girlfriend and I were sitting in my place in New York, she with a broken heart from a real loser boyfriend.  We went into dark humour mode and she joked about being really nice to him and inviting him over for a conciliatory tea, and then right when he thought he had gotten away with it, she would just push him out the window.   We came up with a few scenarios that could work equally well, and found it hilarious.  That night I wrote Drown.  Everyone loves that song, because it lives out the dark fantasy of revenge that we've all had at one point or another.
What are your plans for the record and thereafter? Are any gigs being lined up?
MW: Plans are to start writing the next album!  It's already in the works.  And yes, to play some gigs this summer and fall.  The filmmaker/artist Margaret Salmon made what I think is a beautiful video of Through the Noise , which is premiering this Saturday on Nowness, so look out for that. There's a few other things in the works, side projects and the like.  I'll keep you posted!
Interview by: Simon Holland
Through the Noise is released on Nowever Records in June 2013.