A Singer of Songs is Lieven Scheerlinck, a Belgian who has been living in Barcelona for fifteen years. On 13 May he releases his fourth album 'There is a Home for You' (Hi54lofi Records), an event that will be accompanied by a tour that will be small until it gets big. Folk Radio UK is very honoured to be able to offer this exclusive preview of a truly beautiful album. It's music like this that brightens my mind and makes me walk lighter through the day. Set aside some time to listen and indulge yourself…fully.
Not only is the new album 'There is a Home for You' about homes -making and unmaking them, searching and leaving them- but it is also one hundred percent home made. This is why it seemed like a good idea to do home shows as well. Travel around Spain and Europe from home to home, like squirrels that travel jumping from tree to tree. Play the songs in the intimacy of a living room or the fresh air of a garden. Without special effects or sponsoring beer brands. Everything small, everything simple.
The official presentation of the album will take place in a Singer of Songs' own home in Barcelona on 11 May 2013. You can pre-order the album on over Bandcamp (and all pre-orders come with the exclusive track 'Digital Laughter', which is only available on pre-orders)

The album will be available digitally on all the usual places (i.e. Bandcamp, iTunes, Spotify, etc.), on CD (with artwork and layout by the brilliant Benjamin Shaw), and —for the first time for HI54LOFI RECORDS and A Singer Of Songs— available on 12″ vinyl (limited pressing of 250, with artwork and layout also done by Benjamin Shaw).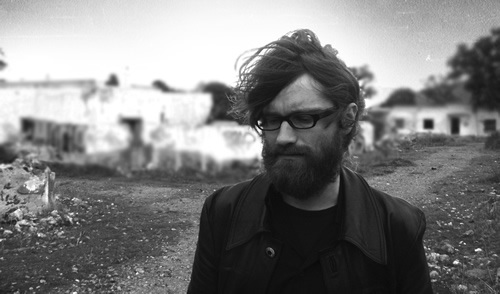 Biography
It all started with a song…
"I'm not a savior, and I'm not a saint. The man with the answers I certainly ain't. I wouldn't tell you what's right or what's wrong. I'm just a singer of songs."
As soon as Lieven Scheerlinck (º1976, Belgium) heard Johnny Cash sing "A Singer of Songs" he knew things would be different. Things would be simple and true. Thus a one man band was born. Barcelona was the place, a Singer of Songs was the name.
Each song was written and recorded in a couple of hours, leaving no time for second thoughts about melodies. Nor to feel shame about the bare lyrics and the lofi sound of it all. The songs were published online immediately afterwards, joined by a blog with the little stories behind the music. Heartbreak provided enough inspiration for an entire album and 'I dig for Gold' was self-released in 2008. Lieven moved a lot at the time and even while being homeless for a couple of months he tried to have his home studio at hand. More songs were written and recorded until a second album was ready. 'Old Happiness' was picked up by Underused Records and Hi54lofi Records in 2010. During the process the internet became more and more of a home. Musicians of the likes of Tiny Ruins, Ana Franco and Craven Canary collaborated from their homes all over the world. Hollie Fulbrook aka Tiny Ruins even flew in from New Zealand for a small but noble tour around Spain. Afterwards she stuck around long enough near Lieven's home studio for a collaborative EP to be recorded.
'Little Notes' was released in 2010 and happily rode the wave of Hollie's success after her debut album. In the meanwhile Lieven changed houses yet once again, this time taking his time to re-assemble the recording studio. Instead he learned how to play the trumpet until his neighbors told him to cut it out. He wrote screenplays and theater plays until his fingers felt numb. He finally learned the words 'noise reduction'. And when the Shure Beta 58A microphone was finally plugged in, he just picked up where he left off and started writing and recording again. Telling stories in his blog 'The silence you hear is the violence I feel'. Benjamin Shaw, Ana Franco and Laura Räsänen played and sang along until a new album was completed. The songs on 'There is a Home for You' were written and recorded like all other a Singer of Songs tunes. At home. In one take. Honoring Johnny Cash's words and the simpleness of things.