Irish Sean-nós singer Lorcán Mac Mathúna has long been a favourite of Folk Radio UK so it's a great pleasure to present this special Folk Radio UK Session which also features fiddler Daire Bracken. A few words about the music from Lorcán:
I have been working with fiddler Daire Bracken over the last four years on various composition projects. We wanted to draw something out of parts of the tradition that we felt weren't being explored by anyone. In essence the rhythm of words. Daire is well known for his high energy dynamic fiddle playing in Slide but he was also looking for other rhythmic outlets and when we talked we discovered that there was complimentary possibilities between what we were trying to achieve on our instruments. We examined the rhythmic possibilities of lyric metre, going beyond the stressed metre of the ballad. Amongst other things we went back to early medieval Gaelic syllabic poetic metre to devise compositional theory and this gave us tight dance metres in unusual compound metres (the fourth piece in this session is an example).
We are recording an album of our compositions at the moment, this session is a sampler of some of our work.
Daire Bracken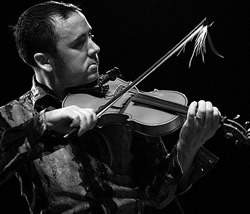 Daire Bracken began performing and touring at a young age with Comhaltas Ceoltoirí na hÉireann whilst at the same time gaining experience in composing and arranging in his school band and other young bands. The most successful of these early ventures being Danú where he and Dónal Clancy were original members of its quartet sized beginnings. Daire also comes form a family of musicians who hold All Ireland titles, his brother Shane Bracken being a renowned concertina player and others to be seen playing worldwide. Being from Dublin, his unique fiddle style extracts elements from the variety of regional styles in Ireland as fiddlers travel the country.
Daire has toured and recorded with many artists including;
Slide, Púca, Danú, Délos, David Munnelly Band, Stockton's Wing, Liam Clancy, Niamh Parsons, The Black Family, Cathy Ryan, Osna, Galdubh, Gráda, Sliotar, Helen Flaherty, Bevel Jenny, including various DJs and solo ventures.
Lorcán Mac Mathúna
Lorcán Mac Mathúna is an improvising singer and composer with a special interest in the nature of vocal music. His many projects investigate and elaborate on the improvising nature of the human voice in solo and collaborative settings. This includes A Cappella Sean-Nós singing, contemporary compositions of an improvised nature, music composition theory based on poetic forms, and much, much more.
Lorcán's first release in 2007, Rógaire Dubh, was the first step in a career which focuses on the performance of Sean-Nós conventions within diverse musical frameworks. Developing on the improvised nature of Sean-Nós, he collaborated with Irish composer Ian Wilson and improvising saxophonist Cathal Roche, in Common Tongue, to release Want and Longing in 2010. In 2011 he released the critically acclaimed Dubh agus Gheal: Darkness and Light (read our Neil McFadyen's Folk Radio UK review here) –Loric Colloquies with his Hiberno-Norse project Northern Lights.
In 2010 he also wrote a composition for the Old-Irish epic tale An Táin with the avant-garde improvisational collective Deep end of The Ford. An Táin (read Neil McFadyen's review) was recorded in 2011 and released in 2012.
Other compositional included the 2009 Tásc is Tuairisc, a tense and atmospheric depiction of the doomed Franklin voyage, which he co-wrote with Irish composer Simon O Connor.
Lorcán has undertaken studies in traditional music styles and extended techniques; of traditional music from select European and Asian cultures investigating their correlation with sean nós song style; of vocal dance music, which lead to the compositional project, Preab Meadar, with traditional fiddler, Daire Ó Breacáin; and the correlation between oral metre and improvisation in western Oral music.
As well as a solo and group performer, with performances from Germany to Vancouver, Lorcán regularly teaches singing in schools programmes, music organisations and festival workshops.
Lorcán has been commissioned by the UK City of Culture, Derry, to write a suite to celebrate the river Foyle. The premiere "From Derry to the Sea" will open Fleadh Cheoil na hÉireann on August 11 in St.. Colman's Cathedral.
Fleadh cheoil http://www.fleadhcheoil.ie/