Cécile Schott has been making music as Colleen since 2003 but The Weighing of the Heart is only her fourth studio album, and her first in six years. It is also the first on which she sings, and it is a revelation. The lyrics are in English rather than her native French or the Spanish of her adopted home. Vocally the reference points are Vashti Bunyan, a less icy Nico, a less ostentatious Liz Fraser and the more avant-garde end of breathy French pop (Schott names Brigitte Fontaine as an influence).
The record's feel is nautical, and despite frequent, subtle nods to non-European music, the Spanish coast looms large in these songs. Boats, birds and the moon are motifs – pagan, feminine images that create a world that is darkly, unsteadily harmonious. Push the Boat Onto the Sand could be a homecoming, or it could signal a departure.
Jazzy, off-kilter horn phrases punctuate Moonlit Sky before sung verses and organ filter in. This is symptomatic of an album whose distinct musical parts replace each other slowly and naturally, like longshore drift. The effect is more of a ripple than a growing wave – concentric circles of viola de gamba and classical guitar advance in slow, organic increments, sometimes reminiscent of Richard Youngs' guitar work, but with pebble-round edges.
Ursa Major Find is a simple, astro-nautical folk song that recasts the sea shore as an extra-terrestrial landscape, while the minimal percussion on Breaking Up the Earth has a North African flavour. Here and elsewhere Schott does not completely disown the looped ambience of earlier recordings, and neither is she afraid to play fast and loose with traditional song structures: lulling vocal hums alternate with what sounds like a playful, skittish kora – Schott is a known fan of Toumani Diabaté.
As well as sounding beautiful, the whole package is visually stunning. The artwork, by Iker Spozia, would not look out of place on the cover of a collection of Borges stories. The Weighing of the Heart has arrived with sudden, gentle surprise, like a migrating bird that has appeared too early. It is a gleaming treasure.
Review by: Thomas Blake
Album Stream
The Weighing of the Heart is released on Second Language 13th May 2013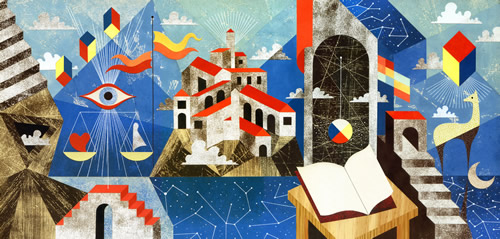 Photo Credit: Iker Spozio