Perhaps the most immediately striking aspect of Anne Marie Almedal's Memory Lane is the sheer gorgeousness of it. Everything about it, the sound, the melodies, the arrangements, the songs and above it all Anne Marie's voice – it's music to melt even the most glaciated heart. There's an apparent effortless simplicity to this record that is entirely deceptive, as each track is packed with a lattice of detail and the more you listen, the more you hear. It is at once evocative and mysterious, satisfying and yearning.
Peel back the layers of the record and how it was made and you start to understand how all of this is possible. Central to it is Anne Marie and her gorgeous voice allied with the skills of her musical and life partner Nicholas Sillitoe, who has co-write credits on all the original songs, produces and plays a multitude of instruments. For some of you, however, the involvement of Danny Thompson will be the headline – after all his involvement in a history of great music is there for anyone to see and his appearance comes with a sense of quality assured. But you can also add two great perhaps lesser known names to the production team in John Wood and Keith Grant whose combined history of recording is astonishing. Then there's Katharine Blake (Mediæval Bæbes, Miranda Sex Garden), Grammy award winning Norwegian guitar maverick Kjetil Grande  and Conrad Lambert (aka Merz) adding to an impressive list.
Nicholas and Anne Marie met when he remixed a track for her Norwegian indie-pop band Velvet Belly. By then the English born Nicholas had already forged an impressive career starting as a boy-soprano recording for EMI Classical and moving through musical styles into soundtracks, electronic dance, DJ-ing and more. Not surprisingly the first thing he fell for was Anne Marie's voice. The rest followed its natural course and they escaped to Kristansand, Southern Norway to raise a family.
That location has proved another of the fundamental building blocks of their musical lives. Perhaps it's something of the Northern climate and landscape that informs Anne Marie's writing. It's impossible not be affected by the winter months that envelop Scandinavia and there are certainly some dark, reflective moments, but also crystalline beauty and cosseted, log fire serenity. Living on the coast and overlooking a fjord, there are also the constant traffic of ships, vessels holding who knows what setting sail to who knows where. That too has found its way into Anne Marie's writing.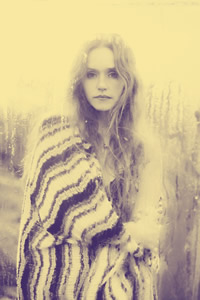 Danny Thompson first worked with Anne Marie on her 2010 album, Blue Sky Blue. Recording actually started in 2008 and that also led to a live concert together, recorded for DVD release, followed by playing the prestigious Hove festival in Norway around the album's release. Danny's is one of those names that you think you've seen everywhere, but his discography stands rigorous inspection and he seems to have picked his projects carefully. Sure, there are a few one offs, but mostly there seems to be a bit more consistency to it than that and you get a real sense that it's important for Danny to want to do something.
With recording done in both Norway and England Keith Grant also became involved. Keith is a pivotal figure in English recording history, having set up Olympic Studios when it relocated to Barnes after starting as an engineer and then studio manager in the original West End location. A notable who's who, including The Who, Hendrix, Stones, Zeppelin, Queen, Bowie and even The Beatles on a rare foray outside Abbey Road, used it and it also became a hot bed of soundtrack recording under Keith's stewardship. Keith recorded most of Danny's parts and some of Anne Marie's vocals, but not at Olympic that had long since closed, choosing State Of The Ark for the vintage desk that it offered. That  choice demonstrates every attention was paid to the details of the sound,  microphone choices and so forth and you can certainly hear that with this CD. Sadly Keith's last studio session was recording Anne Marie's voice as he passed away just a few weeks after having nailed a first take vocal performance. That session was completed very quickly, while the other musicians stopped for a lunch break. When they returned they found Keith emotionally overwhelmed and a playback of the recording immediately revealed why.
Credit must also go to John Wood, another veteran engineer and producer who again boasts an impressive CV, being well known for his recording partnership with Joe Boyd. Significantly John Wood is one of the very few people that Nick Drake put his trust in and John engineered Nick's three albums. Cat Steven's, John Martyn, Incredible String Band and Pink Floyd are other significant names to benefit form his perfectionist touch. For Memory Lane he has apparently left no stone unturned in seeking the ultimate final mix.
Between them they have created a timeless musical world, but central and most important to this is Anne Marie's alluring voice. In keeping with Keith's final recording act, the technique has been to record the vocals in one complete take for each song. It's perhaps an unusual way of doing things in an age where technology makes all manner of intervention simple. There's no more razor cut and splicing of tape required and even intonation and phrasing can be manipulated with comparative ease. Rather than do that, Anne Marie and Nicholas chose to stick with the pure, spontaneous delivery capturing, the adrenaline of the performance and natural emotions in her singing of the songs.
Therein is the real story of this record. For all of the expertise, experience care and craft that has undoubtedly been poured into it's making, all would be for nothing if the songs and performances didn't live up to it. After all, what makes a seventy odd year old with a lifetime's experience of recording music cry? In this case it was Anne Marie's vocal for If, the David Gates' song and easy-listening staple transformed into one of the most haunting, yearning things you are likely to hear. The muted piano chords too are an inspired backdrop, with the slight and subtle embellishments adding atmosphere.
There is one other cover, coyly suggested to Thompson by Anne Marie, originally prior to the festival date back in 2010 and obviously deemed by both to be worthy of inclusion here. Quite how you suggest a cover of John Martyn's May You Never to his long serving bass partner is anyone's guess, but that too, becomes something quite different as Anne Marie sings it. It was always one of John's prettiest tunes and also from one of his most acclaimed and enduring albums. Anne Marie seems to imbue the camaraderie of the original with a wistful, bittersweet edge and Danny Thompson responds with a delicate almost tender caress of a bass line.
While such cover versions might make for obvious headlines and offer sign posts to what is in store, really it is the whole CD and Anne Marie and Nicholas' compositions that make this special. Each could be chosen for a special moment or to highlight, an atmosphere a feeling. There's the subtle urgent pulse and chamber strings of One Day, the array of exotic acoustic texture of Two Of A Kind, the ominous thunder rumble of Scars and the gentle cascading guitar lines of the title track. The strings also bring a warm, glowing swell to Winter Song and a wistful dreaminess to Away Away. Perhaps the big vocal chorus that introduces the closer The Wanderers is the most striking in the way it falls away to muted piano chords.
All of the qualities described run throughout this CD and the lasting impression is hauntingly beautiful. There are clever little segues and transitions as the players and production team bring their skills and subtle embellishment, but it all gives Anne Marie's stunning voice the opportunity to shine. And shine it does as bright as the sun on a winters day across a snowbound Nordic scene, a halo of light against the pine trees.
If you want to know what brings a tear to the eye of a grown man, then insert the CD and press play… I know.
Review by: Simon Holland
Memory Lane is released June 3rd 2013