Spiers & Boden brought their Backyard Songs Tour to the Hungry Horse Folk Club in Ellesmere Port; located just where Cheshire meets The Wirral, an organically run, no fuss venue where the emphasis was on an enthusiasm and passion for the music and not big screens and designer lagers.
The current tour, which is on the road with an extensive set of dates through  April and May, set out with  a rather ambitious plan of fans suggesting folk songs with local significance for the duo to include and perform as a cameo in their set when they visit that town or city. Bearing in mind that as jobbing musicians, they spend most of their lives travelling from place to place, it seemed that they could kill two birds with one stone and use their stop offs to gather a feel for the local music, dance, customs and stories. There was even a 'suggest a song' area on their website for fans to write in and offer their thoughts. In all truth, the pair admit that it was a thought that had been bubbling under for quite some time, no doubt  influenced by Jon Boden's  'folk song a day'.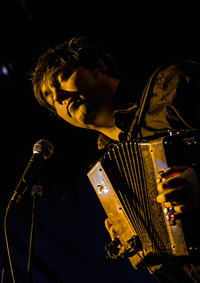 For those with a historical bent, the local theme was the history of the canal system which led to the area and port taking its name  and the pre gig entertainment included craft demonstrations by local volunteers  from the present day Canal Centre, who modelled rag rugging, pegloom weaving and belt embroidery to give a really rural and regional twist to the gig – certainly entering into the spirit of the occasion.
With local singer songwriter, Gary Edward Jones opening the show for them, Spiers & Boden stuck with the theme of including  a local act as support who could showcase the folk arts of the area. His well played cameo of arranged folk songs, with a spot of jazz thrown in, included some of the melancholy  folk themes.  Well worth scouting him out on the social media pages.
With the minimum of fuss, no longer had  Gary cleared his guitar than the main men were introduced and off into their first set of tunes, warming themselves up with a gentle and sedate opening before flexing the vocal muscles on The Outlandish Knight and Captain Ward. The links with the local area came into play with John Spiers' Cheshire Waltz (from, of course, the Linclonshire collection!) and what must have been a contender for the 'worth the price of admission money alone' award for the night – Roll Alabama – a magnificently performed tale which has links with Birkenhead, with Jon Boden  switching to guitar for a brooding yet strangely uplifting take on the song.  Despite some coaxing with a fair smattering of dance tunes throughout the night, it was the Rochdale Coconut Dance which persuaded some brave souls to take to the expanse of dance floor which cut a void between audience and stage.
Following an interval of CD sales, raffle and parish announcements the second set kicked off with another set of tunes  followed by Horn Fair – a song of cuckoldry – which Boden always takes great delight in introducing as a song which was banned "for lowering the moral tone of Essex."  Again, local themes took to the fore with the Cheshire Hornpipe,  normally bagpipe led and played in triple time, it was one of many tremendous workouts between the two, who over their ten years of playing as a duo and in several other incarnations, have that developed that special rapport and almost uncanny knack of being able to subconsciously compliment each other's playing.  Boden's unaccompanied solo piece Prentice Boy provided another Ellesmere link – and a somewhat gruesome telling it was.
The final downhill flurry of songs took on a distinct Bellowhead flavour. Taken, slightly tongue in cheek,  to introducing the likes of Prickle Eye Bush and the Sloe Gin set as songs they stole from Bellowhead, it was maybe a gentle reminder  to some fans whose favours lie more in  their slightly more acclaimed big band incarnation, that many of the Bellowhead tunes started off life being interpretations from the Spiers and Boden catalogue. Regardless of whether  the likes of Haul Away, Jack Robinson and New York Girls (with its new chorus of "oh you Wirral girls, can't you dance the polka") are played in the 11 piece version with the brass and extra rhythm of the mighty Bellowhead collective powering   them along, the adaptation for  a simple duo and the quality of the musicianship and playing was first rate.
The tour is set to culminate at the home of English Folk music, Cecil Sharp House, on 25th May where Spiers and Boden are hoping to showcase their favourite pieces of music from where the tour has taken them as well as music from the capital. It will be a bit like Spiers and Boden bringing the songs back to their home.
Review by: Michael Ainscoe