A sold out Waterside; just another stop on an almost sell out tour for the universally popular duo who would likely be the first to concede that their duo status is a tribute to honorary third member Miranda Sykes who not only added her distinctive double bass to the range of Show Of Hands sounds, but also provided the warm up for the evening. Her partnership with dextrous mandolin player Rex Preston has produced two albums, the most recent, Sing A Full Song being full of excellent interpretations of songs gathered by them and written for  them.
Given a half hour warm up slot they could cherry pick from their catalogue to provide an all too short support slot. There was also the bonus of Miranda "being allowed to sing more than one song" in her pure and clearly enunciated tone as she generally does during the SOH set. With a selection of songs ranging from the environmentally inspired  lyric of How Soon How Long to the traditional song and highlight of the new album, Lady Isabel And The Elfin Knight, the time did really fly. When the duo go out and perform their own gigs later this summer they are well worth looking out for.
With Show Of Hands having recently released Wake The Union and toured to promote the album at the back end of 2012, going back out on tour so soon afterwards meant that the new material could take a back seat;  gone were a number of the newer songs performed on the last tour and in came some old friends and favourites.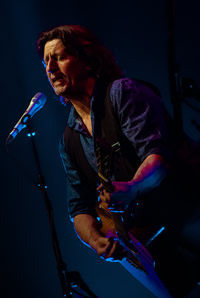 On his solo tour in February of this year, Steve Knightley had talked of the dramatic introduction the band had planned for a showcase Royal Albert Hall show when he and Phil Beer would enter the hall from different points to emphasise a more dramatic impact, only for Phil to be thwarted by overzealous security guards who wouldn't let him in the venue once the show had started. The idea worked much better at Sale with Steve emerging from the back of a shadowy stage bathed in deep blue, strumming his guitar, sidestepping the microphone and taking tentative steps  into the aisles as he sung out the lyrics of the chilling Widdecombe Fair. Combined with Phil's eerie fiddle drifting from somewhere at the back of the theatre it made a gripping opening which set the atmosphere for the rest of the evening. Notwithstanding  the departure  of Steve's usual humorous between songs tales of dealing with cold callers, it was a more sombre collection of songs from the SOH catalogue which made up a fascinating and thought provoking  evening's entertainment. Amidst the likes of the Phil Beer sung Crow On The Cradle and his take on Springsteen's Youngstown, it was a newer song Katrina, written after viewing a news piece on a victim of Hurricane Katrina, which brought  a chill upon the oppressively warm  auditorium with its ominously deep and creaking backing provided by Phil's guitar and Miranda's bowed bass. A guitar coda of The Lakes Of Ponchartrain provided by Phil Beer, it was a stately and understated performance which showcased their capacity  to draw from  both English and American cultures.
While it may be  Steve Knightley who as main songwriter and spokesman  for the duo who takes the plaudits, maybe as the unsung hero of the duo, it's about time the unassuming Phil Beer should take some plaudits for  his contribution with his multi instrumental skills – surrounded by all sorts of instruments, he switched comfortably between his trademark and distinctive quivering fiddle and the likes of the South American cuatro which he rested neatly on his chest as he added harmony vocals to Santiago.
Perhaps the most telling  attribute of Knightley and Beer is to draw an  analogy with their song A.I.G (arrogance, ignorance and greed) – not that it refers to them, heaven forbid,  but written and recorded back  in 2009 thinking it may have a year's shelf life, yet it seems as pertinent today as it was back then – rather like Show Of Hands – traditional yet still relevant.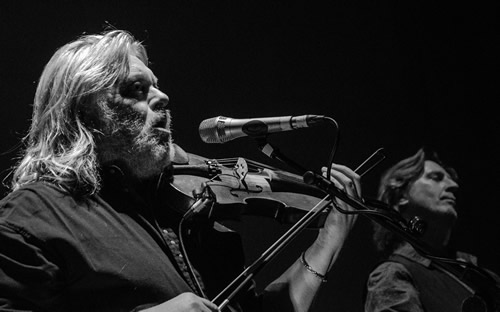 Review by: Michael Ainscoe