We're off-piste with London's Green Note Café tonight. That is to say that instead of the usual snug confines of the Camden venue, tonight's show is their promotion at The Old Queens Head in Islington. It's a venue more commonly associated with The Nest Collective, but as a larger room is a fitting room for this evening's triple headline featuring Nels Andrews, Peter Mulvey and Allison Russell.
It's billed as a songwriter's circle so all acts will take the stage at the same time and this it transpires, is further complicated as Nels has Brandon Seabrook on mandolin and banjo with him and Allison is actually performing as Birds Of Chicago, accompanied by JT Nero. Peter is alone, but he and Birds Of Chicago have been sharing the bill on a UK tour the last night of which is tonight, although the Birds continue on while Peter flies home.
It can be risky throwing three acts together and asking them to take turns. Unless something extra is created no one gets a chance to really get into their stride and the result can be rather stilted. I've also witnessed a couple of televised events with some over reverential mutual back slapping that almost made me hurl. But when they do work, something quite magical takes place. For example I was quite detrmined that I didn't like Suzy Bogus until an evening of 'Wine, Women & Song' a couple of years hence teamed her with Matraca Berg and Gretchen Peters. It turned out I was wrong.
Hold that thought. But first to Nels who's the main reason I'm here, just having written up Scrimshaw as one of our Albums Of The Month. As the newcomer to the mix the others defer and let him open the set. His sonorous voice and gentle, fluid guitar are the perfect setting for his poetic, dreamy fables. Brandon meanwhile is every bit the dexterous, musical talent his advanced notices suggested. A flurry of winged fingers, combine dizzying skill with utter sympathy for the song. Somehow what he does is astonishing without distracting.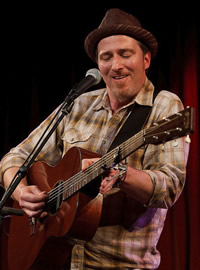 Peter Mulvey is clearly impressed and a couple of wide-eyed, slack-jawed moments of disbelief dance across his face. When taking his turn Peter has just about all of the best lines for the evening, full of good humour and genuine admiration for all of his co-perfomers. His voice has a little extra gravel and he confesses to being a bit under the weather. Still in true professional style, once he starts singing that's quickly forgotten and his voice quickly loosens up.
If Tom Waits had followed Dylan as a role model, rather than a louche, lounge pianist this might have been the result. His clever, compact guitar style probably speaks of countless gigs trying to make himself heard, although there's no problem in that regard tonight, as somehow the Green Note's admirable and respectful STFU policy seems to have bee shipped in with the promotion. Hoorah for that too!

Then there's the surprise. Allison Russell has passed me by, but as well as taking turns with clarinet, ukulele, banjo and guitar she has a voice that well… Oh! Cripes! The hairs on the back of my neck stand proud and I'm smitten. With JT Nero in Birds Of Chicago mode, this is brilliant, absolutely brilliant and he is no slouch either with guitar or voice. JT also had a deadpan drollery that rivals Peter for laugh out loud moments. If you've had Folk Radio playing, you may already have heard some of Birds Of Chicago's debut CD. If not, now is the time to start paying attention.
As for magic moments? My scribbled notes have run to five pages and although the jokes and one lines will fall flat out of context, there are so many memorable moments. Twice Peter will literally follow Nels' lead, when he plays Houdini, Peter follows with a song that also includes the great escapologist. Then when Nels plays The Three Hermits announcing it as, "A song co-written with William Butler Yeats, which as I discovered just takes patience and whisky," Peter again follows with his W.B Yeats song. It's not that he's trying to out do Nels, but is simply spontaneous, inspired by the line of Nels' thinking. There is genuine mutual admiration here, mercifully free of the aforementioned yuck factor.
Then there's Brandon Seabrook, who when playing sometimes looks about fit to burst so quick and varied are the musical possibilities that seem to come to him. There's Allison's voice, there's Peter's stories and ultimately one of my favourites songs, Nels' Wisteria that leaves me misty eyed as Allison adds wonderful harmonies and Brandon gets noises from a bowed banjo that defy belief.
This was a truly magical night. Three acts seemingly inspired by each other is the way these things should go. The guy sat next to me has a way of letting out a contented "Mmmmmm", when something has gone well. He doesn't miss a song.
I leave with one CD and one 7" single by Birds Of Chicago and Nels Andrews respectively – Peter has sold out of CDs and has now left the UK, to return hopefully next year. Meanwhile Nels and Birds Of Chicago have more dates to go, so if you get the chance make a point of getting along, I'm betting you'll have a great evening.
Live Review by: Simon Holland
Nels Andrews Tour Dates
Wednesday 24 Leicester, The Musician
Thursday 25 Glasgow, The Admiral Bar
Friday 26 Biggar, Abington Hotel with AJ Roach as support
Saturday 27 Edinburgh, Soundhouse House Concert with AJ Roach as support
Sunday April 28 to Tuesday April 30 – Scottish Highlands Mini Tour see www.nelsandrews.com/gig for info
Monday April 29 Exmoor Pony Sanctuary, Scoraig May
Wednesday 1 Formby, Merseyside Grateful Fred's, Formby British Legion
www.nelsandrews.com
www.petermulvey.com
birdsofchicago.com
Photo Credit: Marcel Houweling