We are delighted that one of Folk Radio's favourites is setting foot on these shores again. It's been a while since Nels Andrews has traversed the Atlantic and the last time he was here it was only, to the delight of fans north of Hadrian's Wall, to tour Scotland. Nels' tour starts in London on 16th April.
There was also quite a gap between his second and third albums, Off Track Betting and Scrimshaw. Both things can to some extent be explained by him taking time out to look after his infant son. During this time he also juggled life as a chauffeur, but found time to wander around New York and Brooklyn allowing his mind to wander even more freely.
The results are to be heard on Scrimshaw, a wonderful, poetic, lyrical record delivered with warmth and intimacy, and written with a wide eyed wonder that creates impressionistic fables.  Rightly drawing praise wherever it has been reviewed, including here, a number of Nels peers have also chipped in to add to the acclaim. One of the current darlings of the alt-folk intelligentsia Anais Mitchell, no less, has said "The scrimshaw songs are so carefully made, like the stuff of the title itself, fine etchings on bone. Nels is a master carver, an artist patient and obsessed enough to turn a whale of an idea into something delicate and beautiful from any angle."
I'm a relatively new convert, but have found myself repeatedly drawn to Scrimshaw, as the songs seem to offer hints and clues of something profound or mystical to be discovered within. The minor- key lament of Small Victories offers up "So goodbye to Brando, Marilyn in scandal, you'll always be the Duchess of Carnegie Hall."  The sense of fading glamour is made palpable as Nels delivers the denouement, "Wine-eyed and wanting, blue sky blondes fawning for a way to live forever, then slip away young."
Much of the album is bittersweet, but it's not all melancholy Wisteria is a beautiful love song, imagined between a New York Brownstone and the climbing plant of the title. Starkly delivered by Nels and his plucked guitar, the first verse climaxes with Nuala Kennedy joining in harmony and the line "You could make a pigeon coo a meadowlark's song."
It's not just his poetry that impresses, however, as the album also sound great and is really beautifully produced and recorded by Todd Sickafoose. All in all it has me hooked and given the chance to ask a few questions, I have to ask…
Scrimshaw is such an arcane, yet wonderful, word. I can honestly say the only times it turns up in my life apart from your CD are on TV programmes about antiques. How did it become the title for your album?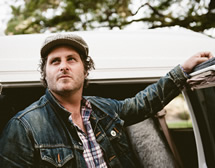 NA: I'd taken some time off since my last record (Off Track Betting, 2008) to stay home with Otis.  I worked hard writing songs at night while he slept, but for the first time in a long while I wasn't out on the road as much.  I became a little obsessed with cetaceans, casually starting at the Natural History museum, with its giant blue whale hanging from the ceiling, moving on to Moby Dick, then to reading captains' memoirs from the era, and finally going on actual whale watching trips (not to mention keeping a bedside maritime dictionary).  I'd learned that the guys who worked on the whaling boats had long bouts of downtime in between the actual whaling, where they wrote, carved, and mythologized the hunt.  One way to do this was with "scrimshaw".  To me, Scrimshaw means a craft of the off-hours, marking time while documenting a journey.
I've read that the circumstances of your writing involved the space between your job at the time and looking after your infant son. Did you ever feel you were leaving a legacy to be unravelled?
N A: So much of the record is the product of our wandering around the city together, with him in his stroller, you'd call it a pram.  The first song on the record 'Tridents' is a fable of sorts, written equal parts to him and myself. He's almost 5 now, and knows every word on the record, among others.  He asked me the other day when we were sitting around strumming instruments if we could sing the one about the ants.. "The ants?" "yeah, the ants are my friend, and blowing in the wind".
What is the starting point for writing for you? Is it tune first, a lyric set, a line, a feeling..?
N A: I'm not sure if I could pinpoint the starting point of songs really. I do know that the state of chasing them down, whether it's in front of a guitar or drifting though my mind while I'm driving (and missing exits, to the chagrin of my patient and lovely wife), is my favourite place to be in this world.
It's been a while since you were in the UK. Are you looking forward to coming back? Are you travelling light? I gather you have a musical compadre along, tell me more?
N A: It has been a while, excited to be back, I'm bringing my longtime sideman and collaborator Brandon Seabrook on a slew of acoustic instruments.  I've never seen anyone get the sounds out of a mandolin or banjo that Brandon does.  He's a hypnotist, and can get them singing in tongues. We've got some surprises worked up as well.
Interview by: Simon Holland
[stextbox id="black" caption="Nels Andrews: Tour Dates"]April
Tuesday 16 London, The Old Queen's Head (Green Note presents Songwriter's Circle with Allison Russell & Peter Mulvey)
Wednesday 17 Shrewsbury, Henry Tudor House
Thursday 18 Plymouth, The B-Bar
Friday 19 Launceston, No 8 Café
Saturday 20 Swansea, The Chattery
Sunday 21 Basingstoke, The Forge @ The Anvil
Wednesday 24 Leicester, The Musician
Thursday 25 Glasgow, The Admiral Bar
Friday 26 Biggar, Abington Hotel with AJ Roach as support
Saturday 27 Edinburgh, Soundhouse House Concert with AJ Roach as support
Sunday April 28 to Tuesday April 30 – Scottish Highlands Mini Tour see www.nelsandrews.com/gig for info
Monday April 29 Exmoor Pony Sanctuary, Scoraig
May
Wednesday 1 Formby, Merseyside Grateful Fred's, Formby British Legion
[/stextbox]
Video


My friend, the amazing songwriter Paul Curreri's visual take on my song Barroom Bards.