Another of Folk Radio UK's favourites, Bella Hardy, has her new album battleplan released on 22nd April. Bella seems to have been in creative overdrive since Songs Lost & Stolen, so this comes fairly hot on the heels of last year's geographic homecoming, The Dark Peak And The White, and this year's sidestep into Carthy, Hardy, Farrell & Young.
The really good news is that it sounds fabulous. It's by far and away Bella's most consistent record to date and after the stripped back affair of Dark Peak reunites her with producer Mattie Foulds. While the most obvious effect of this is a bigger fuller sound, albeit from just over a minute into the disc, there are other subtle differences at work. The inside of the digi-pack gatefold bills this CD as "Featuring Bella Hardy & The Midnight Watch." Beneath this just five names and a variety of instruments are listed. So is this a deliberate move to put a band together?
Bella's response is revealing, "I think that given time, bands form quite naturally.  One group of people have slowly become my first choice, my dream team; they all appeared on different tracks of Songs Lost & Stolen, and when I started gigging that album I realised how well they worked together."  She continues, "When I began rounding up the songs for battleplan, I quite quickly realised that I wanted it to be recorded all with this one set of musicians, as a band, so I gave them a name to seal it and they're now The Midnight Watch."
It sounds a small detail, but has a significant and positive effect on battleplan and Bella explains the difference in approach. "I've previously had different friends on different tracks on a record, and I wanted to work towards something a bit more cohesive. The best thing about having a band is knowing you've got a team of people who've got your back, onstage and off. It makes a big difference."
Naturally, not all the tracks sound the same, as the arrangements are quite distinct, song by song and Bella reveals that not everything has changed, "The approach to arranging material is much the same; I work on a song at home, write it or edit it from tradition, often write a simple accompaniment on fiddle or piano, and then on this occasion I met up with the band for two afternoons before we got into the studio and we built the tracks up from there."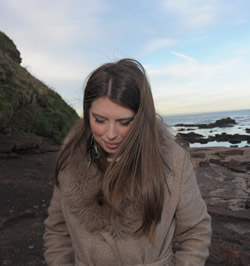 Perhaps it's the courage given by the exceptional band at her back that has permeated battleplan. Whatever it is, I'd argue that Bella has never sounded in better voice. The contrast between the end of Whisky You're The Devil and True Hearted Girl is a case in point for me. There are places where her voice is layered and four of the Midnight watch are  credited with vocals, creating some lovely harmonies and fills, but Through Lonesome Woods is especially striking and very different. The latter was the first song she learnt to fiddle-sing and Bella played it all the way back in 2004 as a finalist of the BBC Young Folk Award.
When I suggest that her singing is especially good on this record, Bella reveals, "I think any voice goes through good and not so good stages, depending on how much singing you're doing, how tired you are, how well you're looking after yourself.  When we recorded battleplan last November, I'd not had any vocal set backs for a while, I'd done an awful lot of recording and performing, and my voice was just warmed up and well worked in.  To have captured that stage on an album is very satisfying as sod's law is usually getting ill just before recording!  I generally try to look after my voice in simple ways, but I also try not to think or worry about it too much, it'd drive me mad.  To be honest, I don't like to analyse the phrasing and delivery too much either, I just like to sing as it comes to me."
In contrast to Songs Lost & Stolen, her previous album with Mattie, battleplan delves into the folk tradition, although Bella shapes the songs to her own design. She explains, "This album was very much the culmination of what's been in my head for a few years, without implementing any rules on myself of format, style or content.  With Songs Lost & Stolen I had an aim to write all of the songs myself, it was kind of a self set challenge, but that's the only time I've ever set out to do that.  I usually quite naturally mix traditional and modern material, I don't see them as different things."
I press Bella as to whether the songs were picked to tell a story or suit a wider purpose, but the truth is far simpler, "The traditional songs on here are some of my favourites and have been for a long time.  I just thought "You know what, I'm just going to do that because I love it", and I didn't worry about who'd done it before or making the songs fit together, I just hoped that using the same band throughout would do that.  It wasn't until after the album was made that people started pointing out some fairly major thematic threads which run through the collection."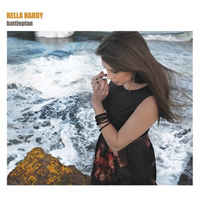 The cover is another dramatic and striking image, but this time it's stormy rather than the sun kissed image of Songs Lost & Stolen. Realising that I'm also probably making things fit after the event, I still have to enquire if this is significant too.  Perhaps cautious of the limits put upon a record by trying to define it Bella qualifies her response and says, "Yes, I suppose so. The title battleplan comes from the song Sleeping Beauty "Wars they are lost before they're begun, for battles they never go to plan".  I sometimes feel like it's a collection of songs about things not going the way you thought they would.  I'm a fastidious list maker, but I never seem to be able to stick to the list or the plan.  Life doesn't let you.  So yes, I suppose stormy sums it up!  I also chose that image for the cover because it made me think of The Seventh Girl, having just let the outlandish knight drown in the sea, and also the lyric from Whisky You're The Devil, "The sea's too full of witchcraft, you'll sooner sink than swim."
However you choose to interpret this and whatever you read into battleplan, it's a wonderful record. It may be amongst the best sounding CDs you'll hear this year too, with all elements coming together supremely well. It packs a lot into just under 40 minutes, so gets the nod for just about perfect length too. Could it be any better? Well it could be on big, black, shiny, 180gm vinyl. But other than that? No!
Interview and Rewview by: Simon Holland
Tour Dates
Weds 1st May:  London Album Launch, The Slaughtered Lamb www.pulluptheroots.co.uk
battleplan Tour
May
Bella Hardy with Anna Massie
Fri 3rd              Upton Folk Festival www.uptonfolk.org   01684 594200
Sun 5th           Wath Festival www.wathfestival.org.uk   07982 658467
Mon 6th           Stockport, Midway Folk Club www.zen37219.zen.co.uk/redbullfolkclub.htm
Bella Hardy & The Midnight Watch
Fri 10th            Didcot The Cornerstone Arts Centre www.cornerstone-arts.org 01235 515144
Sat 11th           The Fleece, Boxford www.boxfordfleece.com/fleecefolk.html  01787 211183
Sun 12th         Edale Folk Festival www.edalefolkfestival.co.uk
Tues 14th        Cardiff, St. David's Hall www.stdavidshallcardiff.co.uk   029 2087 8444
Weds 15th      South Hill Park, Bracknell  www.southhillpark.org.uk  01344 484123
Summer & Autumn 2013
July
Sun 14th         Stonehaven Festival www.stonehavenfolkfestival.co.uk – Bella Hardy with Anna Massie
Sat 27th          Cambridge Folk Festival,  www.cambridgefolkfestival.co.uk/ – Bella Hardy & The Midnight Watch (with Mattie)
August
Weds 7th        Sidmouth Folk Festival www.sidmouthfolkweek.co.uk – Bella Hardy & The Midnight Watch  (no Mattie)
Thurs 15th      Edinburgh Fringe Festival:  The Queen's Hall – Bella Hardy & The Midnight Watch (with Mattie)
September
Sun 1st           Fylde Folk Festival www.fylde-folk-festival.com – Bella Hardy solo
Mon 16th – Sun 22nd:  Bella Hardy & The Midnight Watch Tour.  Dates to be announced.
October
Fri 11th            The Old Laundry, Bowness – Bella Hardy with Anna Massie & Angus Lyon
Fri 18th            Homegrown Festival, The Bury Met (English Folk Expo)  http://themet.biz/ –   Bella Hardy solo
Carthy, Hardy, Farrell & Young
Bella Hardy, with Eliza Carthy, Lucy Farrell and Kate Young
Sat 13th July              Brossella Folk Festival, Brussels  www.brosella.be/eng/brosella-folk-jazz
Sun 21st July             Folk By The Oak      www.folkbytheoak.com
Fri 2nd August           Wickham Festival    www.wickhamfestival.co.uk
Sat 3rd August           Madfest, Barnsley
Tue 6th August          Sidmouth Folk Festival  www.sidmouthfolkweek.co.uk
battleplan releases on 22 April 2013
Featuring Bella Hardy & The Midnight Watch
Bella Hardy: Singing, Fiddle, Clonky Piano
Anna Massie: Guitar, Banjo, Vocals
Angus Lyon: Piano, Rhodes, Accordion, Vocals
James Lindsay: Double Bass, Vocals
Mattie Foulds: Percussion, Sneaky Piano