It's as we are wrapping up the interview that Ross Wilson (Blue Rose Code) gives me my introduction. I've intended to lead off with the news of the massive tour that is forthcoming. In typically candid style, Ross explains that, "Because I've been away and spent time working on my problems, when my manager said to me 'I've put together a 50 date tour, how do you feel about that?' I just thought if that had been put to me in the past, all I'd have been thinking is, 'Oh my god! What kind of trouble am I going to get myself in? How can I keep a lid on things?' I've been running on fear and anger for so many years, but day by day I'm trying to expand my emotional experience and bring some contentment into my life."
We've been talking for well over an hour and a half since we met in a Brockley café. It proved a less than ideal starting point, as a combination of mal-functioning laptop and the unwanted drama of a bicycle theft have sent us packing. Ross has immediately offered the chance to retire to his house and I'm struck by his generosity. We have exchanged a handful of emails and had a quick phone conversation to set this up. That's the limit of our relationship so far, yet the conversation on route is open and friendly. I mention Folk Radio UK and Ross starts to enthuse about the posting on Chris Wood and his ability to tackle the big issues and write social commentary in songs. We also talk about the pros of living in south London, Ross explaining his preference for an ethnic mix over the more staid white-middle-class environs of Muswell Hill, his first London base.
The welcome continues inside, his wife Julie's just returned with the shopping, but is quick to offer tea, water, etc.  Meanwhile, their two dogs seem to be intent on making themselves central to the proceedings. Eventually we are seated in the front room, door shut and Ross has fired up his laptop to help me over my technical issue and slipped a record on. He checks that it won't be a distraction, or interfere with the recording and I reassure him it won't and although it's now in my remit to steer things, our conversation simply continues.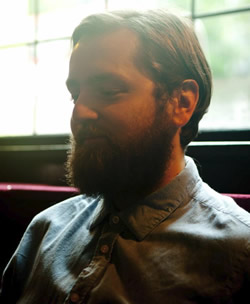 It's clear that Ross is intelligent, articulate, honest and engaging and as he suggests, "I won't be coy about anything," that certainly proves the case. At several points he'll confound me, not in any devious way, but simply by being so open. It's my default position to try and bring a little of the personality of an artists into a discourse about their music. In this case the two things are hard to separate and demarcations are blurred, if not impossible to define. Ross also neatly turns several of my enquiries on their head. Again, there is no trickery other than to make presumption an obvious flaw in my preparations.
When I ask if music was a refuge amongst the well documented troubles of his upbringing, he replies, "I think that would be a lovely thing, but it's not my story. My story is that I'm an alcoholic and addict and I use external things to change the way that I feel. The first thing that I was addicted to as a very young boy was music. I was obsessed with pop music and used to record the charts. When everything around me was going to hell in a handcart, it took me out of myself. The first record I ever bought was New Kids on The Block, Hangin' Tough." He continues, "Even so I believe the one thing that I did get from my mother was a good taste in music. I was told that the two records that would send me to sleep are Stevie Wonder's Songs In The Key Of Life and Bob Marley's Kaya: two great singers and powerful song writers."
As I press him about his own first steps in music and whether there were people he idolised, or wanted to be, again he flips the question. "As soon as I started singing other people's songs, I wanted to write my own. Their lyrics were about their own situations and problems and didn't express mine." Remembering various school bands, he recalls, "I was always a singer, I could never be bothered with trying to learn the guitar as it was too much effort." The need to write songs, however, forced his hands, although he smiles and admits, "I still have love-hate relationship with the guitar even today."
Ross does, however, concede that not having a male influence on his life probably led him to pick out some strong male characters that he's identified with. "I've said in interviews before, but I have my unholy trinity, Van Morrison, Tom Waits and John Martyn. Tom is a recovering alcoholic, John lost his leg and then his life to drink and I think Van is still out there doing the research."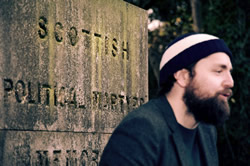 We talk about the people he's played and will be playing with, as there are a great number of different shows to be done. Most will be solo with acoustic guitar, which as he explains are easier to organise. He also admits, "Music for me works best with a tight band. It's just that getting to that level can be hard to achieve. Still the festival gigs should all be at least a trio and I'm trying to rehearse a quartet." The difficulties are simply the logistics of getting everyone together. As he points out, "You can live quite remotely in London. I don't mean just geographically, but the people I play all have other things and bands going on. They're busy, creative people with plates spinning and I have to entice them down to Brockley."
He does lights up a little when talking about working with Danny Thompson though, describing it as, "The finest moment in my career as a musician to date." Ross credits Mark Tucker, part of his production team, with making a, "You can only ask," approach. Then he fondly recalls being in the studio with Danny asking his advice on to how to play through one of the songs. His obvious delight is infectious.
The only time he does deflect my enquiries is when I start to quiz him about some of the themes and stories that I hear in Force Ten. Even so, we still talk through the songs; it's just that as Ross Says. "Once a song is written it belongs to the listeners. A song can take on manifold meanings. I suppose that relates to my experience of hearing artists I love talking about their music and often I've heard something in it that they don't really mean." We agree that demystifying songs isn't necessarily a good idea, still Ross seems genuinely pleased that I mention the line, "With Aurora Borealis as my witness." From the song Come The Springtime, which Ross acknowledges is a love song and marriage proposal, it's one of many great lines that help to make North Ten such a compelling listen.
I have such a wealth of material recorded, but mindful of keeping this digestible, I should probably leave the final words to Ross. There is one thing that we've returned to repeatedly through the conversation and that's his addiction. Ross credits Tom Rose and is very keen to point out that Reveal is the only record label that he wanted to sign with, but its more than that as he thanks Tom for his patience. Also his wife Julie, "As he says, I'm very fortunate to be surrounded by people that want to see me well. I know I have a self-destructive streak and just didn't believe that I deserved any success. Tall highs are generally followed by crushing lows."
The three months he's spent in rehab, however, seem to have given him the foundation to build towards redemption. He admits, "I'm sick and tired of being sick and tired. I'm so lucky to have been given the help at a time when I was finally ready to surrender. I know that I'm an alcoholic and I can never drink safely again, but that knowledge is empowering. If there's a message I can carry with me, it's that it's alright to admit that you need help. You can't always do it all on your own."
Interview by: Simon Holland
North Ten is released on Reveal Records Feb 25th 2013
Order it here
Read the Folk Radio UK review of North Ten
Album Stream
On the BBC
Blue Rose Code has been confirmed for BBC Radio 4's Loose Ends which will be broadcast live Saturday 25th May 2013
[stextbox id="black" caption="Blue Rose Code Tour Dates"]12th June Wednesday LEEDS – Oporto – 33 Call Ln Leeds, West Yorkshire LS1 7BT solo
13th June Thursday MANCHESTER – Castle Hotel – 66 Oldham St Manchester M4 1LE solo
21st June Friday TOTNES – The Studio Lounge – Unit A, The Scope Complex,Wills Road, Totnes TQ9 5XN (Supporting SANDI THOM)
22nd June Saturday NEWQUAY -Beachbreak Festival
28th June Friday LEICESTER – The Cookie Jar – 68 High Street Leicester LE1 5YP Trio
4th July Thursday WAKEFIELD- The Hop – 19 Bank St Wakefield, West Yorkshire WF1 1EH Trio
5th July Friday COLWYN BAY – Ymuno Festival Trio
8th July Monday CAMBRIDGE – Portland Arms: 129 Chesterton Rd Cambridge CB4 3BA solo
9th July Tuesday BRISTOL – Colston 2: Colston St Bristol BS1 5AR solo
10th July Wednesday LONDON – The Lexington: 96-98 Pentonville Road, London, N1 9JB solo
11th July Thursday NOTTINGHAM – The Glee Club: British Waterways Building Castle Blvd, Canal Street, Nottingham NG1 7EH solo
12th July Friday BIRMINGHAM – The Glee Club: The Arcadian, Hurst Street, Birmingham, B5 4TD solo
13th July Saturday MANCHESTER – The Deaf Institute:135 Grosvenor St Manchester M1 7HE solo
14th July Sunday HEBDEN BRIDGE – The Trades Club: Holme St Town Centre, Hebden Bridge HX7 8EE solo
15th July Monday GLASGOW – Mono: 12 Kings Court Glasgow G1 5RB solo
19th July Friday STOCKTON – The Green Room – Green Dragon Yard,Stockton-on-Tees TS18 1AT
20th July Saturday TOPCLIFFE – Deershed Festival – Baldersby Park, Topcliffe, North Yorkshire Trio
27th July Saturday CAMBRIDGE – Folk Festival – Cherry Hinton Hall, Cambridge Trio
23rd August Friday SHREWSBURY – Folk Festival – West Midlands Showground, Berwick Road, Shrewsbury, SY1 2PF Trio
24th August Saturday SHREWSBURY – Folk Festival – West Midlands Showground, Berwick Road, Shrewsbury, SY1 2PF Trio
1st September Sunday HERTFORDSHIRE – Wilkestock Festival – Frogmore Hill. Hertford, SG14 Trio[/stextbox]