On the wall above me as I write, are three framed CD covers. Three albums that I think are the most important releases (so far) in the acoustic / roots genre. One of the three is Nick Drake's Pink Moon. Although I don't see Nick Drake's music as something that should remain forever untouched, the news of yet another tribute album didn't exactly excite… at first. However, on reading that this particular CD was taken from the hugely successful concert series Way To Blue – The Songs Of Nick Drake, I was sure it would be something special.
In 2009 Joe Boyd opened a series of concerts celebrating Nick Drake's music. With a core band that included Danny Thompson on bass, Neil MacColl on guitar, musical direction from Kate St John, and a host of contributing artists, the concerts were widely hailed as an exciting and fitting tribute. Utilising the original arrangements devised for Nick's songs by his friend Robert Kirby (who sadly died shortly before the start of the concert series),  Joe Boyd's dream was to eventually create a studio album to accompany the concerts. It soon became clear, though, that the natural approach the concert audiences enjoyed could never be reproduced in the studio, and so this 15 track album presents a selection of highlights from two of those concerts, In London and Melbourne.
As the album opens with Things Behind The Sun, the mood is inevitably melancholy. Zoe Randell of Melbourne duo Luluc provides an alluring Nico-esque vocal that fits perfectly. Later, this is mirrored as Green Gartside's plaintive voice delivers Fruit Tree's prophetic lyrics; and Teddy Thompson's fine, heartfelt vocals give Riverman gravitas.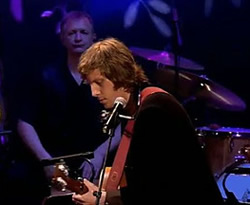 Scott Matthews makes two unforgettable contributions. His version of Place To Be, with its blues harmonica, and empyrean slide guitar from Leo Abrahams, is one of the high points of the album. It also serves as a stark reminder that it would have been great to hear John Martyn tackle this song – now I almost feel I have. Scott's When The Day Is Done has a completely different flavour, with string section, Kate St John's cor anglais adding to the melancholy, and Neil MacColl's delicate and faithful interpretations of Nick Drake's guitar work. In Neil MacColl, Joe Boyd has found, at last, a guitarist who can take on Nick Drake's unorthodox and, for most players, unfathomable guitar tunings and arrangements.
Danny Thompson, who played bass on Nick's first two albums, is unsurpassable on double bass. The successful inclusion of the same jazz influences that permeated the original recordings is down to the combined efforts of Thompson and classically trained Jazz pianist Zoe Rhaman. This is a working partnership that shines throughout and never more clearly than in their own version of One Of These Things First. Paying tribute to a song can never be easy with an instrumental version, especially when it's one of Nick Drake's more upbeat notions. However, with Zoe Rhaman's Keith Jarrett inspired variations and rolling chords to Danny Thompson's peerless singing bass, this is a tour de force. It wont be until a while after the duet draws to a close that you'll realise you didn't miss the vocals after all.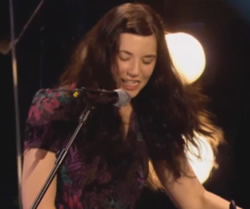 This contrast with the original songs has created some of the album's most memorable tracks. Shane Nicholson's soulful, up beat Poor Boy; Robyn Hitchcock's psychedelic Parasite; Krystle Warren's unforgettable and spine-tingling gospel treatment of Time Has Told Me and, head and shoulders above them all, Lisa Hannigan's primal Black Eyed Dog screams its defiance.
Also included are some never to be forgotten duets. Luluc & Lisa Hannigan deliver some delightful close harmonies for Saturday Sun. In closing, Teddy Thompson and Krystle Warren provide a joyful, uplifting Pink Moon.
Joe Boyd's wide range of contributors has been a worth while approach to take. Nick's music appeals, at last, to such a wide range of audiences and has influenced countless musicians from his first recordings right up to the present day. His music is universally loved and it's fitting that it's celebrated in such an all-encompassing manner. This tribute serves as a wonderful antidote to the common perception of Nick Drake as the self-doubting, unrecognised genius. It celebrates the enduring gift of his music; acknowledges the darkness and highlights the joys.
Saturday sun brought people and faces
That didn't seem much in their day
But when I remembered those people and places
They were really too good in their way
Review by: Neil McFadyen
CD Tracklisting
1. Things Behind The Sun – Luluc
2. Place To Be – Scott Matthews
3. Fruit Tree – Green Gartside
4. Poor Boy – Shane Nicholson
5. Time Has Told Me – Krystle Warren
6. Parasite – Robyn Hitchcock
7. One Of These Things First – Danny Thomson & Zoe Rahman
8. Which Will – Vashti Bunyan
9. Black-eyed Dog – Lisa Hannigan
10. Rider On The Wheel – Shane Nicholson
11. River Man – Teddy Thompson
12. Saturday Sun – Luluc & Lisa Hannigan
13. When The Day Is Done – Scott Matthews
14. Fly – Luluc
15. Pink Moon – Teddy Thompson & Krystle Warren
Way to Blue – The Songs of Nick Drake is released on Navigator Records 15 April 2013.