How much fate has to play in proceedings it's not clear. Back in 2012 the BBC Folk Awards were held in Salford, The Dubliners received their lifetime achievement award and celebrated with a version of Dirty Old Town, written and made famous by local Salfordian Ewan MacColl. To schedule the final date of Richard Thompson's current UK tour for Salford on a Sunday evening was rather prophetic too in that it was the perfect place to play Salford Sunday – one of several tracks aired from Thompson's well received new album Electric.
Already recognised, even by the Queen no less with his 2011 OBE, as a major influence on English music in terms of both his songwriting and guitar playing,  as Thompson starts to head towards the twilight of his extensive career, his star is burning as brightly as it has ever done.  The fact that he is still producing recorded music of such quality as Electric, which is a worthy addition to his body of work, his live performances continue to captivate and  engage  rapt and  sell out audiences. Despite the odd empty seat, a packed audience (including fellow musician Maart Alcock, of Fairport Convention fame amongst many other folk/rock bands, sitting behind us) paid their dues to a true master of the craft. It would be unfair to say he was simply backed by a basic band of Michael Jerome on drums and Taras Prodaniuk  on bass, as they added as much to the material to be a band rather than being hired hands as they accompanied Thompson expertly and sympathetically.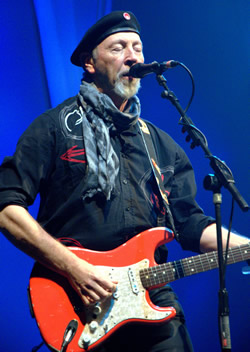 Decked out in his trademark  cap and scarf maybe guarding against the chilly night, Thompson was bold enough to open the show with a flurry  of songs from the new album, the alliterative trio of Stuck On The Treadmill, Sally B and Salford Sunday, he teased the audience, tongue firmly in cheek about only being there for the stuff from the sixties and seventies.  Whatever they were there for, the crystal clear sound filled the Lyric Theatre with Thompson's distinctive Fender notes . The acoustic guitar came out for a jazzy run through Al Bowlly's In Heaven with its opening lines of "we were heroes then and the girls were all pretty" being both nostalgic and possibly harking back to earlier days.  As a bit of a nod to the folkies, the evening wouldn't be complete without reference to the usual folk themes of death and murder with the modern murder ballad of lorry driver Sydney Wells – taken in 9/8 time which of course, as a well informed  member of  the audience noted, was the timing for a slip jig which appeared at the end of the song.
With the quality of the performance it would be difficult and unjust to pull out highlights but for me the country tinged rock of Wall Of Death was a contender. The variations in setlists through the tour also threw up a gem for the Salford attendees in particular who were rewarded with a marvellous solo acoustic version of his 1991 song (which feels like it should be a much older traditional song), 1952 Vincent Black Lightning. It might not have been worth the ticket price alone but certainly was pretty close and worth a fair proportion. It was a perfect example of holding an audience spellbound by his deft and  delicate picking as the lengthy tale unfolded of a simple  boy meets girl story, which of course being a folk song,  can only end in tragedy.
The evening ended with another  'tongue in cheek' acknowledgement to the band as a  power trio. Previously on the tour they'd covered Cream's White Room, but tonight Matthew, the band were The Jimi Hendrix Experience with a  run through of the classic Hey Joe and a final sing along opportunity with Tear Stained Letter. On this continued form the audiences for the forthcoming US shows have a treat in store.

Review by: Michael Ainscoe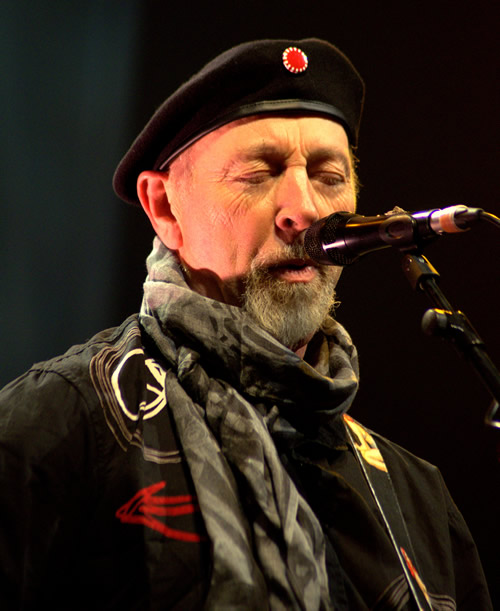 Photo Credit: Michael Ainscoe photography