Anyone wandering into the Band On The Wall on Tuesday night might have been a bit bemused to notice a large(ish) circular screen adorning the stage backdrop. Thankfully covering the rather obtrusive neon BOTW logo, it wasn't a nod to  the days of Pink Floyd and their back projections, but thankfully just a stage prop – a full moon no less – which referred to the artwork of the new Stornaway album Tales From Terra Firma. An album which last week went head to head  with the new release  from corporate stadium megastars Bon Jovi and won. An impressive 5 star review from The Guardian which made a mockery of what they termed the 'difficult  second album syndrome'.  Indeed the term 'triumphantly expansive' stuck out from the review and was one which could easily be applied to the vast array, almost battery, of instruments which lay on stage, from the usual acoustic guitars to keyboards, bass and drums to the mandolins and violins, double bass. Oh and a saw.
The regular quartet of the Steadman brothers rhythm section plus Jon Ouin and lead vocalist Brian Briggs was also expanded by two additional musicians to expertly help recreate the spectrum of sounds they are able to create in the studio.  A selection of material from both albums was beautifully played including songs from their debut which are starting to need no introduction – the foot tapping Zorbing and Fuel Up are instantly recognisable. From the new album, there's the  relaxed jazz lounge approach of Farewell Appalachia and the almost new wave sound of A Belated Invite To Eternity. Amongst the songs which follow themes of travel and landscapes, the American influence is still quite strong, not Bon Jovi but more REM in their use of 12 string and mandolin on one of the new songs The Bigger Picture, and perhaps reminded by The Guardian, You Take Me As I Am with its brass inflections and it's lovely acoustic coda  has a touch of Springsteen about it particularly in its lyrical content.
Briggs chatted quite abstractedly about the band's experiences of Manchester – finding out about chip barms ("basically a chip buttie") and showed his local knowledge of some the notorious local criminals – Brady and Hindley, Shipman, not to mention Mick Hucknall and quacking duck research in Salford…….
To add to the originality there were two totally unplugged performances, the first with Briggs singing November Song totally solo to the delight of a hushed and respectful audience – even the bar went quiet; and the main set finished with The Ones You Hurt The Most also performed in an unamplified setting with some gorgeous harmonies showing that Stornoway are a band who certainly know what they are doing.
Review by: Michael Ainscoe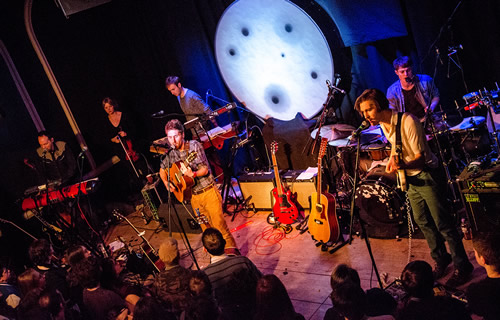 Photo Credit: Michael Ainscoe
New Video: Stornoway – Knock Me On The Head