We continue our 'Folk Life' series in which we look at inspirational lifestyles and extraordinary people. Steve Thompson, better known to many as singer / songwriter Steve Folk has been living with his wife onboard a 45-foot boat for the last 4.5 years. We first met prior to his life on the river and we've been fans of his music since, he is a very unique artist! If his latest album 'Ramble' is anything to go by (his best to date in our opinion) then I'd say he's at his creative best – life changing? Definitely!
With no permanent mooring they spend a fair amount of time travelling around, especially along the London Ring: 44 miles of waterways from which you can then head upstream along the Thames if a-roving you must go. Steve has travelled as far as Leicester on the Grand Union Canal and Bath (in SW), a journey that took considerably longer as Steve revealed. They have also purchased an additional boat…for new creative purposes. This alternative lifestyle is not for everyone but as Steve reveals it has a lot of positive aspects to it if it is the simpler less complicated life you are seeking.
Can you recall that initial decision to live on a boat?
My wife and I were standing on the blue bridge that crosses over the canal at camden looking at passing boats and we both looked at each other and said "Let's do that". A lot of people move onto boats to save money, we moved on for the romance and adventure.
How did you find the 45 foot boat you currently live on?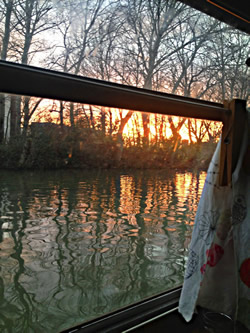 The boat was advertised on Ebay, we contacted the seller and asked if we could take a look, she was moored in Cheddington (Buckinghamshire), after the first visit, we knew that it was to be our new home, we had seen 3 or 4 boats beforehand and didn't have any emotional response.
What would you say has been the biggest impact of living this way?
Freedom, in many ways, being able to travel with your belongings, cat and of course your home is an amazing feeling, financially too, it allows us to shape our lives the way we want without slaving to the 9 to 5. People that work in the arts need time and this gives us a whole lot of that and the ability to live/work doing what we love.
How do you find the space?
The space is fine, you have to be able to get on with each other extremely well when your living in a 45 foot "floating hallway", you need to give each other space rather than worrying about the space your living in, that's the secret to a successful marriage I think! You can't have too many possessions, but I never have, apart from a few guitars, a banjo, a dulcimer and various other stringed thingies, We do often say "were gonna need a bigger boat" but we didn't get one, we just bought an additional boat!
….we bought it to be used as a studio space for recording, events, massage, aromatherapy, painting, workshops etc. It's early stages but is shaping up nicely, we intend to use it in a very grass roots, word of mouth kind of way, I'll be recording musicians for online sessions and producing artists for donations to keep the whole thing afloat (sorry) and my wife will be doing the same thing with massage, aromatherapy and coaching. It's an amazing space and it moves, what more could you want?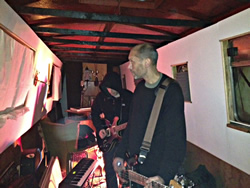 Imagine recording an album in 12 different locations but being in the same studio, the possibilities are endless. Anyone can invest in high level
equipment for a recording studio but if the studio is cold and uninspiring then the results will be the same. I've built a vocal booth on the boat
and bought a couple of good mics and I'm ready to go, it's all about the environment.
Do you find it encourages you to live simpler?
You have to on a REAL canal boat, you generate your own electricity, so you can't have the telly on all day, you generate your own heat, so you cant just turn the radiators on (which we don't have anyway). It's akin to camping, if you like camping then your going to love living on a boat. Though I must stress, when I say living on a boat I don't mean being moored up in a marina that has plug in electricity and washing machines on site, I mean being a "continuos cruiser", someone that travels the canals, for instance we travelled to Bath last summer and it took us 4 months to get there and back as we stopping off in villages for a week and then moving on. "Mooring is Boring" and "Floating ain't Boating" in my opinion.
How do you manage power and heat?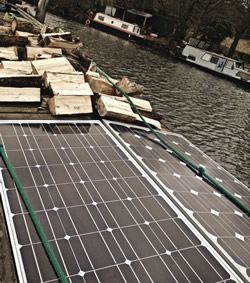 We source our own firewood from felled trees and season it on the roof, we own a chainsaw so that makes it very easy, we have solar power
which is amazing in the summer months and basically keeps us going in terms of lighting and laptops etc. We fill up with water at designated
points along the canal and empty our toilets in the supplied elsan points. We buy gas and coal from a boat that delivers it throughout the system.
I haven't seen a household bill for 5 years.
Video
Steve's latest video (feat Steve and Genevieve): Urban Fox:
Amsterdam (Live)

You don't sit down to write a good song…according to Kinky Friedman they're written by the guy who was just trying to pay the rent. Steve's been doing just that for many years, surviving on the fringes, writing songs. Steve Thompson doesn't just write good songs, he writes beautiful songs that stay with you long after the last note of his guitar fades.
Gig Dates
11th March – The Mahogany Bar, Wiltons Music Hall, 1 Graces Alley, London E1 8JB – FREE
14th March – Upstairs at The Ritzy, Brixton Oval, London, Greater London SW2 1JG – FREE
17th March – The Woodman, 414 Archway Road, Highgate N6 5UA- FREE
27th March – Surya Manilla Showcase, 154-156 Pentonville Rd Islington, London N1 9JL – Price TBC
1st April – The Old Barn at The Cock Inn, Church Lane, Sarratt WD3 6HH – Price TBC
8th April – The Mahogany Bar, Wiltons Music Hall, 1 Graces Alley, London E1 8JB – FREE
11th April – Upstairs at The Ritzy – Brixton Oval, London, Greater London SW2 1JG – FREE
18th May – Rickmansworth Festival (daytime)
18th May – Private Concert (evening)
30th May – Fat Lils, 64a Corn Street, Witney, Oxfordshire OX28 6BS – Price £3
6th June – Cafe Ort, 500-504 Moseley Road, Birmingham, United Kingdom – Price TBA
7th June – Roots and Fusion Session, Stockport
3rd August – Sounds Good Private Festival
Visit Steve's website here: www.stevefolk.com
Ramble is released on Blabbermouth Records…we highly recommend it!