Years Ago In Our Backyard is the full length debut release from Northern Ireland's finest folk act, Farriers. It quite simply has wonderful sense of harmony, not just in the intertwining vocals of front-persons Rachel Coulter and Stephen McCartney but also in the song writing and arrangements which captures the warmth of live performances. One minute it's foot-stomping musical mayhem and the next it's a sorrowful lamentation. The gear changes are smooth and serve to engage the listener all the more.
The album opens with the anthemic Another One Riding. Farriers set their stall out early with this confident, almost strutting wall of sound – they WILL be noticed! The aforemetioned harmony is fully apparent – male & female vocals in unison with twin guitars and a thumping bass and percussion that builds to a crescendo. An awesome start – they take no prisoners and no quarter is given – but there is also no arrogance, instead there is an assuredness, a musical statement of intent.
The Fires Burn keeps the tempo high with a pumping chorus, a nice counterpoint to the first track displaying a slightly rockier engaging side to the band.
Rachel Coulter takes the lead vocal story with great finesse  on The Fickle Fold as they head down the Irish folk & country route with echoing slide guitar adding a depth and atmosphere to Coulter's country-styled etches.
"A-one, two, a-one two…(incoherent drawl)" is how they kick into Keep It Alive, a clappy, dare I say happy chorus of loveliness. You can't help but smile at this tale of positivity. Musically touching  joyful country / bluegrass, as much in style as in instrumentation. With a full and rounded sound they serve up a great hook that is gonna stay with you – damn, you'll be singing along with it before the end of the song. The video to accompany Keep It Alive (see below) has just been released alongside the album and is worth a watch, with special mention being reserved for the acting talents of a certain furry young farrier.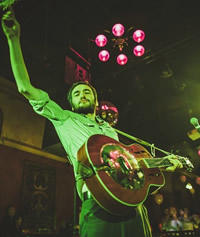 All the songs have a positive and endearing vibrancy and emotion. It is all too easy for song writers to load their writing with tales of sadness and woe. Farriers do not wallow in the minor keys – yes, those songs are in there but they are reflective rather than self-pitying. One such song that stands out is the intriguing San Remo…Crosses by the roadside and ever-emptying bottles of booze on a journey to daybreak. McCartney & Coulter's voices were made to marry on a composition such as this. The inimitable sound of McCartney's resonator guitar is perfectly complimented by Kate Squire's haunting viola. The imagery evokes a sparse wilderness and a feeling of loneliness, of wandering, perhaps regret. It builds to a crescendo as the vocals atmospherically echo across the western soundscape.
If Light Leads You sees Rachel Coulter taking centre-stage as she softly serenades like a chanteuse from some black & white Truffaut feature film with a genuine and palpable warmth, her wonderfully rich vocals haunt and soothe in equal measure.
There are many sides to the Farriers and those fortunate enough to have caught their live show will recognise their infectious energy on So Long As I Can Stay – a song which best demonstrates the band's ability to raise a smile, to make your foot tap and to get you singing along. It's hard not to emit a hearty "yeeehaaa"!!
The title track of the album, Years Ago In Our Backyard sees McCartney showing a more tender side to his voice. A heartfelt song as he looks back and wonders what has happened over the years, what has brought him to this point – "and I don't know what became of me…those lives are gone…". A solitary voice and a solitary guitar.
McCartney and Coulter team up again to sing the closing song, Long Are The Hollows, a beautiful duet which starts softly as the band gradually join with a heart-warming, waltzing ensemble arrangement. This song serves as a warm hug from the band to you which leaves you with a warm a glow that beckons you back for more.
As they say in their biography, Years Ago In Our Backyard is a collection of tales of small towns that lie in the paths of bigger journeys; unforgettable nights in smoky pubs and stories of long lamented youth in sprawling North American cities. The musical style echoes that journey from small Irish town to Nashville and back.
This truly is a stunning debut album – made even more impressive due to the fact that the recording, mixing and distribution of the album was funded entirely by donations from fans, friends and family – a measure of the faith that the Farriers have instilled in their followers. The band are currently on tour in the UK alongside fellow Northern Irishman Foy Vance.
Review by: Craig Walker
Years Ago In Our Backyard is self released 27th May 2013.
Visit their website to purchase the album and get their tour dates: farriersmusic.com