The fabulous cutting-edge Blowzabella are something of a legend. Now in their 35th year and still going strong they are currently touring Belgium, Germany and Austria trying out new material that will be on their new album which will be released in June.
Folk Radio UK will be bringing you an insight into the touring life of the band and more over the coming days in the form of sound bites and interviews.
An Introduction
For those of you that are unfamiliar with the band here is some basic information, and I mean basic, as their history is vast!
Blowzabella is Andy Cutting, Jo Freya, Paul James, Gregory Jolivet, David Shepherd, Barn Stradling, Jon Swayne. The band make an inimitable, driving drone-based sound played with a fabulous sense of melody, rhythmic expertise and sheer feeling.
They compose their own music which is influenced by English and European traditional dance music. Many of their tunes have become "standards" in the modern folk repertoire and are played by people all over the world. Many bands who experiment with the boundaries of folk music cite Blowzabella as a major influence.
The band was originally formed in 1978 and 2013 is their 35th year. In that time they have played everywhere from the main stage of Glastonbury Festival to the far reaches of West Africa, South America and the Far East.
"If ever a band were overdue a lifetime achievement award it is Blowzabella. Not only have they written a stack of what have become standard tunes in sessions on both sides of the channel, but they have also been largely responsible for reviving English Bagpipes and hurdy-gurdy, instruments that played a foundational role in traditional music."

Andrew Letcher **** review. SONGLINES.

"Blowzabella deliver that rare beast – a live album that somehow manages to capture the rampaging spirit of musical freedom that first marked them apart from all other bands and has never been replicated since."

Colin Irwin. fROOTS.
Part 1: with Brunsviga Orchestra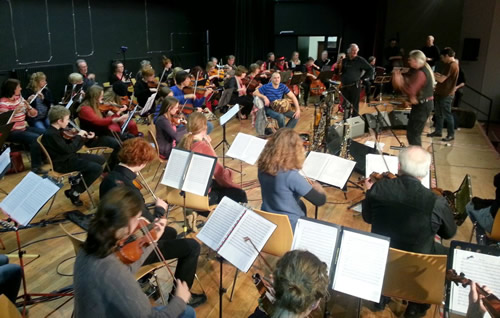 The Tour
Fri 1 March– Koutermolenstraat 6b B-9111 Belsele. Belgium: Club T'ey
Sat 2 March– Beethovenstr. 57 38106 Braunschweig. Germany: Gymnasium Neue Oberschule
Sun 3 March– Plamental 1. Eisenach. Germany: Jazzclub / Alte Mälzerei
Mon 4 March– Maximilianstraße 29, 92522 Ansbach. Germany: Ansbacher Kammerspiele
Tue 5 March– LIVA. Mittlerer Saal. Linz. Austria: LIVA Brucknerhaus
Wed 6 March– DAY OFF IN VIENNA
Thur 7 March– Akkordeon Festival. 1140 Wien, Goldschlag Straße 169 VIENNA. Austria: Sargfabrik.
Fri 8 March– 10.Oktoberstraße 26. 9560 – Feldkirchen. Germany: Amthof Feldkirchen
A taster of Blowzabella

Line-up and instruments
Andy Cutting – diatonic accordion.
Jo Freya – clarinet, saxophones.
Paul James – bagpipes, saxophones.
Gregory Jolivet – hurdy-gurdy.
Dave Shepherd – violin.
Barn Stradling – bass guitar.
Jon Swayne – bagpipes, saxophones.
Band website  www.blowzabella.com
Facebook  www.facebook.com/pages/Blowzabella/109062789115752
Twitter  www.twitter.com/blowzabella